There's so much hype around specialty superfoods these days, from spirulina and maca powder to ashwagandha and reishi mushrooms, every few months it seems like there's some new food that you apparently "need" in order to be healthy. 
But consider this: your basic spinach became the superfood of the day close to 100 years ago, and good old broccoli closely followed it with a massive rise in popularity in the '40s! Fast forward to today and you can see trends of "superfoods" that change every 5-10 years. 
Not to ruin this for anyone, but THAT'S CALLED MARKETING, PEOPLE!
I want to clear the air on this: the superfoods of today, like matcha & golden milk, aren't new foods that scientists have developed. Generally they've been used for centuries in other cultures. The reason they're today's superfoods is because they've been newly discovered and marketed in our cultures. That's it!
All this to say: don't feel like you need to jump on every new "superfood" that suddenly seems to be in every supermarket and on every menu. 
It's not that these foods aren't healthy; mostly, they are, and if you want to incorporate them into your diet, more power to you! I simply want to arm you with the knowledge that they're not necessary for a healthy diet, and that buying into the urgency and feeling like you MUST eat them in order to be healthy causes more harm due to added stress than anything else! Following the hype instead of focusing on the facts will just do one thing for you: it will make you unclear on what you REALLY NEED to be healthy, and keep you constantly feeling like you're chasing the moving target that is true health. 
Sorry, not sorry for bursting that bubble.
Let's Talk About "Everyday Superfoods"
So now that we're all on the same page about overhyped superfoods, or what I call "specialty superfoods," I want to let you in on a secret: 
The healthiest foods are actually some of the most basic.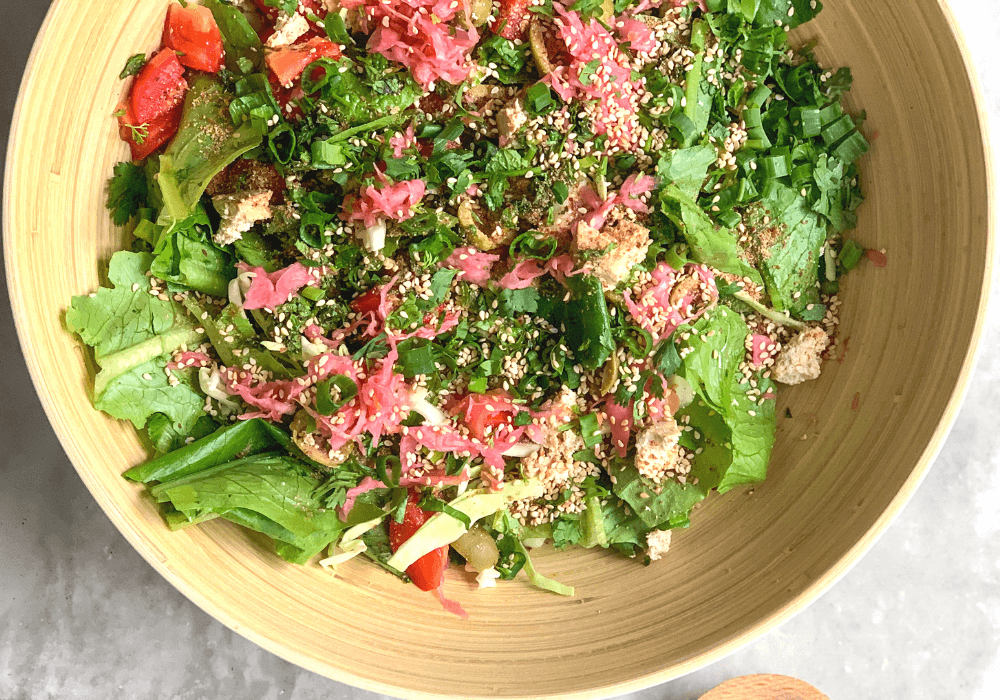 Remember at the beginning of this post when I mentioned spinach having its moment way back in the 1920s & 30s? Nearly 100 years later, it's still considered one of the healthiest foods on the planet! Talk about longevity! When something endures that long, it's not marketing anymore, that's science! 
The good news is that, just like spinach & broccoli, there are lots of everyday superfoods that you probably already know about, buy, and cook with.
In fact, research shows that some of the healthiest foods you can eat are: 
Spinach
Kale
Red Cabbage
Kidney Beans
Red Quinoa
Blackberries
Turmeric
Flax Seeds
Walnuts 
So what makes these foods so healthy? 
Here's what they have in common: 
They're all plant foods
This is a biggie. Although different diets disagree on many things, doctors, scientists, researchers, and nutritionists are clear on what research has shown for decades: plants are the healthiest foods on the planet, and consuming a lot of them is key to being healthy.
They're all whole foods
Yes, high fructose corn syrup and margarine both technically come from plants, but are they healthy? NO! When you're trying to determine if something is healthy, ask yourself: is this a whole plant food or was it stripped, processed, dissected, or altered in some way? If it was, then it isn't a whole food. It's that simple.
They're vibrant and full of color
The natural world is overflowing with colors, and plant foods are no exception. Often, the healthiest foods are those whole foods that have the most pigmented colors. For example, did you know that the healthiest common berry is the blackberry? Yes! It's got more antioxidants than Instagram's current fave açaí! Once again, that's just marketing telling you you need açaí powder in your smoothies. Throw in some blackberries and you'll get even more antioxidant bang for your buck! 
Here's how they're different:
Each food is part of a different food group 
There are many ways to separate plant foods, but I like to look at them in their plant families. Legumes and cruciferous veggies pretty much top out every other food group as the most nutritious foods on the planet. Also at the top are all types of leafy green vegetables (some of which are also part of the cruciferous category, like kale). I could spend an entire blog post talking about whole grains and the many misconceptions around them, but for now notice the stress on whole grains, not just any grains. No processed refined grains make it into the superfoods category! Other important food groups are berries, nuts and seeds, and spices. I've called out flax seeds and turmeric specifically because these two foods have some truly amazing health benefits above and beyond other seeds and spices.
They are differently colored.
In line with the third point about their commonalities, these foods all have different colors, and together provide a rainbow that indicates some of their most powerful nutrients. For example, curcumin is the compound in turmeric that makes it such a bright golden yellow color and is also one of the reasons turmeric has such powerful anti-inflammatory properties. 
The main takeaway from all of this? Don't underestimate the power of these everyday foods that people have known about and eaten for centuries.
So, now that we've cleared up any confusion you might have around superfoods and what qualifies as one, I bet you're wondering how you can incorporate lots of these everyday superfoods into one meal together? Right this way!⠀
Incorporating Everyday Superfoods into Your Diet
The easiest way to load up on everyday superfoods is via a salad. Salads get a bad rep for being "bird food" (ie tasteless and not filling) but don't be so quick to judge! Putting my modesty aside for a sec, I'm a pretty badass salad maker, so trust me on this one and give it a try before you run back to that burger.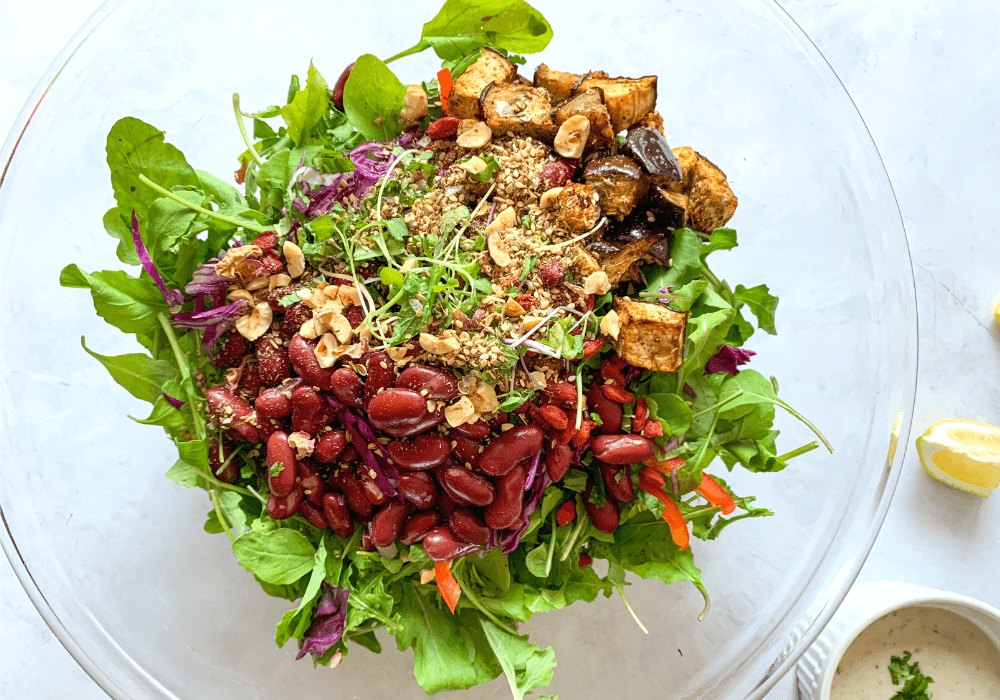 This superfood salad covers all your bases and gives you a massive hit of nourishment that's pretty darn tasty too!
EVERYDAY SUPERFOOD SALAD
In a large bowl combine:
Baby spinach or arugula
Thinly sliced red cabbage
Drained and rinsed kidney beans
Chopped fresh herbs
A sprinkle of ground flax seeds
A handful of roughly chopped nuts or seeds
Any sprouts or microgreens (except alfalfa)
Pomegranate seeds or goji berries
Add-ons:
Thin slices of red pepper
Roasted veggie cubes (eggplant, sweet potato, and zucchini all work well)
Toss everything together and top with a creamy umami-licious tahini dressing like this one:
Tahini
White or yellow miso
Apple cider vinegar
Lemon
Dijon mustard
Date paste (sub maple syrup if you don't have this)
Ground turmeric
Water
It really is that simple! This type of salad is endlessly customizable and as long as you focus on adding lots of colorful ingredients from the plant kingdom, you really can't go wrong in deliciousness or nutrition!
So To Recap, Here's The Deal on Superfoods:
There's no need to stress over including specialty superfoods in your diet.
Some of the healthiest foods you can eat are good old fruits, veggies, nuts, seeds, whole grains, and beans–foods that have been around for ages, so focus on eating those foods regularly!
Eating these foods every day can be as simple as making a large salad with something from each of these food groups and gobbling up all the abundant nutrients!
Did you learn something from this blog post? I'd love to hear your thoughts and revelations in the comments below! And if you make this superfood salad, be sure to tag @plantssogood on Instagram or Facebook!