Did you know you can easily and cheaply grow a nutrition powerhouse with just a mason jar, a rubber band, and a paper towel? No garden, dirt, or waiting for months required. 
That nutrition powerhouse is sprouts! Yep, I'm talking about those little squiggly guys that sometimes find their way into your salad or sandwich.
Like most of us (me included!), you probably haven't spent much time thinking about sprouts before now, and that's okay!
Before we jump into all the yummy ways you can use sprouts though, let's take a quick look into just how healthy these little guys are!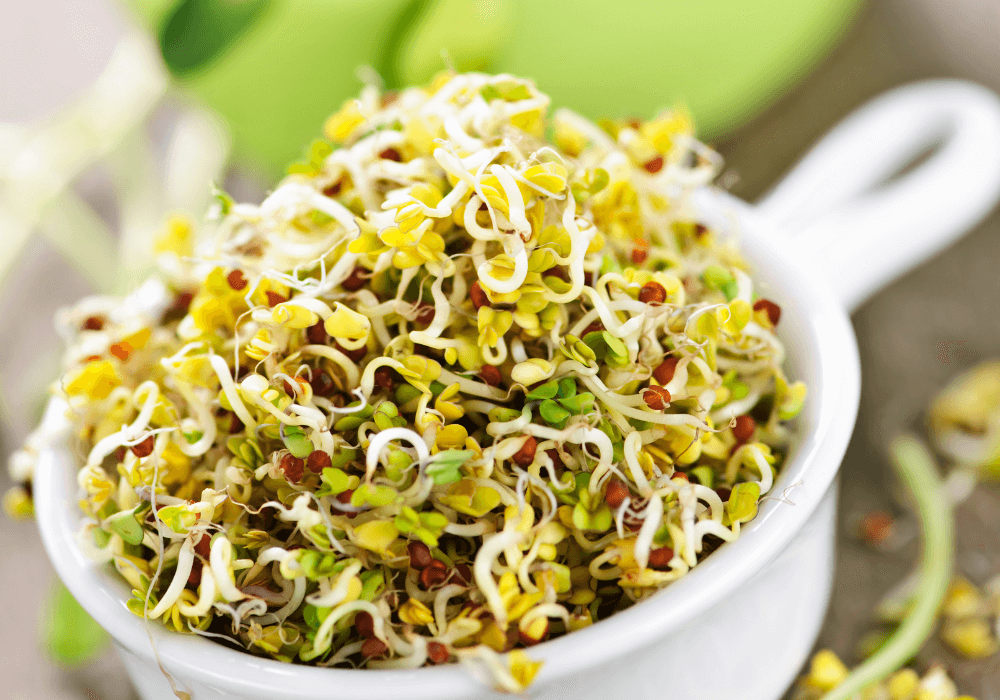 The Health Benefits of Sprouts
The health benefits of sprouts are well-studied and the nutrition they boast is seriously impressive!
Just consider, for a moment, how small they are. Sprouts are definitely the smallest veggie out there, which makes the crazy amount of nutrients packed in each shoot reason enough to include them in your diet!
While the nutrients in these tiny powerhouses vary depending on which seed, legume, or nut they come from, here are just three of their amazing health benefits:
Improved digestion => Sprouts are loaded with fiber, one of the most important nutrients for overall health! Without getting too complicated, eating lots of fiber means feeding our gut microbiome, and a healthy gut equals healthy digestion! So load up on that fiber, people!
Lowered inflammation => We hear a lot about inflammation in the health and wellness world. It's kind of a buzzword at the moment. And while there's loads of garbage info out there, inflammation is a real thing and sadly something lots of people struggle with! Inflammation can show up as various symptoms including acne, achy joints, weakened immunity, and even heightened anxiety. Crazy, I know! Lucky for you, sprouts can be part of the solution! Incorporating lots of sprouts into your diet can go a long way in reducing the inflammation in your body, thanks to all the incredible nutrients sprouts have!
More alkalinity in the body => What's a great remedy for inflammation in the body? You guessed it, alkalinity! Most plant foods are alkaline anyway, but sprouts really take the cake as one of the top alkaline foods. The more alkaline foods you can eat, the better your body will function, and the lower your inflammation will become! Pretty cool, right?
That's a whole host of benefits from a plant so small, right?!
Now that I've (hopefully) convinced you to give sprouts a try, let's talk about growing your own. Say what? You heard me!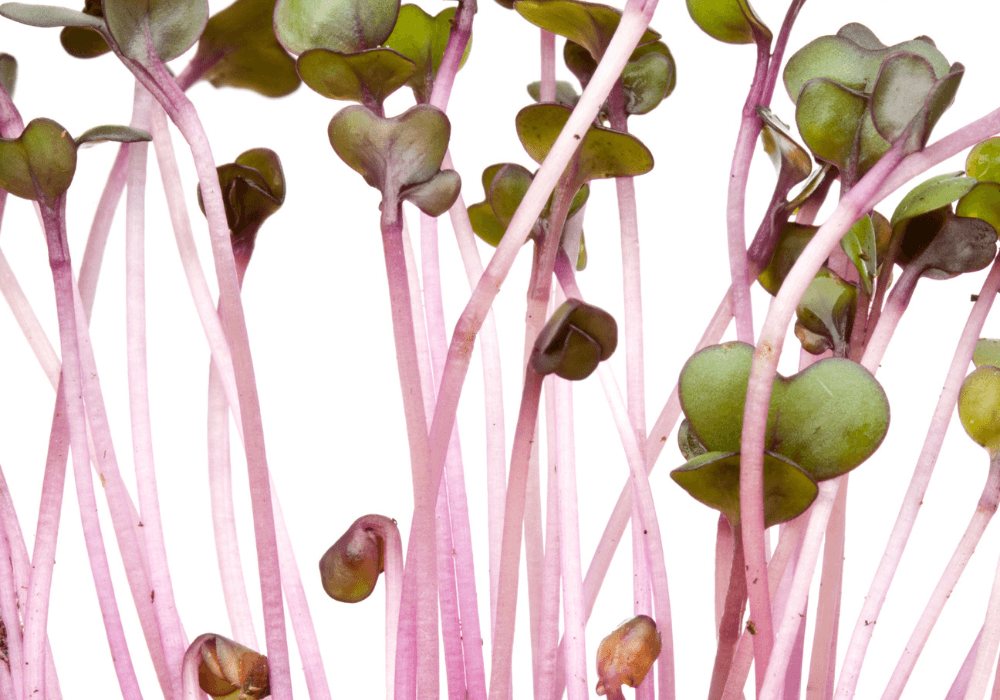 Growing Your Own Sprouts
You can buy sprouts at the grocery store, but it's super easy to grow your own too. While buying them might be more convenient, there are lots of other reasons to grow your own.
A Few Reasons to Grow Your Own:
It's so satisfying to watch the little seeds grow into food that you can eat in under a week!
Sprouting is super cheap! You can sprout almost any seed or legume, and from just a few tablespoons of seeds, you'll get a jar full of food. Talk about good value!
Sprouting doesn't require special equipment or tools. You probably already have the basics for getting started in your kitchen, so there's no need to buy anything except maybe the seeds.
Sprouting offers an easy, low-cost way to have a garden and grow your own food, even if you don't have a yard or outdoor space. That's one of the great things about sprouts, they grow right on the kitchen counter!
There are so many different legumes, seeds, grains, and nuts you can sprout; if you don't like one kind, try another!
Ready to give sprouting a try? Let's jump into how to actually do it! (Heads up, it's way easier than you might be thinking!)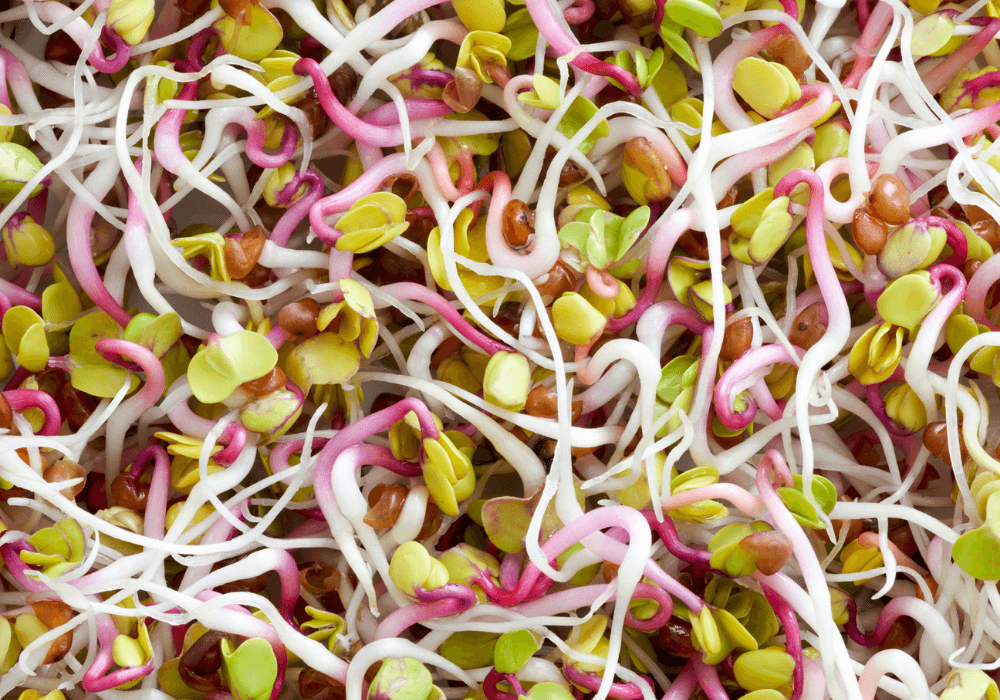 How To Grow Your Own Sprouts:
Soak 1 tablespoon of your seeds of choice in water in a quart-sized mason jar overnight. You'll get the best results with raw, organic seeds.
The next morning, drain and rinse the seeds well. Make sure all the water is drained out of the jar.
Wet a square of paper towel slightly and cover the jar with it, securing the towel with a rubber band. Poke some holes in the paper with scissors to let the sprouts breathe. You can also use a piece of cheesecloth for this instead.
Next, lay the jar on its side and give it a little shake so the seeds distribute across the side of the jar. Leave it on your counter out of direct sunlight.
Every morning and evening, rinse the seeds well. Drain all the water out, put the paper towel cover back on, & put the jar back on its side.
Repeat this process for 5-6 days until the sprouts are filling the jar and little green leaves appear at their tops.
Try sprouting different seeds and do a taste test to see which ones you prefer. Some sprouts, like radish and broccoli, have stronger, spicy flavors while others are more mellow like mung bean and sunflower sprouts.
Using Your Sprouts:
So now that you have all these sprouts growing in your kitchen, what are you going to do with them? I got you!
Sprouts can be used in almost any savory dish! Not only do they work great as a garnish, hearty sprouts like lentil, sunflower, and pea are delicious as the main part of a salad too!
Here are just a few delicious ways to eat your sprouts:
Add a handful of broccoli sprouts on a mashed chickpea "tuna" salad sandwich with avocado and tomato
Sprinkle sunflower sprouts on top of a creamy pumpkin soup with crunchy pumpkin seeds
Toss a bunch of mung bean sprouts into a veggie and tofu stir fry at the end of cooking
And these three meals are just the tip of the sprout-berg (see what I did there?).
Have fun experimenting with your sprouts! Try them in salads, burgers and tacos, as a snack on crackers with hummus, or as a garnish on avocado toast. When it comes to these little nutrition powerhouses, there's almost nothing they don't go with.
If you try your hand at sprouting at home, I'd love to see how you get on with it! Tag me @plantssogood on Instagram or Facebook with your sprout gardens!