Let's talk about plant-based alternatives. There are so many options out there, it can be overwhelming. But instead of listing off some store-bought products you may or may not be able to find, here are five plant-based alternatives you can make from scratch in your kitchen!
Plant-based cooking can seem complicated and confusing, what with all the foods that are suddenly "off-limits" and the unfamiliar foods you've never used before.
Plus, we've all heard the stereotype that plant-based eating is expensive. The reality is that if you buy lots of prepackaged plant-based alternatives to animal products, it can get pricey! 
But the good news is that it doesn't have to be! 
There are certain foods that, in my humble opinion, are 100% worth buying (like soymilk!) but there are lots of others that you can easily make from scratch in your kitchen, no special tools, loads of time, or skills required! 
Lucky for you, I'm here today to break down five easy plant-based alternatives you can substitute for animal products in your kitchen. These are all mini recipes made out of real whole foods that are great to have on hand. I promise they'll make your plant-based cooking adventures so much easier, less overwhelming, and more delicious!
Five Plant-Based Alternatives
ALTERNATIVE #1: Sour Cream => Cashew Sour Cream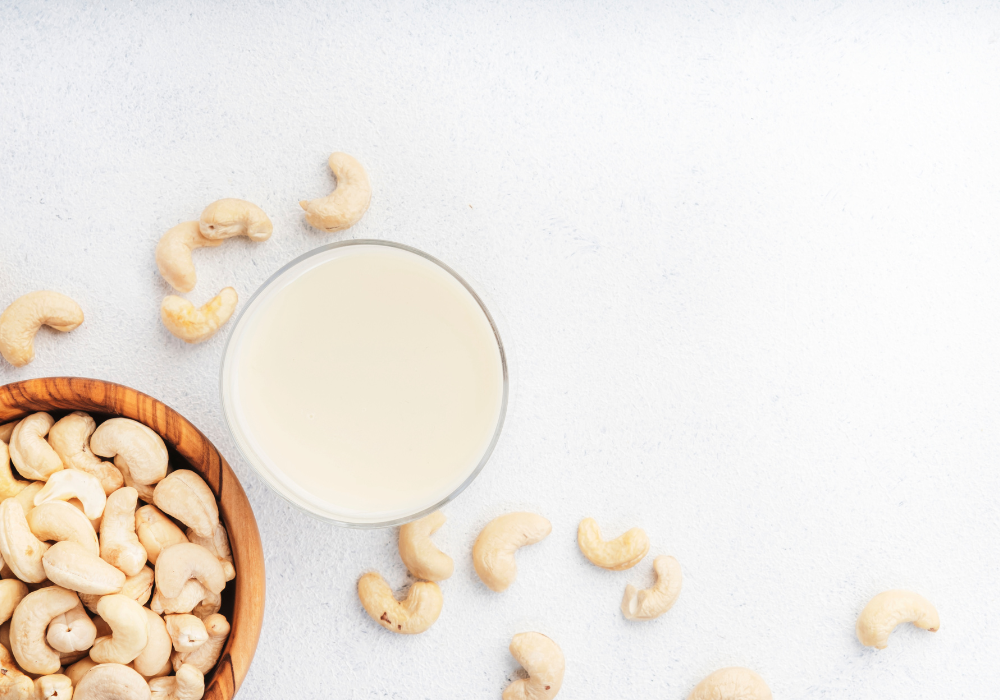 This is without a doubt my most used plant-based alternative! Cashew cream is so amazingly versatile, not only can you make a killer sour cream with it, but you can also use cashew cream as a sub for heavy cream in soups and bisques, as a base for DELISH creamy desserts, ranch and caesar dressings, queso dip, cheese sauce, legit cream cheese, as a cheesy topping on pizza, and SO MUCH MORE. 
The other great thing about cashew cream is that it's one of those plant-based swaps that generally go unnoticed by meat-eaters and plant-eaters alike. Cashews have such a mild flavor that you can make a badass cashew sour cream and nobody who tastes it will think "oh, this is a plant-based substitute for the dairy I usually eat." Oh no! The only thought going through their head when they eat it will be, "damn, this is delicious!"
For Basic Cashew Cream: 
1 cup raw cashews (soaked overnight if your blender is less than 600 watts)
1 cup filtered water
Combine equal parts cashews and filtered water in a high-speed blender and blend until completely smooth (30-60 seconds). 
For Cashew Sour Cream: 
1 recipe basic cashew cream or 1 cup raw cashews + 1 cup filtered water
Juice of ½ lemon
½ teaspoon apple cider vinegar
½ teaspoon salt
1 tablespoon nutritional yeast
To the basic cashew cream base, add the rest of the ingredients. Blend again to combine. (If you're making this from scratch without premade cashew cream base, simply add everything to the blender at once and blend.) Taste and adjust seasonings. 
Store cashew cream in a glass jar with an airtight lid in the fridge for up to five days. 
Looking for ways to use cashew cream? Check out my incredible loaded mac and cheese recipe that uses cashew cream as the base for the cheese sauce.
ALTERNATIVE #2: Parmesan Cheese => Pine Nut Parmesan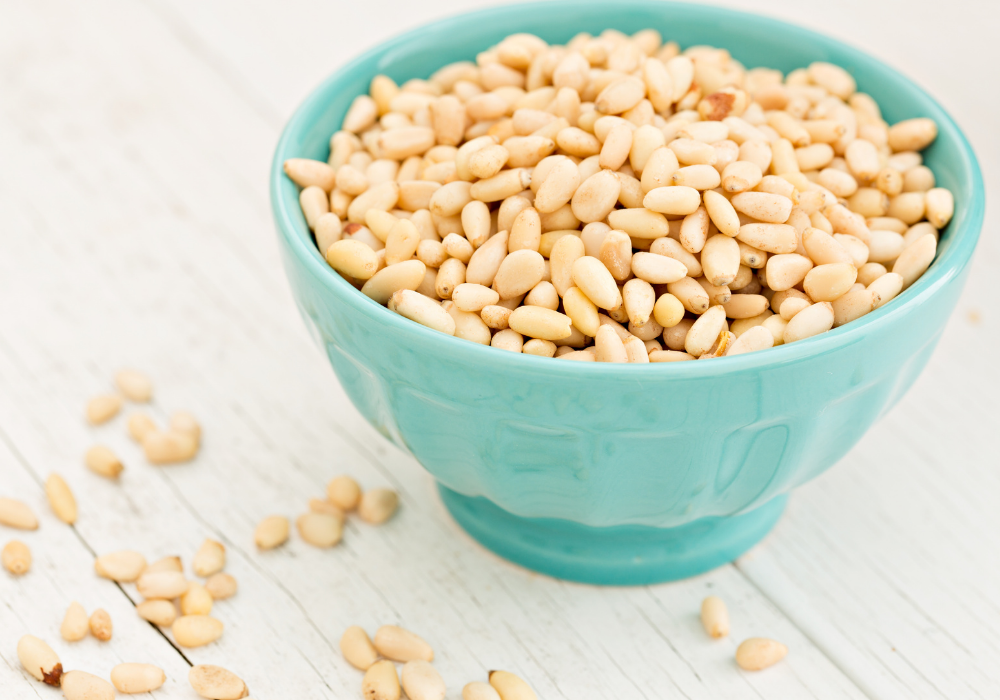 I know this is one of those plant-based alternatives that doesn't sound like it will hold up to the animal product version. So you'll just have to trust me. Once you try it, you'll change your mind! 
Pine nut parmesan is such a useful and delicious topping! It goes well on so many more dishes than just pasta (although pasta is the place I use it most!). It's nutty, sharp, and cheesy, just like a great parmesan should be. I'll be the first to say that this doesn't taste exactly like the dairy version, but it works well in every place that dairy parm would generally be used! This parmesan can, and should, be sprinkled liberally on top of pizza, and works great in salads too! I also love combining it with dried oregano, thyme, and bread crumbs as a crispy topping for casseroles and pasta bakes. 
The great thing about this parmesan is that you can make a batch in under 5 minutes. Even better, it can be stored in the fridge in a jar for up to a month. That means you can make it once and have parmesan to top all your favorite foods with super minimal effort!
 So let's get down to the juicy bit: how to make it!
For the Pine Nut Parmesan: 
⅓ cup pine nuts (or cashews)
2 tablespoons nutritional yeast
½ teaspoon garlic powder
¼ teaspoon salt
Freshly ground black pepper
Combine everything in the bowl of a food processor. Pulse several times until the pine nuts break down and the mixture comes together. Be careful not to over-mix. It should resemble crumbs and be slightly oily from the natural oil released by the pine nuts. 
Store the pine nut parm in a jar in the fridge. It will keep for up to a month. Use it generously on pasta, pizza, salads, casseroles, and even to top grain bowls!
Curious how pine nut parmesan would taste in your favorite recipes? Try this flavor-packed Tomato and White Bean Casserole topped with cashew parmesan.
ALTERNATIVE #3: Eggs (as a binder) => Flax Eggs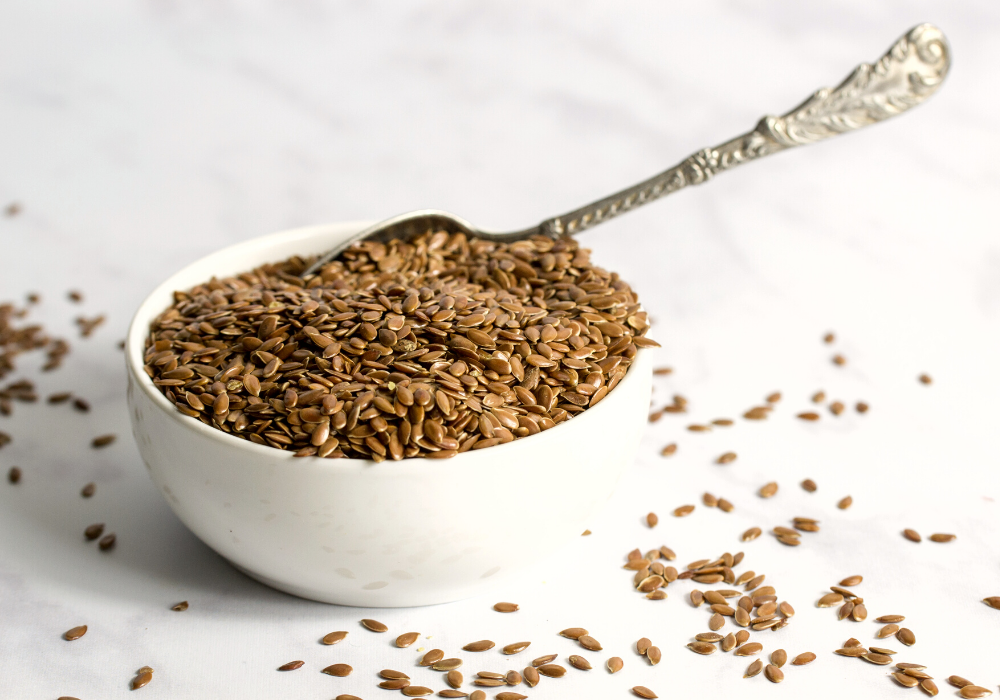 This is a classic swap in the plant-based kitchen and for good reason! Ground flax seeds plus water (or a "flax egg," as it's known) works amazingly well in place of eggs. This is particularly true in dishes that use eggs as a binder (think meatballs, burgers, muffins, pancakes, etc.). The flax seeds create a gel once combined with water, creating the perfect plant-based, super easy, and seriously healthy egg substitute!
This "recipe" is barely a recipe. It requires just two ingredients and takes only 5 minutes, which makes it really easy to use.
Flax eggs are so quick to make; just keep ground flax seeds in your fridge and whip up a flax egg or two every time you need one! 
Then continue making your dish, adding in the same number of flax eggs where the recipe indicates the chicken eggs should be. 
For 1 flax egg:
1 tablespoon ground flax seeds
3 tablespoons room temperature filtered water
Combine the flax seeds and water in a small bowl and whisk well.
Set the bowl aside and let the flax mixture gel for five minutes. Voila, your flax egg is ready to go! 
There are loads of recipes that use flax eggs, but if you're unsure where to start, make these delicious Chai Spiced Cookies that use flax eggs as a binder.
ALTERNATIVE #4: Ground Beef or Pork => Ground Lentil Walnut Meat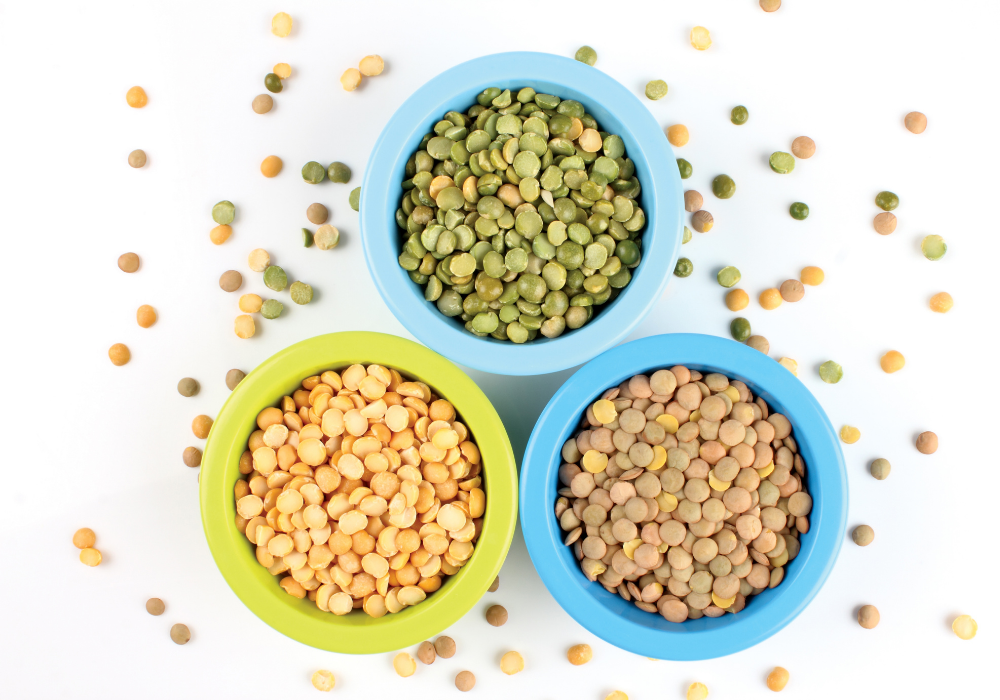 This might seem like an unusual alternative to include in this list but hear me out on this one! Having an easy, go-to, healthy plant-based swap for ground meat comes in handy way more often than you might think! 
Although there are lots of vegan meat alternatives out there that you can buy premade at the grocery store, I often fall back on this lentil walnut meat. Store-bought meat alternatives are convenient, but they can hike your grocery bill up considerably. Plus, they're usually heavily processed and high in sodium and oils. Additionally, these store-bought meats are generally preseasoned, making them less versatile than this homemade alternative.
In addition to super tasty plant-based meatballs and meatloaf, this ground lentil walnut meat works perfectly in place of ground beef in tacos, stuffed into pitas in place of shawarma, and as the filling of shepherd's pie. 
This plant-based ground meat is super hearty and, just like animal meat, can take on the flavor of whatever seasonings and spices you throw in with it. Want ground meat for tacos? Add the lentil walnut meat to sauteed onions, lots of garlic, and season with taco seasoning and lime juice! Looking for a hearty Middle Eastern shawarma sub? Simmer the lentil walnut meat with sauteed onions and garlic, juicy tomatoes, za'atar spice mix, and cumin! I've even used this in place of Korean-style beef to make bulgogi, and while definitely not traditional, it turned out freaking delicious! 
For plain lentil walnut meat:
1 cup green or brown lentils
2 cups veggie broth (or water)
1 cup walnuts
Bring the lentils and broth to a boil in a pot. Turn down the heat to simmer, and let them cook until the lentils are soft but still hold their shape. This will take around 20 minutes for dry lentils or 10 minutes for soaked lentils. (It does depend on the specific type of lentil you use, so be sure to check five minutes before you think they'll be done and then every few minutes afterward until done.) Drain any remaining broth out of the lentils (you can reserve this for seasoning the lentil walnut meat in your main recipe) and let them cool. 
While the lentils cook, toast the walnuts in a pan on low heat until slightly golden and fragrant. 
Once the lentils and walnuts are cool, add them to your food processor and pulse a few times until the mixture breaks down and resembles ground meat. Make sure not to blend too much or you'll get a paste. 
This lentil-walnut meat is now ready to be used in any recipe that calls for ground beef, pork, or lamb! Just like plain ground meat, this plant-based meat needs to be seasoned! Try adding finely chopped onions and garlic, spices, and fresh herbs. Eating it as-is will not be a tasty experience! 
One of my favorite ways to use this ground lentil walnut meat is in The Best Meatless Meatloaf.
ALTERNATIVE #5: Scrambled Eggs => Scrambled Tofu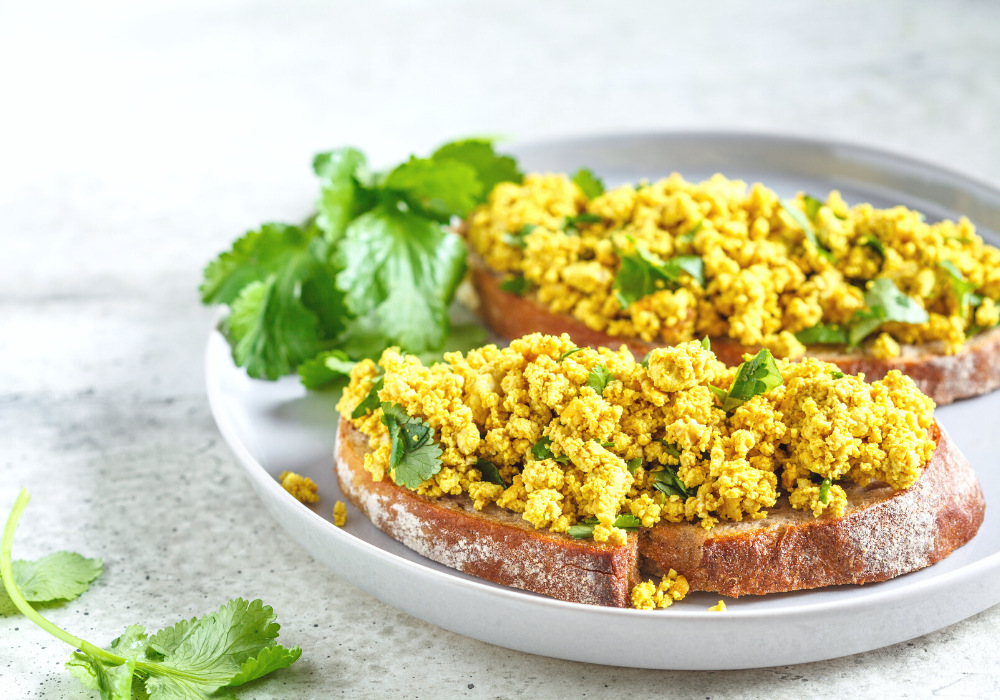 Now I know you might be thinking this is a weirdly specific swap to include in this list of plant-based alternatives, but hear me out on this one anyway. 
Scrambled eggs come in handy in more dishes than just breakfast scrambles, and this scrambled tofu is no different!
Fried rice, anyone? 
What about huevos rancheros? 
You can even use this tofu scramble as the base for egg salad!
And then, of course, there are the many many versions of scrambled eggs and eggs on toast! 
All of these options work wonderfully with this tofu scramble, and we've only scratched the surface!
There's a secret ingredient in this scramble that adds a seriously eggy flavor. That ingredient is kala namak i.e. Indian black salt! (Don't be fooled by the name like I was, the salt color is actually not black!) You can find kala namak in any Indian grocery store or online. It sounds like one of those pricey, hard-to-find, specialty ingredients but it's actually widely available and inexpensive. This salt takes scrambled tofu way over the top, but if you don't have it, don't sweat it! This scramble is super delicious without the kala namak and works nearly as well!
For the scrambled tofu:
1 block firm tofu
1 teaspoon olive oil
2 tablespoons unsweetened soy milk
2 tablespoons nutritional yeast 
1 teaspoon dijon mustard
2 tablespoons Tamari or soy sauce
1/2 teaspoon garlic powder
1/2 teaspoon chili flakes
1/4 teaspoon turmeric powder
1/2 teaspoon kala namak
1/4 teaspoon black pepper
To make the scrambled as a base for another recipe, crumble the tofu with your hands into a bowl.
Add some olive oil to a nonstick pan then add the tofu and saute for a few minutes to brown the tofu edges.
Add all the other ingredients to a small bowl and mix well to combine. Then pour this mixture over the tofu and continue to cook for a further 3-5 minutes, moving the tofu around often.
That's it! Feel free to add sauteed veggies, plant-based meats, or cheeses to this basic scrambled tofu recipe and pair it with a piece of hearty toast for a full meal.
Take this scrambled tofu recipe up a notch with this amazing huevos rancheros-style breakfast recipe.
And there you have it. Five easy homemade plant-based alternatives for animal products that you can easily make in your kitchen. Use these mini-recipes to help make your transition to a plant-based diet go more smoothly. Now go get cooking some tasty meals!
I'd love to see how you use these plant-based alternatives! Tag @plantssogood on Instagram or Facebook so I can see all of your amazing creations!