These chocolate beet cupcakes with raspberry frosting are the perfect sweet treat for Valentine's day and every other day!
They're oh so chocolatey and fudgy, not too overpoweringly sweet, and have a hint of earthiness and a flash of pink from the beets. They're incredible on their own, but the raspberry orange frosting takes them over the top!
The cupcakes are best the day you make them, however, they will stay fresh in an airtight container in the fridge for up to three days. I like to wait to frost mine until I'm about to serve them so that the pink color stays bright and the orange and chocolate shavings remain fresh.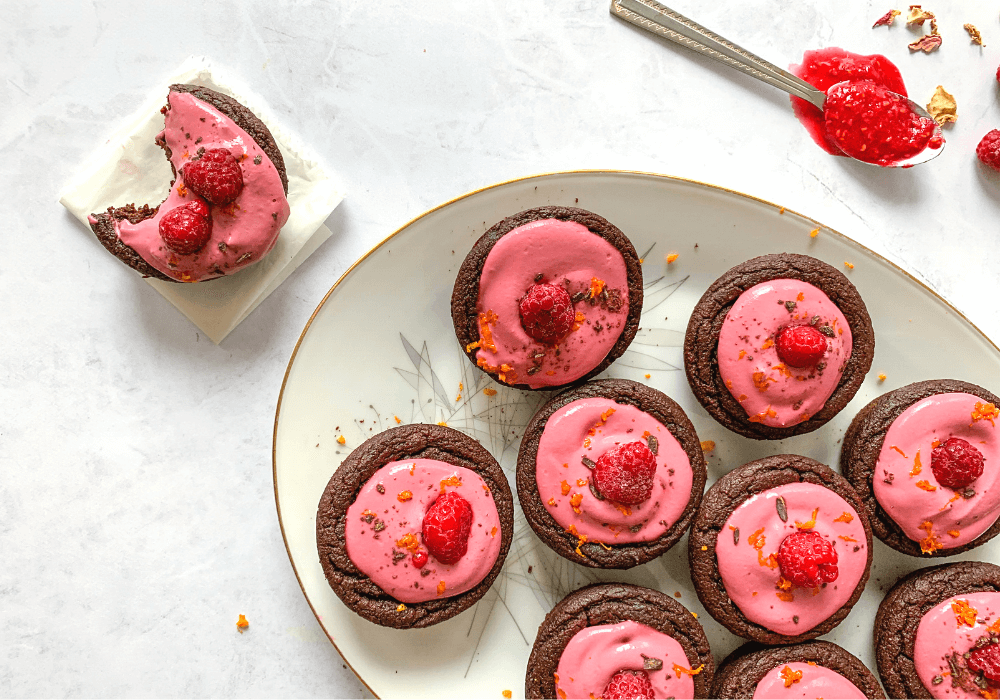 So let's get to making these cupcakes, shall we?!
Chocolate Beet Cupcakes with Raspberry Orange Frosting
Ingredients
For the chocolate beet cupcakes:
1 cup oat flour
1/2 cup + 1 Tbsp almond flour
1/2 cup raw cacao powder
Pinch of salt
1 tsp baking soda
1/2 tsp baking powder
3/4 cup soy milk
1.5 tsp apple cider vinegar
3 medium beets, boiled & peeled
1/2 cup coconut sugar
3 Tbsp maple syrup
1 Tbsp vanilla extract
1/4 cup + 2 Tbsp sunflower oil
For the raspberry orange frosting:
4 Tbsp beet juice or 1 raw beet
1 cup cashews, soaked for 2-3 hours in hot water
4 Tbsp maple syrup
Juice of one clementine
1 tsp lemon juice
4 Tbsp raspberry coulis** (recipe to make this below)
1 Tbsp vanilla extract
1 tsp orange blossom water
Zest from one orange
High-quality dark chocolate, grated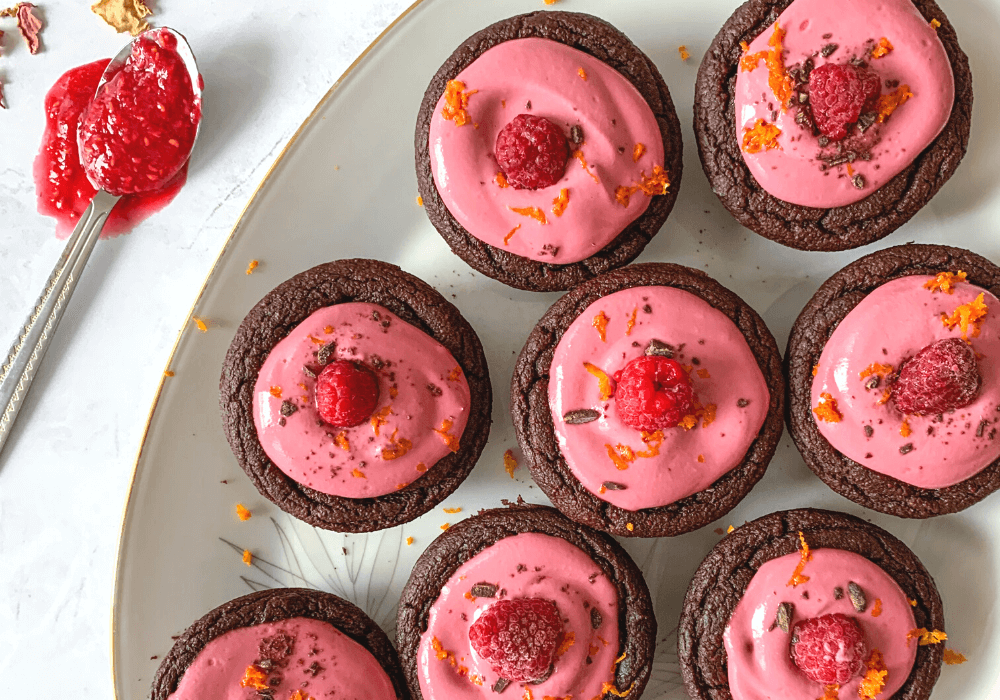 Make the Cupcakes
Begin by making the cupcakes. Preheat your oven to 350 degrees.
In a small bowl combine the plant milk and apple cider vinegar. Leave this while you prepare the rest of the ingredients so it has time to curdle.
Combine the flours, cacao powder, salt, baking soda, and powder in a large bowl and whisk until no lumps remain. Set this aside.
Slice the beets into chunks and add them to a blender along with the coconut sugar, maple syrup, and vanilla extract. Add in the milk/vinegar mixture and blend until the mixture has a creamy consistency and a beautiful fuchsia color, about 1 minute.
Pour the wet mixture into the bowl with the dry ingredients and mix well for several minutes. Finally pour in the sunflower oil and continue to stir for one minute more. You should have a very smooth and chocolatey batter.
Line a 12-cup muffin tin with cupcake liners. You can also grease the tin with oil if you don't have any liners. Carefully spoon the batter into the prepared cupcake forms, putting enough in each to reach 3/4 of the way up. Smooth the tops of the cupcakes and then place them in your preheated oven.
Bake for 35 minutes until an inserted toothpick comes out mostly clean and the tops are springy. Because these cupcakes are so fudgy, some crumbs will stick to the toothpick even when the cupcakes are finished baking. Remove the cupcakes from the oven and let them cool for at least 30 minutes until room temperature.
Make the Frosting
Meanwhile, make your frosting. Wash the raw beet and pass it through your juicer. Retain the juice for this recipe and save the pulp for something else. (Alternatively, you can blend the beet with 2-3 tablespoons of water until it is smooth and then strain it through a fine-mesh strainer.)
In a blender combine all of the ingredients and blend until you reach a creamy, smooth consistency. The frosting should be as thick as possible while still being completely smooth.
Pour the frosting into a bowl and leave it to chill in the fridge for at least 30 minutes.
To serve, remove the frosting from the fridge and generously dollop it over the cupcakes. Garnish with orange zest, dark chocolate shavings, and a few frozen raspberries!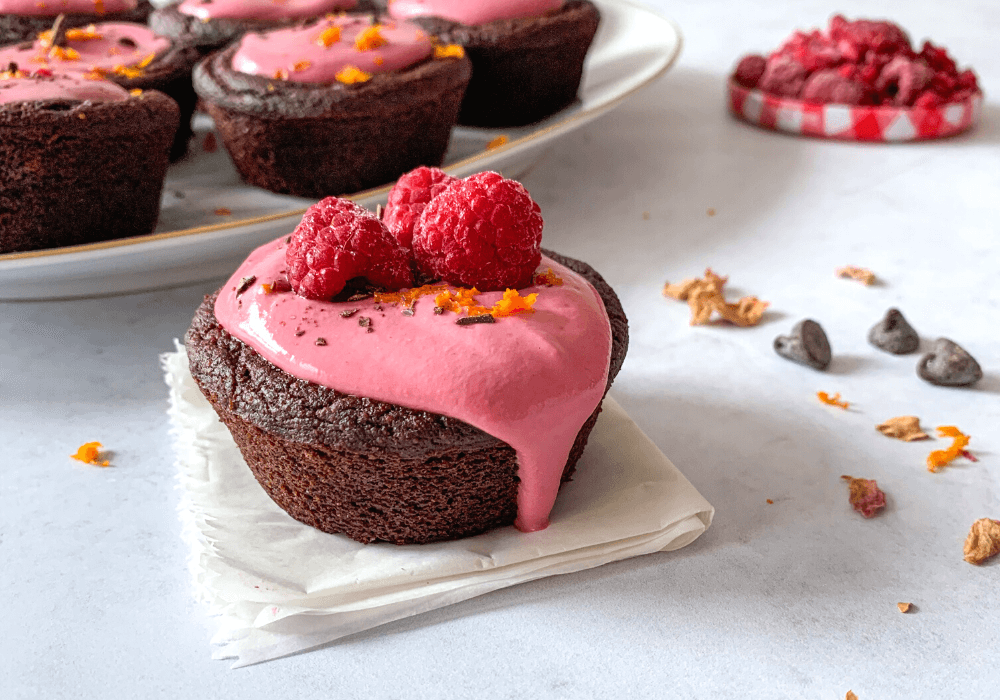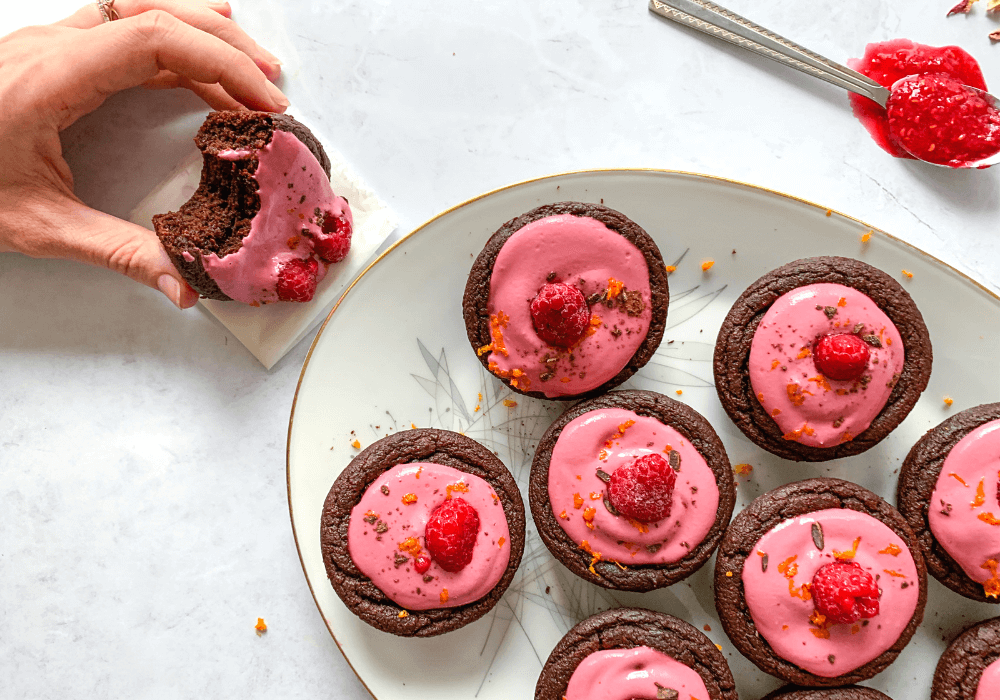 If you make this recipe, I would love to see how it turns out for you! Don't forget to tag @plantssogood on Instagram or Facebook so I can see your creations.