Are you ready to start your summer mornings with a burst of plant-based deliciousness? Look no further! In this blog post, I'm sharing three mouth watering, nutrient-packed breakfast recipes that are perfect for warm summer days when you want something quick, fresh, and nourishing.
These easy-to-make breakfasts will leave you feeling satisfied, energized, and ready to tackle anything that comes your way.
The first recipe is for a sweet plant-based breakfast:
Easy Chia Yogurt Bowl
Start your day on a sweet note with this refreshing and nutritious chia yogurt bowl. It's a delightful cross between chia pudding and overnight oats, topped with the flavors of summer. Simply stir the base ingredients together in a jar and let it refrigerate overnight. In the morning, top it off with sliced nectarines, frozen raspberries, and a handful of crunchy nuts.
This bowl not only tastes heavenly but also provides a boost of essential nutrients to kickstart your day.
To make it a little fancier (and bright pink), try blending the yogurt and soy milk with frozen raspberries before stirring through the chia seeds and oats. Then proceed with the recipe as is. So good!
Click here for the recipe for this Easy Chia Yogurt Bowl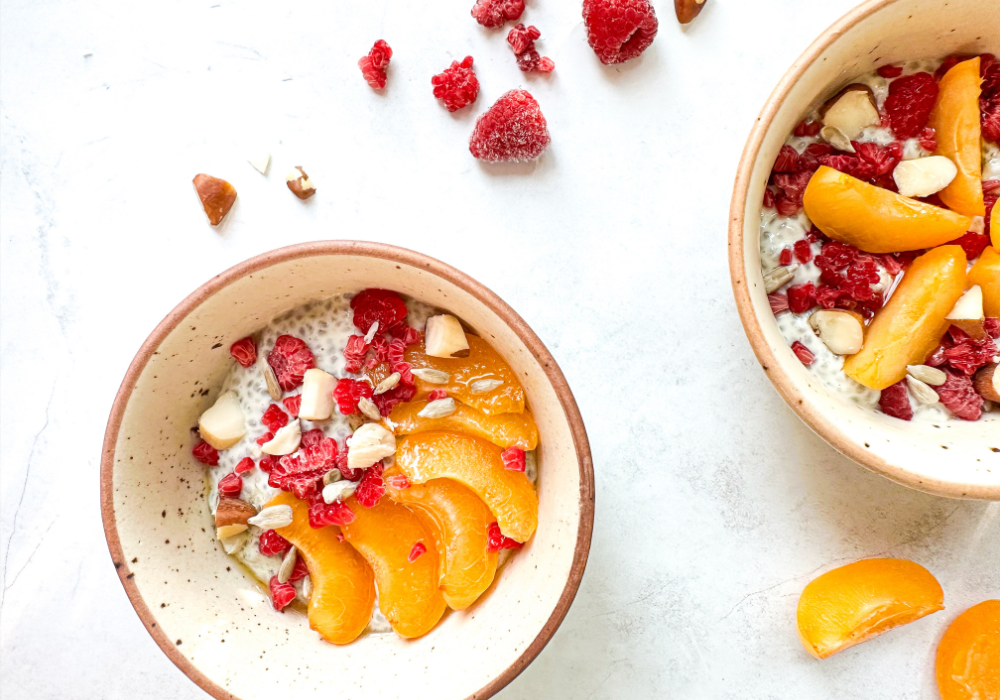 For the second plant-based breakfast, we're going savory:
Dairy-Free Ricotta & Mushroom Toast
For those who prefer a savory start to their mornings, this Ricotta & Mushroom Toast is a must-try! Begin with a slice of whole-grain bread, toasted to perfection. Spread a generous layer of tofu ricotta on top, adding a creamy protein-rich base. Next, sauté some mushrooms with garlic, herbs, apple cider vinegar, and Dijon mustard for a tangy, umami punch. And voilá, you have a bangin' breakfast that's packed with plant-powered nutrition and bold flavor to fuel your day.
This is one of my all-time favorite ways to prepare mushrooms and they go perfectly with the creamy tofu ricotta for the ultimate easy plant-based breakfast.
Get the recipe for this Savory Ricotta & Mushroom Toast here.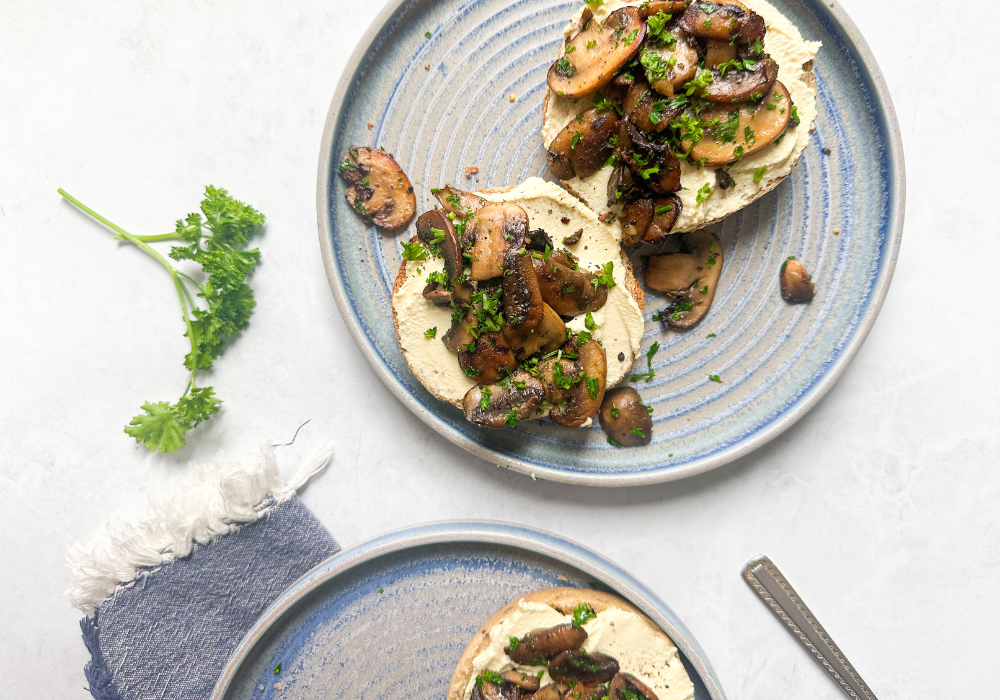 For our final breakfast, we're thinking big with a delicious (but super easy) make-ahead plant-based breakfast:
Baked Sweet Potato, Spinach & Tempeh Breakfast Hash
Busy mornings are no match for this make-ahead breakfast hash! Spend just ten minutes putting it together and then go about your morning calmly knowing you have a hearty and satisfying meal ready to go when you are.
Combine cubed sweet potatoes, tempeh, beets, and chunky sliced red onions in a baking dish. Add a flavorful mixture of tomato paste, Calabrian chili paste (my favorite condiment at the moment), and dried thyme for a burst of bold flavor that will make your tastebuds sing. Bake until the vegetables are tender with crispy edges. Enjoy with torn basil, sliced avocado, and your favorite hot sauce!
I love this breakfast hash for a leisurely weekend brunch after an early morning yoga class. It truly is the best start to the weekend!
Click here for this delicious Baked Sweet Potato, Spinach & Tempeh Breakfast Hash recipe.
Revamp your summer mornings with these three easy and mouth watering plant-based breakfast recipes! Whether you have a sweet tooth or crave a savory delight, these recipes have got you covered. From the creamy and nutrient-rich Chia Yogurt Bowl to the umami-rich, protein-packed Ricotta & Mushroom Toast to the hearty Sweet Potato & Tempeh Breakfast Hash, each recipe is designed to nourish your body and kickstart your day.
By incorporating these plant-based breakfasts into your summer mornings, you'll not only savor the delightful flavors of the season but also benefit from the abundance of nutrients these dishes offer. From chia seeds to rolled oats to tofu, sweet potatoes, and tempeh, your body will thank you for choosing these wholesome and delicious meals.
So, what are you waiting for? Get ready to embark on a culinary adventure that embraces the flavors of summer and the power of plant-based nutrition. Enjoy these delicious breakfasts, and let them be the fuel that empowers you to make the most of your summer days!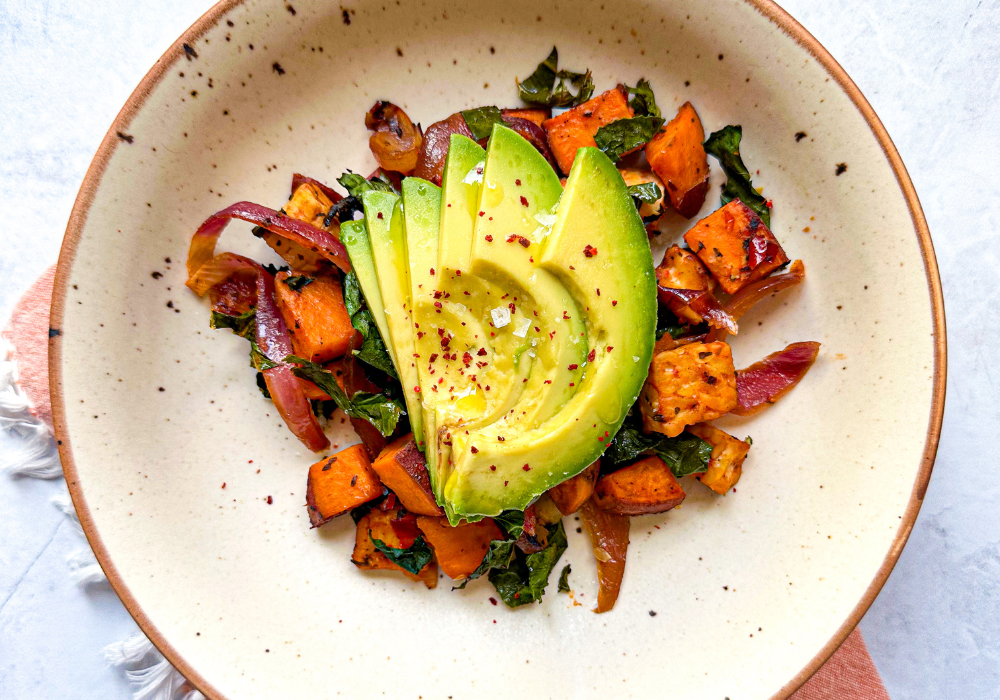 If you liked these recipes, I think you'll love these 3 Quick and Easy Refreshing Summer Salads. Happy summer cooking!
And if you try any of these recipes, I'd love to see how they turn out for you! Send me a DM or tag @plantssogood on Instagram or Facebook to share your recipe with the PSG community!