Planning a trip to Charleston, SC, and wondering where to eat plant-based? You'll find all my favorite places in this blog post.
Charleston is known for its amazing food, but you might not know that if you follow a plant-based diet. Finding plant-based options in Charleston is not impossible, but this historic city isn't the most vegan-friendly place by any means. 
Having lived in this old charming city for two years, I've developed some firm favorites for delicious and reliable plant-based food. These spots uphold Charleston's foodie reputation while also being healthy, flavorful, and plant-based. 
In the following list, you'll find everything from cute cafes to fine-dining dinner restaurants to my favorite ice cream spot. Charleston might not have the plethora of plant-based options that a city like New York does, but if you're here for a weekend or even a few weeks, you can be certain to leave with a full, satisfied tummy.
BASIC Kitchen 
Located a few blocks from the College of Charleston in the historic downtown, Basic Kitchen is the perfect date night dinner spot! When it's not sweltering outside, their covered outdoor dining area in the back is beautiful and peaceful. 
Basic Kitchen focuses on healthy, simple dishes and quality ingredients. They source their ingredients from local Charleston farms and even have a list of local suppliers proudly displayed on the wall. 
Their philosophy is simple. 
"Use seasonal, local produce and the best ingredients to create food that's nourishing and delicious, giving you tons of energy to pursue the things you love."
Having been here many times, I can say that Basic Kitchen's dishes perfectly embody their philosophy. 
While not 100% plant-based, the majority of the menu is and there are a multitude of delicious options to choose from. 
The menu changes seasonally, although you'll always find certain old-faithfuls available year-round.
My Go To: 
The Basic Bowl! It hits the spot every time, no matter how many times I've eaten it. 
It checks all the boxes: 
Nutritionally balanced with the must-have combo of protein (chickpeas & quinoa), healthy fats (avocado and olive oil), complex carbs (quinoa, sweet potato), and multiple kinds of veg (broccolini, sweet potato, lots of fresh herbs in the sauce) 
Flavorful
Lots of different textures
Whole food plant-based
Filling
Colorful
Just plain delicious! 
Other delicious year-round items on BK's menu are their famous corn ribs–exactly what they sound like and utterly sinful–and the sweet potato fries with vegan ranch. Although under the appetizers section, both of these small plates make delicious, if less healthy, sides to my go-to Basic Bowl. 
It's all about balance, after all!
My top tips: 
Make a reservation in advance if you're coming for dinner. They're often busy even during the week. 
Go here for an early dinner and then wander around the beautiful streets of downtown Charleston. Walk through the College of Charleston Campus just east of the restaurant for a truly picturesque experience. 
Unless something really catches your eye, skip the dessert and opt for ice cream at Off Track, just a short walk away, instead.
If you can get here in January, you're in for a treat! Basic Kitchen does a special 100% plant-based menu for the entire month of January with weekly changing specials. 
Where to find it: 
82 Wentworth St., Charleston, SC 29401
(843) 789-4568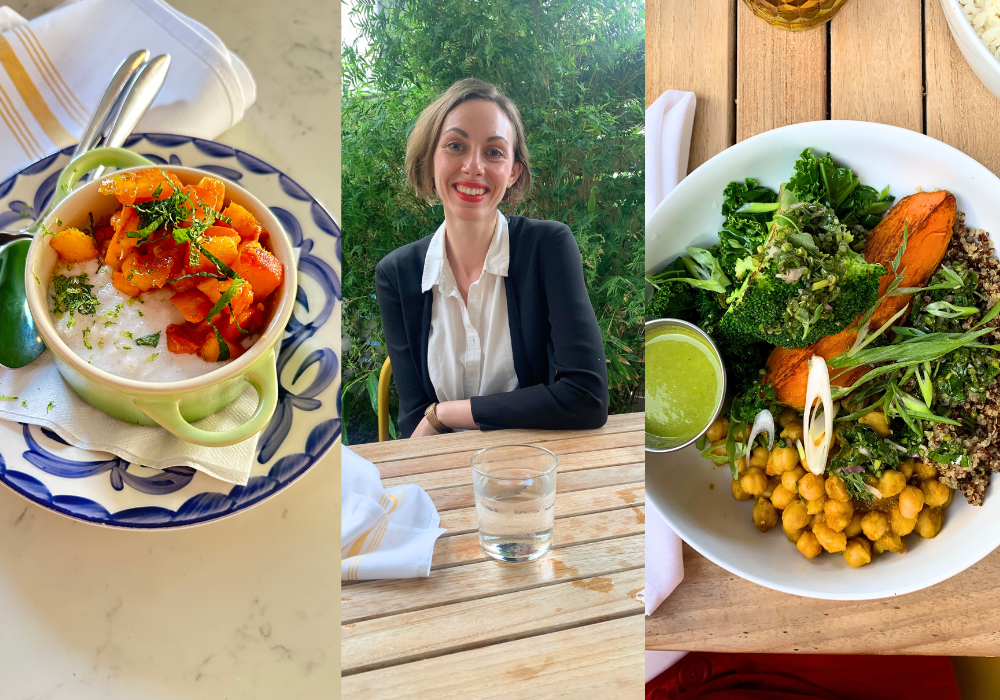 Coastal Crust (Pizza)
Coastal Crust is the epitome of the relaxed Southern chic that is unique to Charleston. The restaurant is tucked away off a main road with outdoor picnic-table seating, a fire pit, and a playground for children. It's the perfect place for families with young children, but I also love it as a casual and cozy date night spot. 
With a predominantly omnivorous menu, you might pass Coastal Crust by if you're not in the know about their plant-based options. This is what I did for the first year of living in Charleston and I still kick myself for all the pizza dinners I missed out on. With thin-crust wood-fired pizzas and salads, there are actually several plant-based options to choose from. Not only are they happy to swap ingredients in or out to make their pizzas plant-based, but they also have a secret off-menu vegan pizza that is to die for!
My go-to:
The Vegan Supremo on gluten-free crust never gets old. It's my go-to and hits the spot every time. Surprisingly tasty dairy-free cheese, plant-based sausage, pickled chilis, and fresh basil, this pizza sounds basic but it's bursting with flavor and each component works perfectly with the others. 
If my husband and I decide to split a pizza instead of getting our own, the arugula salad makes the perfect starter (ask for it without the ricotta to keep it dairy-free). 
My top tips: 
Coastal Crust is first-come-first-serve and can get very busy on the weekends. We once waited for an hour to get our pizza, while on other days we've gotten our food in under 15 minutes. If possible, opt to get there early (or late), and go during the week so you're sure to snag a table. 
If you're looking for a sweet treat to round out your meal, stop by the adorable creamery in the vintage Airstream next door for Italian ice. 
Coastal Crust has multiple locations in the Charleston area. Check the menu of the location you're going to ahead of time to confirm they carry plant-based and/or gluten-free menu items. 
Where to find it:
219 Simmons Street, Mt Pleasant, SC, 29464
843-936-3199
Basil (Thai)
This isn't your average Thai restaurant. Basil is a fine-dining restaurant that elevates standard Thai favorites to a whole new level. Flavor-packed dishes with fresh, high-quality ingredients (no soggy frozen veggies here!) served in a tasteful space next to a mini lake make Basil a go-to dinner spot. 
Another omnivorous slanted menu, Basil only has a few options for plant-based eaters, but what they do offer is all delicious! The servers are very knowledgeable about the menu and will be happy to highlight plant-based options. So don't be shy about asking for recommendations. 
The portions are large so sharing a few dishes between two or even three people is a great way to try several menu items without over-stuffing yourself.
My go-to:
Start with the Tom Kha Gai and split it between 2 (or even 4) people. Served in a unique metal dish with a mini fire in the center to keep the soup hot, this is the absolute BEST version of this famous coconut soup I've ever had. It's creamy, it's salty, it's tangy, and the coconut flavor is out of this world. 
Next, it's a hard choice between the Green Curry and the Massaman Curry. The green curry is spicy and coconutty, with lots of Thai basil (the best!) and fresh veggies. I never liked massaman curry much before trying Basil's, but now I find myself craving it on the regular. It's more mild than the green curry, but no less flavorful. Both curries work perfectly with added tofu, and I love to pair them with brown rice instead of the standard white. 
My top tips:
Don't assume something is plant-based here simply based on the item description. Basil uses fish or oyster sauce in many seemingly plant-based dishes so double-check before ordering if this is a concern for you. 
As a mark of business success (at least, that's how I see it!), Basil is CLOSED on Sundays. Fridays and Saturdays are always packed here, so make a reservation early or come during the week. 
If it's not too hot out, the outside terrace near the lake is beautiful. 
After dinner, enjoy a leisurely walk along the lake-front path. It winds its way around several connecting small lakes for about half a mile. Keep your eyes peeled for turtles, snowy egrets, blue herons, and even water snakes! 
Basil has several locations throughout the Charleston area, so double-check the menu for plant-based options before going. 
Where to find it:
1465 Long Grove Dr, Mt Pleasant, SC 29464
(843) 606-9641
Leyla (Lebanese)
Located right on King Street in downtown Charleston, Leyla is the perfect place for a celebratory dinner after a day of strolling around the narrow cobblestone streets of the historic district.
Upon entering, you'll find yourself in a traditional space with leather banquettes lining the periphery and exposed brick walls. Don't be surprised if the owner greets you personally upon entering. It's all part of the warm, intimate charm here. 
Leyla has many plant-based and gluten-free dishes, and the expansive menu is well-marked so it's easy to understand your options. As is traditional in the Middle East, you really can't go wrong ordering several dishes and sharing family style. 
My go-to:
If it's just my husband and I, we love to order several starter dishes and share everything between us. The portions are generous so 4 starters fill us up. The Hummus Harra and Fattoosh salad are firm favorites, although all their hummus options are delicious. The generous use of sumac in the salad makes it extra flavorful and it only gets better when paired with a big dollop of hummus. 
You can also never go wrong with an order of stuffed Grape Leaves and Falafel.
When we do order an entree, the Lebanese Mousakka is a firm favorite. Think perfectly cooked eggplant in a rich tomato sauce served with rice. Each bite is a punch of flavor and, shared between two, it will be over before you know it. 
For a sweet finale, I love the rice pudding with its fruit coulis on top. The sweet sparkling Moscatel from Muscat is also delicious! 
My top tips:
With its central location on busy King Street and delicious food, Leyla is often busy. Make a reservation ahead of time even if you're going during the week. If you plan to go on the weekend, make a reservation a week ahead of time. 
The priciest place on this list, Leyla is a great option to celebrate a special evening.
Although not opposed to children, this restaurant is better suited to adults. It's a great spot for a date night or a place to bring older parents. 
Plan to spend a relaxing hour and a half to two hours here. This isn't a meal to rush through.   
Where to find it:
298 King St, Charleston, SC 29401
(843) 501-7500
Kwei Fei
A complete about-face from Leyla, above, Kwei Fei is a sassy, loud, spicy Sichuan restaurant in West Ashley. Located in a car-heavy area, this is a destination restaurant that absolutely deserves a place in your itinerary.
Self-proclaimed "fun dining, not fine dining," Kwei Fei is like your loud, opinionated, sexy friend who couldn't care less what other people think of her. Don't come here if you're looking for a quiet intimate setting for a first date. Do come here if you're in the mood for flavor-packed mouth-numbing dishes served family-style in a loud, fun environment.
The menu is a 50-50 split of omnivorous and plant-based dishes, and options are well-marked with vegan and gluten-free symbols. 
My go-to:
The menu changes seasonally, but I always go for the tofu dish, a couple of vegetable sides, and an appetizer. The Four Rivers Mushrooms are out of this world, as are the Dry Fried Green Beans. The Marinated Cucumbers are also amazing; crunchy and cooling, with the requisite dose of crushed Sichuan peppercorns. 
You really can't go wrong at Kwei Fei. Order four dishes with a variety of textures and a mix of wet and dry options for a heavenly dinner for two. 
My top tips:
Definitely make a reservation (which you have to do through Resy). But know they are very strict about their reservation policy. Kwei Fei doesn't provide a way to contact them directly, so if you want to change your reservation, you'll need to do it through the Resy app.
Everything is served family style and dishes come out whenever they're ready (unlike at most restaurants), so sharing several plates is really the only (good) option here. 
Parking can be hard to find at Kwei Fei, so arrive a few minutes early to give yourself enough time to circle the parking lot a couple of times. Saturdays are the busiest as there's a night market that wraps around the backside of the restaurant. 
Like Basic Kitchen, Kwei Fei does a fully plant-based menu for the month of January. So if you happen to be visiting then, don't miss it!
Where to find it:
Kwei Fei at Charleston Pour House
1977 Maybank Hwy, Charleston, SC 29412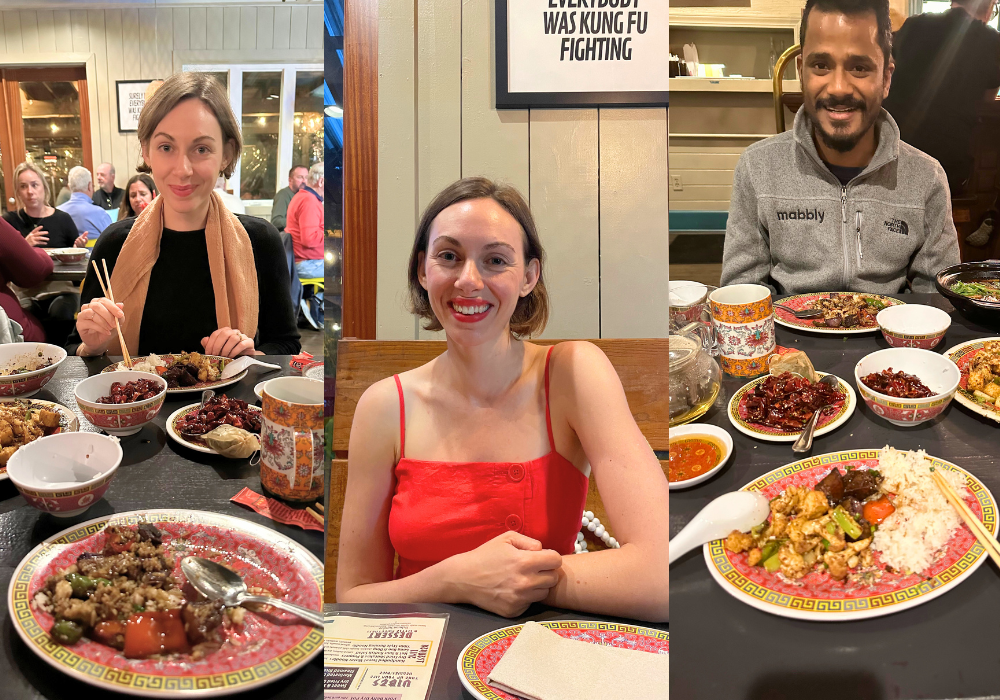 Bon Banh Mi
A quick and casual lunch or dinner spot for plant-based fare, Bon Banh Mi serves up Vietnamese banh mi, salads, tacos, and bowls at multiple locations in the Charleston area. 
The staff here are always cheerful and the red and yellow interior adds to the positive vibe. 
The food is simple, bold, and fresh, and there are multiple plant-based options to choose from.
My go-to:
The Red Curry Tofu Bowl hits the spot every time. Order half rice and half salad for a more nutritious and balanced meal. For extra flavor and spice, I love to sub the nuoc cham sauce with peanut sauce and then add an extra dose of nuoc cham at the table. In addition to the red curry tofu, the bowl features lots of crunchy raw veggies, sliced avocado, and the best crispy fried shallots. 
On the rare occasion I'm not in the mood for rice, the red curry tofu tacos are also delicious. Ask for them without the sriracha-lime cream to keep it plant-based. 
My top tips:
Bon Banh Mi is a great option for a quick lunch or dinner. Go here when time is tight but you still want a warm, filling, healthy meal. 
They don't take reservations but you can usually find a table pretty quickly. 
Most of their locations are closed on Sundays, but the North Mt Pleasant location recently expanded its hours to be open on Sundays.  
Where to find it:
1440 Ben Sawyer Blvd #1404, Mt Pleasant, SC 29464
(843) 388-7080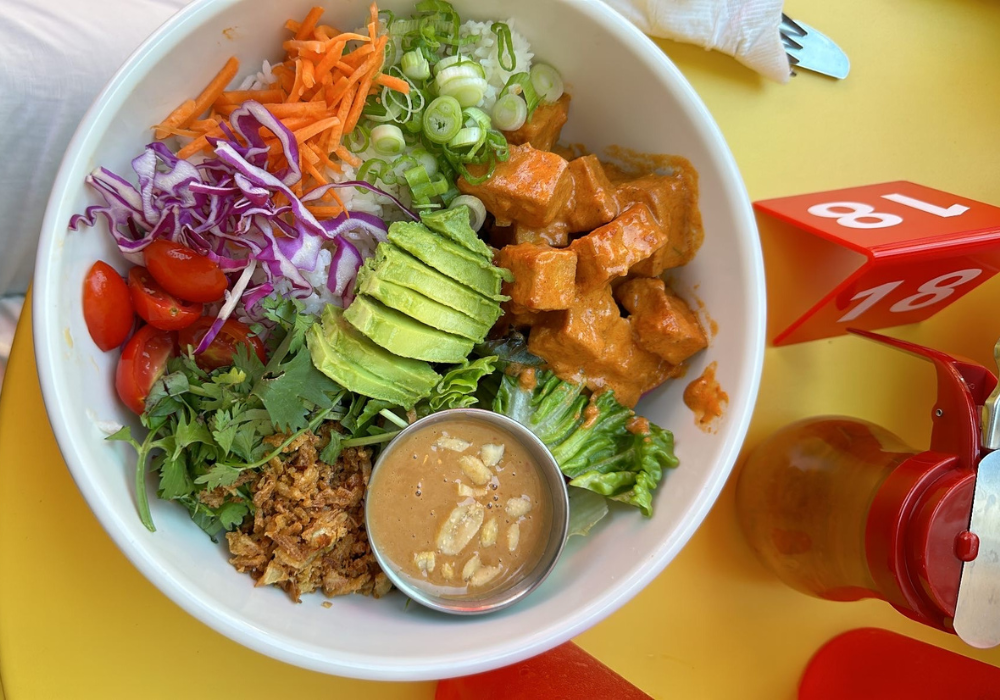 Harken Cafe (& sister Harbinger Cafe)
Located on a quiet street, the unassuming exterior of this cozy cafe makes you feel like you've stumbled on a hidden gem. Harken Cafe is indeed a gem and a favorite haunt of many Charlestonians for coffee dates, girlfriend catch-ups, and breakfast meetings. 
Started by two soul sisters and business partners, Harken is a small European-style cafe serving up delicious breakfasts, lunches, coffee drinks, and from-scratch pastries. Harken proudly sources many of its ingredients locally, listing exactly what they source from where on their site. 
While not an exclusively plant-based restaurant, there are still many options for plant-based eaters, all of them delicious. 
My go-to:
For breakfast:
Get their Green Thing! Two slices of pimped-up avocado toast with salty umami toppings; optionally on gluten-free bread. It's satiating from all the healthy fats and super flavorful – two avocado toast must-dos in my book! 
If avocado toast isn't your thing, the Nutty Buddy is a sweet toast option with house-made nut butter, granola, and honey. It's just as delicious as it sounds. Or, for a more traditional breakfast, the 'Bonjour Charleston' Parfait is also a yummy option with maple cashew granola, sweet potato, and almond milk. 
For lunch:
Most of their lunch is plant-based with many gluten-free options as well. Composed of salads and grain bowls, there's no shortage of healthy lunch options to choose from. The menu changes seasonally, but you really can't go wrong with any of the salads. I love the heartier ones that include sweet potato, quinoa, or beans.  
To Drink:
Get the matcha latte with oat milk. Every matcha experience previously will pale in comparison to Harken's version. It's lightly sweetened and they put a sprinkle of cocoa on top. Served in the coziest East Fork mug, it's heaven. 
My top tips: 
Go here for breakfast and then walk south toward the end of the peninsula. You'll find beautiful old Charleston houses and lovely gardens behind intricate wrought iron gates.
Get there early; they get really busy, especially on the weekends. 
If you're thinking about lunch, opt for a weekday. It's first come first serve, so the calmer hours are definitely the time to go. 
The tables do turnover fairly quickly though, so if you don't see a spot when you arrive, wait around a bit and one might just open up for you. 
Don't leave without snagging one of their pastries for the road! They rotate between many different options but usually have a vegan and gluten-free option.
If you like the sound of Harken but 1) want a quieter environment and/or 2) are more into sweets, head to Harken's sister, The Harbinger Cafe. North of the historic district on King Street, Harbinger is actually the OG of the duo and boasts a much larger sweets menu. Here, you'll also find more intricate avocado toasts, with multiple different options, all of them delicious. The matcha is just as dreamy as Harken's and it's a beautiful place to bring your laptop and work for a few hours. 
Where to find it:
62 Queen Street, Charleston, SC 29401
843-718-3626
1107 King Street, Charleston, SC 29403
843-637-3410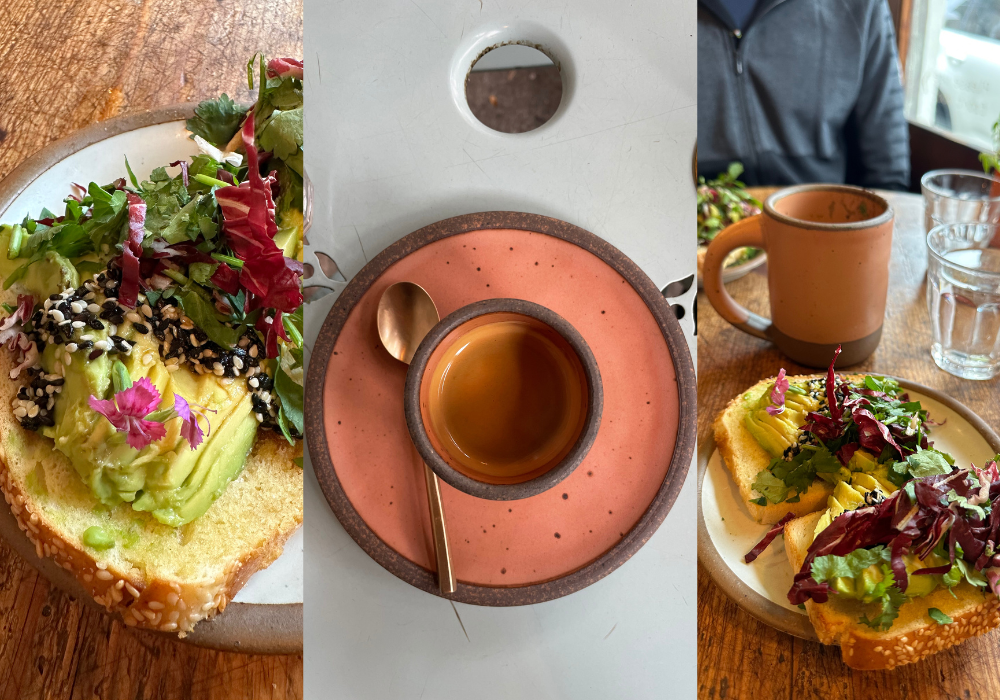 Off-Track Ice Cream
The cutest ice cream parlor you ever did see, Off Track is located smack in downtown Charleston one block west of historic King Street. 
As seems to be the underlying theme of this blog post, Off Track is yet another Charleston restaurant that takes pride in using many local ingredients in its ice creams. They create traditional dairy-based and nondairy ice cream in many innovative flavors. 
While they do serve dairy ice cream, Off Track has a full vegan ice cream menu, with many options to choose from, plus, a whole list of toppings and ice cream treats like ice cream sodas, sundaes, and sandwiches. You really can't go wrong.
The portions are very generous, so sharing is a great option here. 
My go-to:
If you're sharing, get their smallest cup and ask for two half scoops. The Chocolate PB Fudge is a firm favorite. I usually pair it with a fruit flavor; their Strawberry Cheesecake Swirl makes the perfect combo. Ask for two spoons and don't forget to share 😉 
If you're going it alone, you can't beat a gluten-free sugar cone with one perfect scoop. The struggle is really to choose which flavor, so make sure to sample your options before you settle. 
Whatever you choose, it'll be the perfect treat for window shopping down King Street.  
My top tips:
Off Track can sometimes be very busy, with lines out the door, especially in the summer. The interior is quite roomy though, and you shouldn't have to wait too long. 
There are no cute park benches nearby or an exterior seating area, so if strolling down hot streets while licking your ice cream isn't your thing, grab a table inside Off Track and enjoy your ice cream there. 
Off Track only recently made tasting available. Take advantage of this to sample all your potential options before choosing.
Where to find it:
6 Beaufain Street, Charleston, SC 29401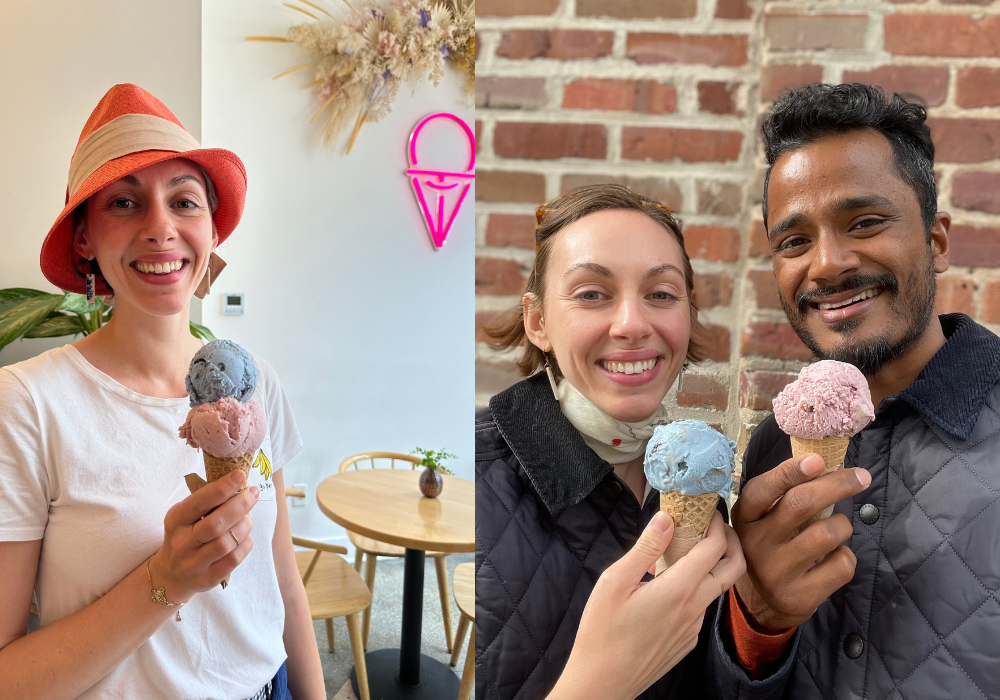 I hope this blog post answers your question about where to eat plant-based in Charleston.
Eating plant-based takes planning and preparation, no matter where you are. But I hope this list helps you as you're planning your trip and answers any worries you have about plant-based food options in Charleston, SC. 
Despite living in Charleston for two years, there are still multiple restaurants offering plant-based options that I didn't get a chance to try, and still others I did try but don't recommend. If you have recommendations to add to this list of where to eat plant-based in Charleston, I'd love to hear about them! Tag me @plantssogood or send me a DM on Instagram or Facebook with your recommendations!
And if you liked this plant-based foodie guide for Charleston, I think you'll love this Plant-Based Camping Guide.