Spring. The time when everything comes alive again. As the days get longer and warmer, I finally turn away from my favorite hearty winter stews and curries toward lighter fare. I love to spend the lighter evening hours lingering over multi-course meals featuring ingredients of this new season.
This three-course seasonal spring menu is for just such an occasion. Perfect for any spring holiday or celebration, or a small dinner party with close friends. 
Each course is better than the last, so I highly recommend making the entire menu. The three courses go so well together and share common ingredients across the whole meal. But of course, all three recipes are delicious on their own as well.
And if you're looking for more, you could easily turn this meal into a feast for a true celebration with a pre-dinner aperitif and a post-dinner nightcap. 
For the aperitif, I suggest small bruschetta bites with a whipped green pea pesto or go classic with a layer of cultured dairy-free butter topped with thinly sliced radishes and a sprinkle of Maldon sea salt. In any case, something with bread would be a perfect way to start this meal as the three courses below are quite light.
For after dinner, a tisane of fennel, lavender, mint, and honey would also be a welcome addition to round out this meal. Consider serving the tisane with a single chocolate truffle.  
Ingredient Highlights in this Seasonal Spring Menu:
This multi-course meal starts with a fresh asparagus and strawberry salad.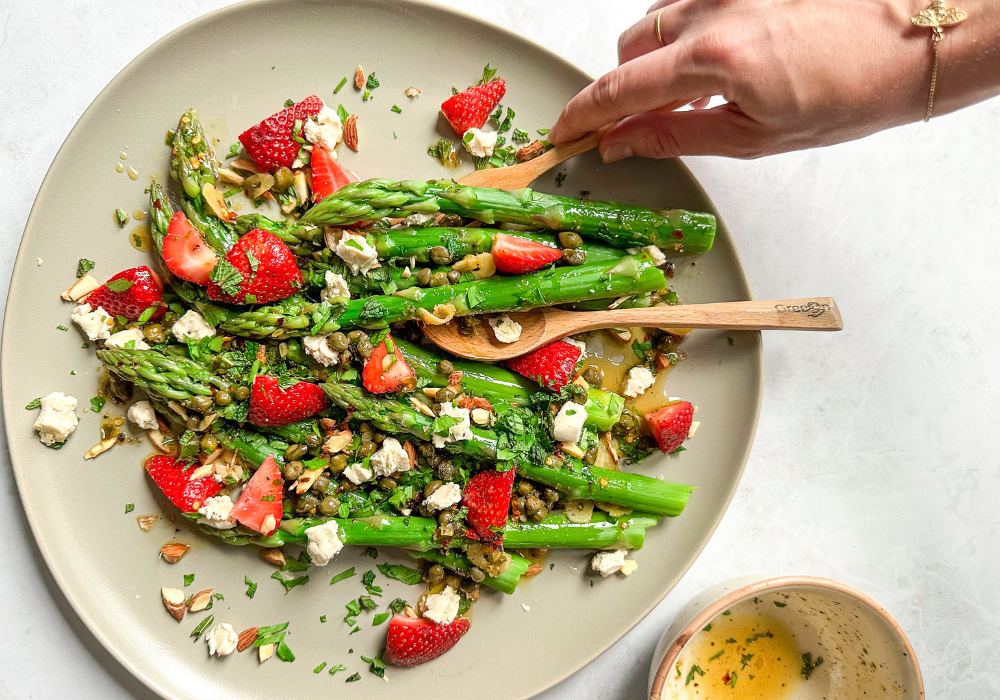 I use the word "salad" loosely here, as this isn't a typical lettuce salad at all, but rather, a composed vegetable starter with contrasting textures and flavors and a lemon caper sauce.
Be sure to use sweet, ripe strawberries for this recipe to counteract the tangy dressing.
When buying asparagus, look for vibrant, green stalks and tightly closed buds. The thickness of asparagus doesn't matter as much as you might think (thicker doesn't mean tougher), but the freshness does. Asparagus is the main ingredient in this salad, so you really want fresh, in-season asparagus for the best result.
Moving onto the second course, we have a plate of quinoa pilaf piled high with herb-filled meatballs in the most delicious creamy lemony sauce.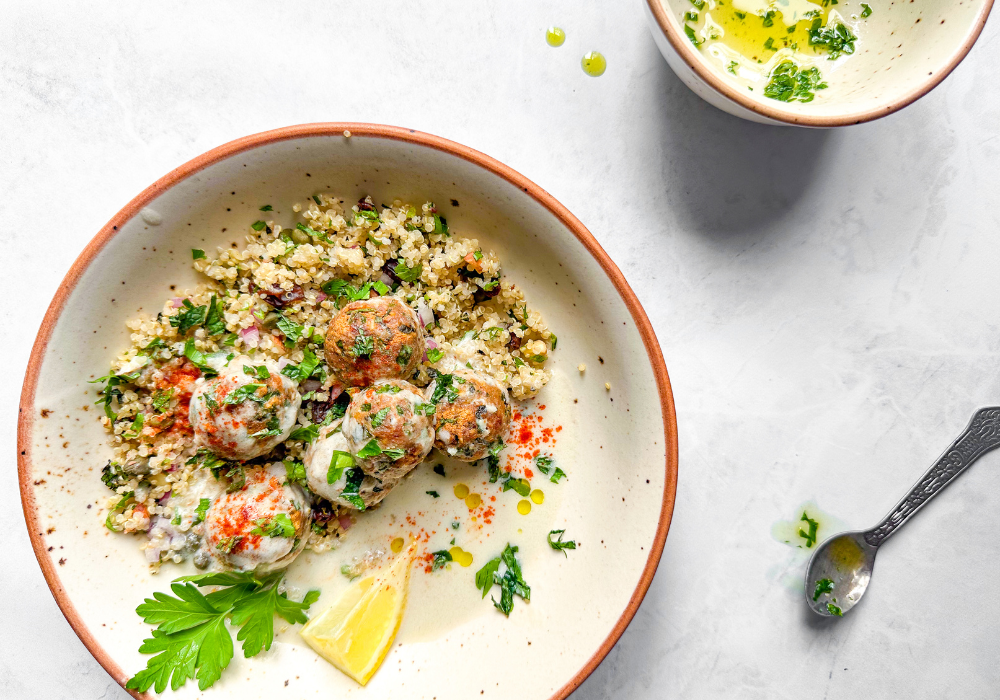 For this recipe, there are two main things that will make or break your final product.
First, you must use super firm tofu for the meatballs. Extra firm tofu is different and much softer with a higher water content and will not work well. Even pressed extra firm tofu will still yield a much softer meatball. I use the organic super firm high protein tofu from Trader Joe's, but any super firm tofu should work.
Second, don't overcook your quinoa! Although quinoa is incredibly easy to make, whenever I order it at restaurants, it's almost always either mushy or, more often, still hard and crunchy, which makes me think that many people don't know how to cook it. You want the grains to be open and the water fully absorbed, but they shouldn't stick together into a mash.
To get the perfect fluffy quinoa, use slightly less than twice the amount of water to quinoa, add them both to a heavy-bottomed pot with the lid on, bring to a boil, then turn down to a low simmer and cook for 14 minutes. Once done, turn off the heat but leave the pot on the burner with the lid on for 10 minutes. This post-cook time is vital to help the quinoa grains separate from one another in the residual steam. Finally, fluff with a fork, and voilá, perfect quinoa!
Lastly, we have our third course, the most delectable strawberry and cream parfaits.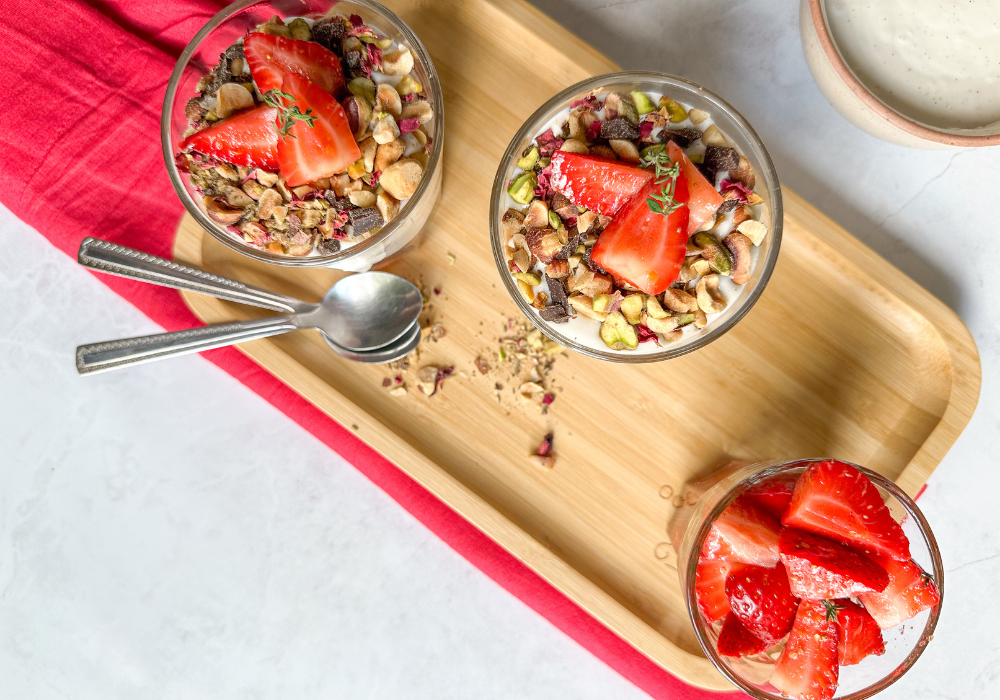 Just like in our starter, in-season sweet ripe strawberries are key for this recipe. This dessert is essentially an amped-up fancified version of strawberries and cream, so the strawberries really matter here.
For the cream part, it's important to use canned full-fat coconut milk and refrigerate it overnight. I suggest sticking two cans in the fridge so you have a backup, as the quantity of cream differs between cans, even of the same brand. When you open the can to scoop out the cream, the cream should be fairly hard and solid and the coconut water should have separated on the bottom.
Any plain cream cheese will work for this recipe as long as it's tangy. There are a few dairy-free cream cheese brands that taste on the sweeter side, skip these as they won't give you the creme fraiche flavor we're after. My personal favorite is the plain cream cheese from Miyoko's. It's cashew based, traditionally cultured, with minimal ingredients.
Time-Saving Tips for this Seasonal Spring Menu:
A three-course meal is a labor of love, but so worth it! There are several things you can do a day or two ahead of time to save a couple of hours in the kitchen though.
Blanch the asparagus the day before and store it in an airtight container with a little olive oil. Remove from the fridge 30 minutes before serving so it has time to come to room temperature.
Toast the almonds for both the first and second courses a few days ahead of time. Once completely cool, store them in a jar in your pantry. Wait to chop them until the day of though, so they stay crunchy.
Premake the meatball mixture a day or two ahead of time and then simply form it into meatballs and bake on the day of. 
You can completely make the quinoa pilaf ahead of time. Just store it in the fridge in an airtight container for up to 3 days before you plan to eat it.  
Whip the creme fraiche, macerate the strawberries, and make the sweet dukkah the day before. Make sure to store the strawberries in an airtight container so they stay fresh. Then just assemble the parfaits the day of.
Now that you have the ingredient notes and time-saving tips you need, I hope you're jumping off your seat, ready to make this meal! Without further ado, let's get into it!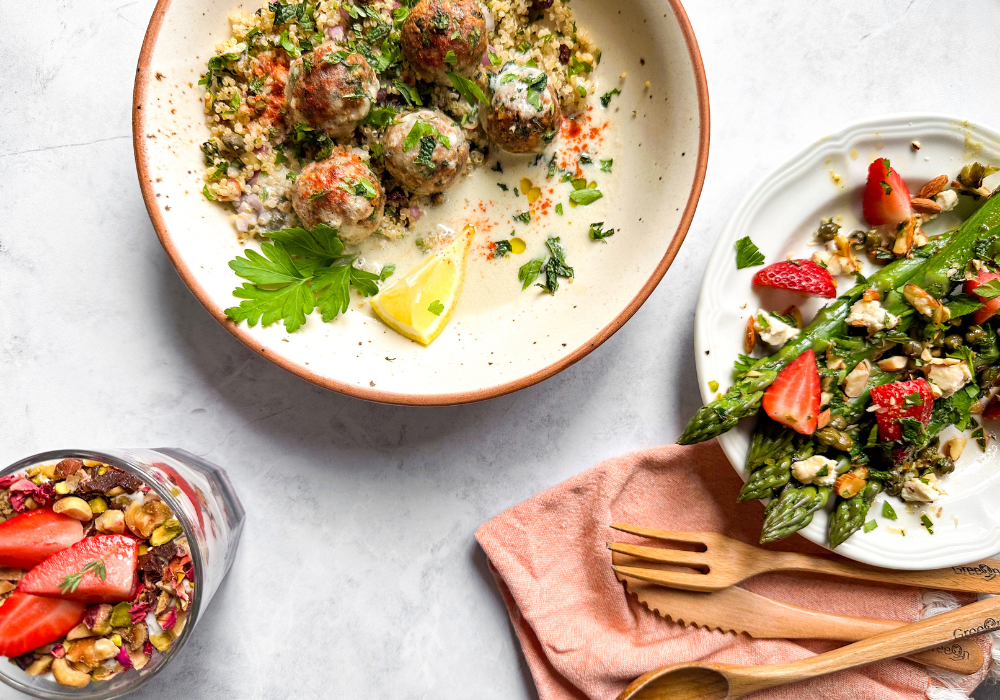 Course 1 – Strawberry Asparagus Salad
The combination of asparagus & strawberries in this recipe is unexpected and oh-so-delicious!
These are the two seasonal foods I associate most with springtime, and while there are many recipes for asparagus or strawberries out there, there isn't much that features both in the same dish.
This salad just screams SPRING and is bursting with contrasting flavors & textures. It looks beautiful and makes the perfect starter for a springtime dinner party.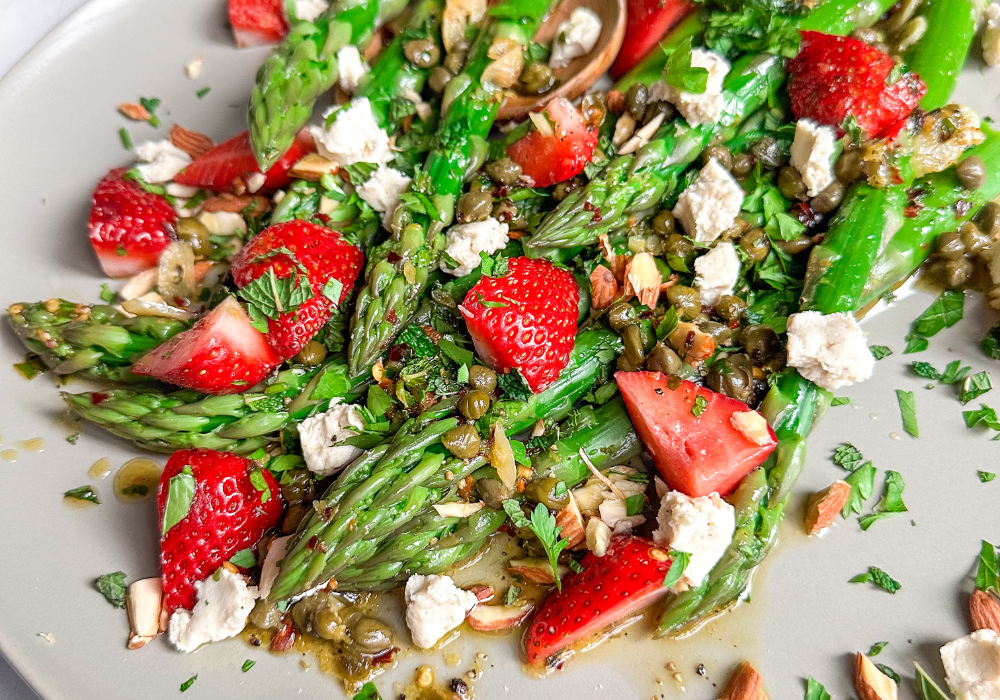 Course 2 – Plant-Based Meatballs in lemony yogurt sauce over quinoa pilaf
This recipe is heavenly. I first stumbled across a yogurt sauce like this in Aran Goyoaga's first cookbook years ago, and have been making variations of it ever since. Paired with herb-spiked meatballs, this dinner is always a winner in my home. 
Although meatballs might not be what comes to mind when you think about a spring dinner, you'll have to trust me on this and try them. They're light and herbaceous and go beautifully with the pilaf and lemony sauce. This meal comes together fairly quickly, despite the lengthy ingredient list, and the yogurt sauce and quinoa transform the usually heavy meatball into a light and elegant affair, perfect for a springtime dinner party.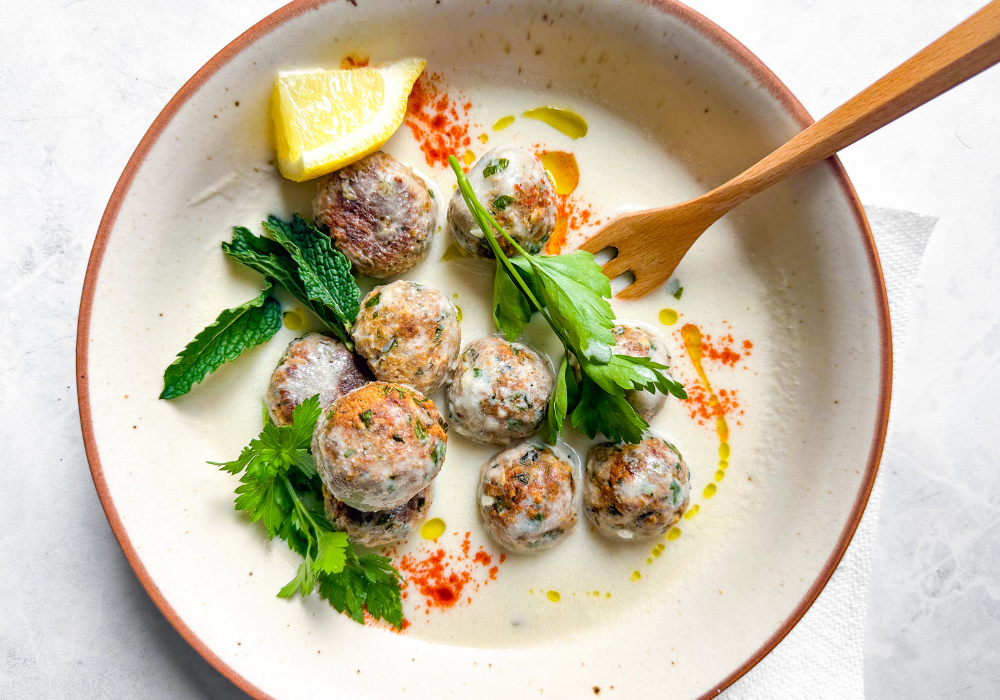 Course 3 – Individual Strawberry & Cream Parfaits
I originally created this menu for Mother's Day. When I think about my mother and dessert, whipped cream ALWAYS comes to mind. No matter what the dessert, my mom adores anything with a generous dollop of homemade lightly sweetened whipped cream on the side. In fact, she's been known to eat my homemade whipped cream straight out of the Tupperware from the fridge. 
For this dessert, I wanted to evolve my mom's love of whipped cream into something more suited for a dinner party. These individual strawberry & cream parfaits are the result. They might sound simple, but these parfaits will blow your mind (and your tastebuds!). 
From the unexpected floral hit of coriander seeds in the strawberries to the ultra-rich, barely sweetened whipped creme fraiche to the crunchiness of the dukkah, these parfaits deliver on all fronts. 
Plus, they're the perfect dessert for a dinner party: easy & quick to make, light and refreshing after all the aperitif and dinner courses, and able to be made ahead of time.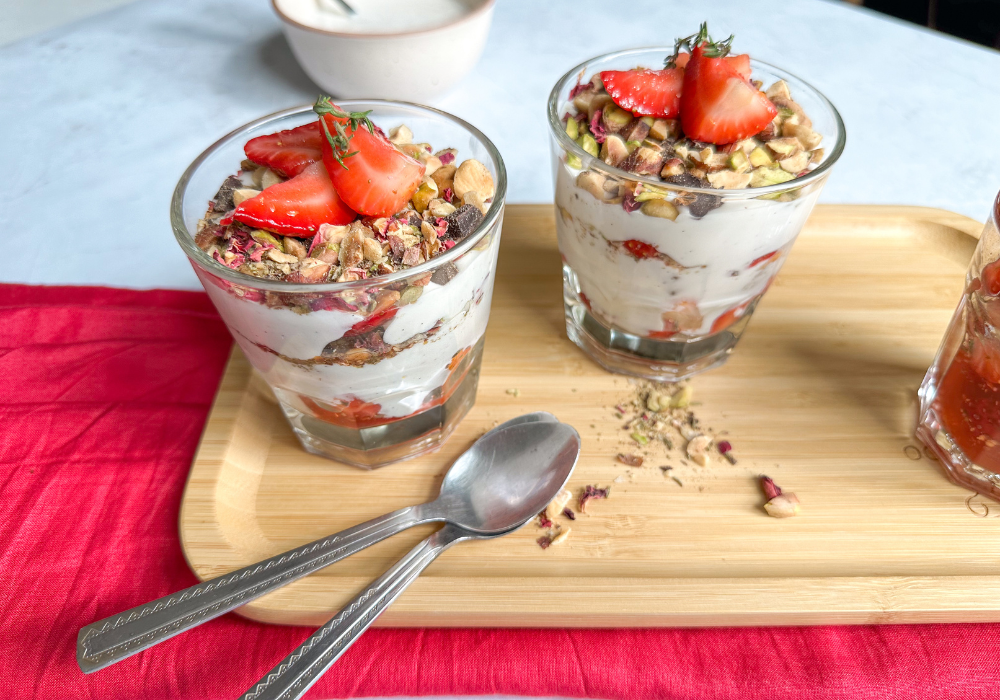 I hope you enjoy this dinner-party-worthy 3-course seasonal spring menu! If you make it, or any of the recipes from this post, I'd love to see your creations! Tag me on Instagram or Facebook @plantssogood and feel free to send me a DM with any questions about the recipes!
Want to eat this at your next dinner party? Hire me as your personal chef!