You're going to want to put this Strawberry Asparagus Salad on your spring recipe list stat! The combination of asparagus & strawberries in this recipe is unexpected and oh-so-delicious.
These are the two seasonal foods I associate most with springtime, and while there are many recipes for asparagus or strawberries out there, there isn't much that features both in the same dish.
This salad just screams SPRING and is bursting with contrasting flavors & textures. Plus, it looks beautiful with vibrant contrasting green and red colors. This strawberry asparagus salad makes the perfect starter for a springtime dinner and works just as well at a casual barbeque as it does at a fancy dinner party.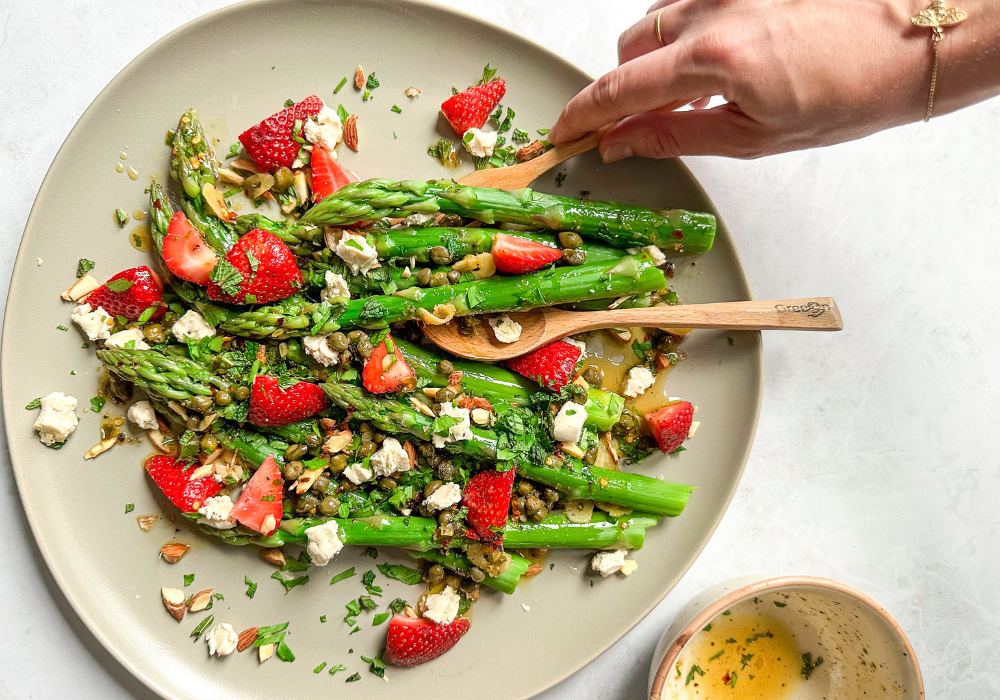 Ingredient Highlights in this Strawberry Asparagus Salad
I use the word "salad" loosely here, as this isn't a typical lettuce salad at all, but rather, a composed vegetable starter with contrasting textures and flavors and a lemon caper sauce.
Be sure to use sweet, ripe strawberries for this recipe to counteract the tangy dressing.
When buying asparagus, look for vibrant, green stalks and tightly closed buds. The thickness of asparagus doesn't matter as much as you might think (thicker doesn't necessarily mean tougher), but the freshness does. Asparagus is the main ingredient in this salad, so you really want fresh, in-season asparagus for the best result.
Time-Saving Tips for this Strawberry Asparagus Salad
This salad is very quick to make, but if you're making it as part of a larger meal, such as my 3-Course Seasonal Spring Menu, there are a few things you can do ahead of time to save time on the day you plan to serve it.
Blanch the asparagus the day before and store it in an airtight container with a little olive oil. Remove from the fridge 30 minutes before serving so it has time to come to room temperature.
Toast the almonds a few days ahead of time. Once completely cool, store them in a jar in your pantry. Wait to chop them until the day of though, so they stay crunchy.
If you're really pressed for time, you could also make the lemon caper sauce ahead of time and store it in the refrigerator. If you do this, let it come to room temperature first before serving as the olive oil will have solidified in the cold fridge.
Alright, that's all I've got for ya! Let's dive into the recipe, shall we? And if you make this strawberry asparagus salad, let me know on Instagram or Facebook @plantssogood, and feel free to send me a DM with any questions!