Busy mornings are no match for this plant-based breakfast hash! Requiring just ten minutes to put together, this is the perfect low effort meal when you want a hearty breakfast AND a calm morning.
It really is the simplest to make. Simply combine cubed sweet potatoes, tempeh, beets, and chunky sliced red onions in a baking dish. Add a flavorful mix of tomato paste, Calabrian chili paste (my favorite condiment at the moment), and dried thyme for a burst of bold flavor that will make your tastebuds do a happy dance. Bake until the vegetables are tender with crispy edges. Enjoy with torn basil, sliced avocado, and your favorite hot sauce.
And you have a hearty and satisfying meal waiting for you whenever you're ready to eat.
Ingredient Highlight in this Plant-Based Breakfast Hash:
The great thing about this dish is that it allows for so much flexibility. If you don't don't one ingredient or don't like something, it can easily be substituted for another. Don't be afraid to try different veggie combinations, play around with the fresh and dry herbs you use, and switch up your protein. Plant-based sausage, pressed and marinated tofu, crispy chickpeas, or eggs, if you eat them, would all be delicious in this breakfast hash.
Tempeh
An ingredient that some people love and others hate, tempeh adds a deliciously nutty and chewy texture to this plant-based breakfast hash. I like to cut it fairly small — about 1/2 inch cubes — so the sauce has more opportunity to flavor each bite.
Sweet Potato
These are a go-to ingredient for all my breakfast hash recipes, but you could of course use regular potatoes instead. Cut the potatoes into 1-inch cubes so that they cook at the same time as the beets.
Beets
Such an underrated vegetable! Beets might be unexpected in this dish, but I love the earthy sweet flavor they provide, especially paired with the spicy chili paste. Roasting beets also gives them a deep smoky flavor. Cut your beets into small cubes to match the tempeh, so that they're done alongside the larger chunks of sweet potatoes.
Calabrian Chili Paste
This fiery condiment brings a touch of heat to this dish and infuses its addicting bold flavor into each bite. Calabrian chili paste is made from Calabrian chili peppers, which are known for their rich, smoky, and slightly fruity taste. I can't get enough of this condiment and have been using it on everything recently. Look for it online or in local Italian markets. If you can't find it, you can substitute any other favorite chili paste instead.
Fresh Basil
The fresh basil brightens up the entire dish with its herbaceous summery flavor. In my mind, nothing says summer like the scent of fresh basil, and I try to put it on everything while it's in season. If you're making this plant-based breakfast hash at another time of year, though, you could easily substitute it for parsley or rosemary.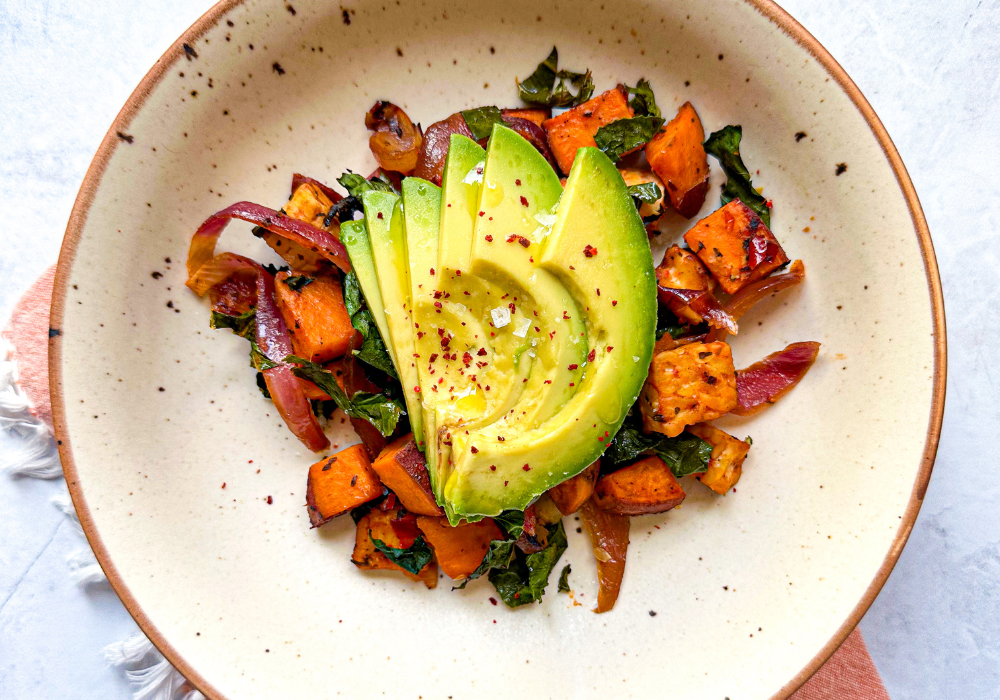 Nutrition Facts of this Hash:
This easy plant-based breakfast is bursting with blood sugar balancing nutrients to fill you up, satiate you, and keep you feeling full for hours, all while tasting delicious. What more can you ask for?!
Tempeh: Packed with plant-based protein, iron, and calcium, tempeh is a go-to ingredient in my plant-based kitchen.
Sweet Potato: A nutritional powerhouse, sweet potatoes are rich in fiber, vitamins A and C, and potassium.
Beets: A great source of essential nutrients like folate and manganese, beets are also another rich source of iron.
Spinach: This leafy green powerhouse contributes a wealth of vitamins and minerals to this dish. It's an excellent source of vitamin K, vitamin A, vitamin C, and folate, and benefits a wide array of functions in the body.
Recipe Notes
Although this dish only needs fifteen minutes of hands on time, you can easily make it ahead of time for an even quicker breakfast. With its sturdy ingredients like sweet potatoes, tempeh, and beets, it keeps well for up to 5 days in the fridge. If you go this route, wait to add the basil and avocado until just before serving so it stays fresh.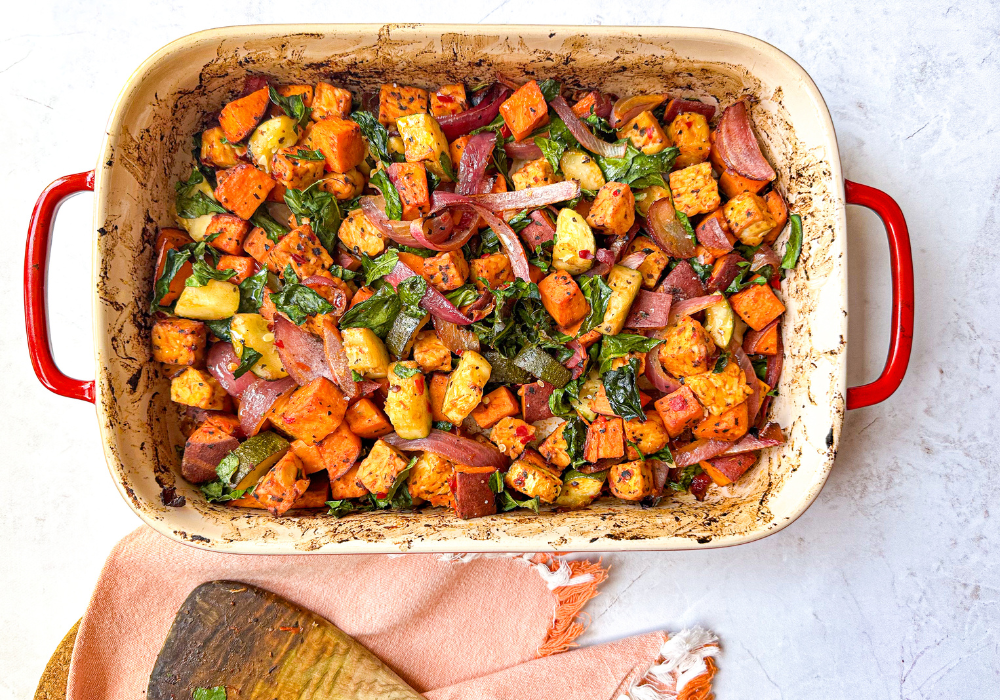 I love this breakfast hash for a leisurely weekend brunch after an early morning yoga class. It truly is the best start to the weekend! The combination of hearty sweet potatoes, protein-packed tempeh, and nutrient-rich beets, all seasoned with the bold flavors of Calabrian chili paste and basil, creates a sensational breakfast that will leave you feeling energized and satisfied. Whether you follow a plant-based diet or are simply looking for a delicious and nutritious breakfast option, this hash is sure to become a new favorite in your morning routine.
This recipe is part of my Easy Plant-Based Breakfast Recipes roundup. Check out two more delicious breakfasts perfect for summer here.
If you try this recipe, I'd love to see how it turns out for you! Send me a DM or tag @plantssogood on Instagram or Facebook to share your recipe with the PSG community!