Get ready to elevate your mornings with this mouthwatering Dairy-Free Ricotta & Mushroom Toast! If you're a fan of savory breakfasts, this recipe is an absolute must-try.
Ingredient Highlights in this Dairy-Free Ricotta & Mushroom Toast:
Creamy Dairy-Free Ricotta
Tofu ricotta is a delicious and healthy plant-based alternative to traditional dairy ricotta, and it's a staple ingredient in my plant-based kitchen.
Made from firm tofu, nutritional yeast, lemon juice, and garlic, this creamy ricotta adds a rich and velvety texture to your breakfast. The nutritional yeast brings a savory, cheese-like flavor, while the lemon juice adds a refreshing brightness.
To make the tofu ricotta, simply combine the tofu, nutritional yeast, lemon juice, garlic, salt, and pepper in the bowl of a food processor and blend until smooth and creamy. Drizzle in the olive oil and blend until you achieve a ricotta-like consistency.
This dairy-free ricotta is incredibly versatile. You can use it in a variety of dishes, making it a valuable addition to your plant-based culinary repertoire.
Savory Sauteed Mushrooms:
These savory mushrooms are beyond delicious. Sauteed with olive oil, garlic, and tarragon, and then coated with Dijon mustard and apple cider vinegar, this is my all-time favorite way of making mushrooms.
The combination of flavors elevates the mushrooms to a whole new level of tastiness, making them the perfect partner for the creamy tofu ricotta on your toast. Once you try this recipe, you'll see why it has become a staple in my kitchen. They're a delicious addition to any savory breakfast!
Nutrition Facts of this plant-powered toast:
The tofu ricotta is the unsung hero of this breakfast and boasts an impressive nutritional profile. It's a rich source of plant-based protein, offering all nine essential amino acids that our bodies need to thrive. Additionally, tofu is packed with minerals like calcium, magnesium, iron, and zinc, essential for bone health, muscle function, and immune support. This dairy-free ricotta is also low in saturated fat, making it a heart-healthy alternative to traditional dairy cheeses.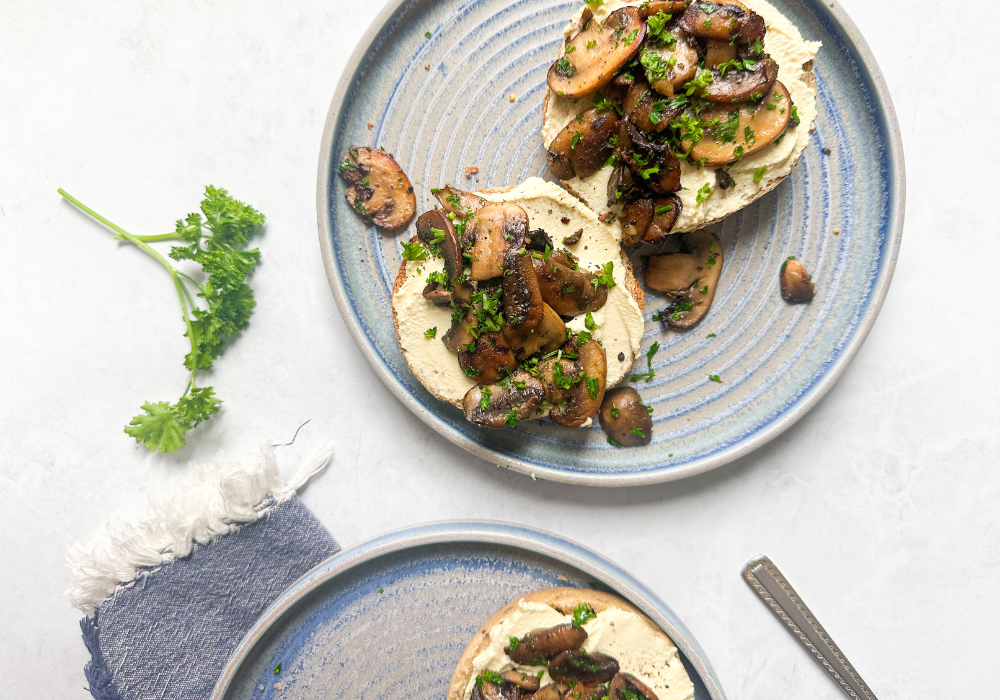 Time-Saving Tips for this Dairy-Free Ricotta & Mushroom Toast:
For a speedy 15-minute breakfast assembly in the morning, consider pre-making the tofu ricotta. Store it in an airtight container for up to 5 days, and enjoy the delicious ricotta in multiple meals throughout the week. Besides this toast recipe, you can use the remaining ricotta in pasta dishes, spread it on pizza, or create a scrumptious herby dip perfect for enjoying with veggies or crackers.
With the tofu ricotta ready to go, assembling your Dairy-Free Ricotta & Mushroom Toast becomes a breeze, making your mornings even more enjoyable and stress-free.
Make it your own:
Get creative with this recipe and make it your own!
Add a sprinkle of red pepper flakes for a touch of heat
Drizzle some truffle oil on the top to take this toast to the next level of deliciousness
Experiment with different mushroom varieties, such as cremini or shiitake, to find your perfect blend
Switch up the tarragon and parsley for different herbs and see how the flavor profile changes
So, what are you waiting for? Once you try this combination of creamy tofu ricotta and savory sautéed mushrooms, you'll never be able to go back to boring flavorless breakfasts again. Bon appétit!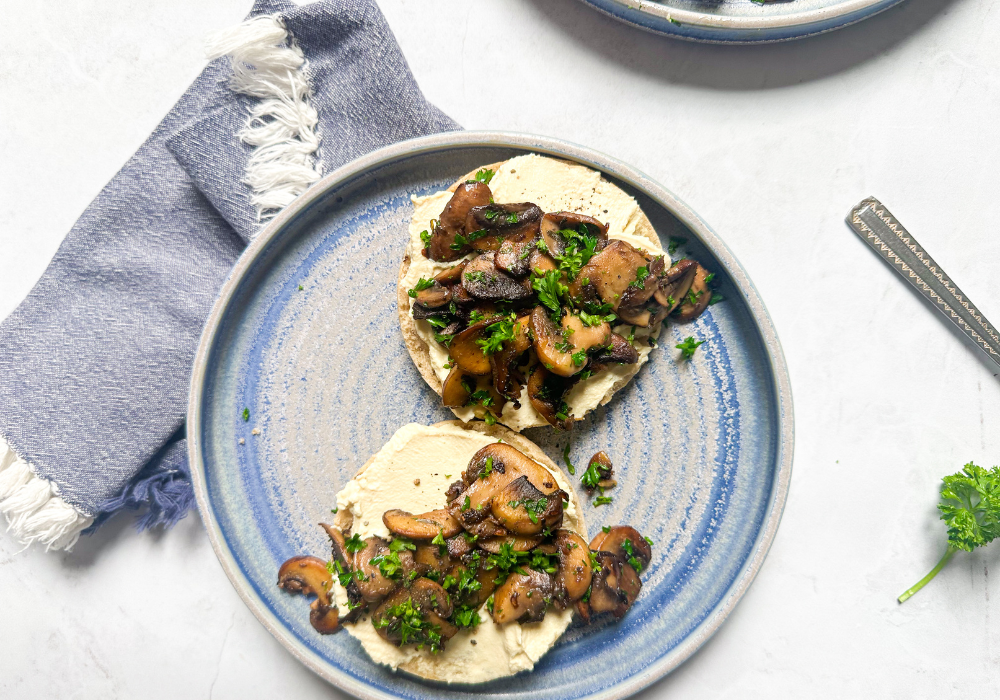 This recipe is part of my Easy Plant-Based Breakfast Recipes roundup. Check out two more delicious breakfasts perfect for the summer here.
Don't forget to share your culinary masterpiece with the PSG community! Snap a photo of your savory creation and tag @plantssogood on Instagram or Facebook.