Start your day on a sweet note with this Nourishing Make-Ahead Chia Yogurt Bowl. This delicious and nutritious plant-based breakfast features a thick, creamy yogurt and chia seed base with juicy nectarines, tangy frozen raspberries, and crunchy seeds on top. It's the perfect combo of a chia seed pudding and overnight oats.
The best part? This yogurt bowl is super easy to prepare! Simply stir the base ingredients together in a jar and refrigerate overnight. In the morning, add a handful of simple and nourishing toppings and voilá, your easy, quick, healthy, and delicious breakfast bowl is ready.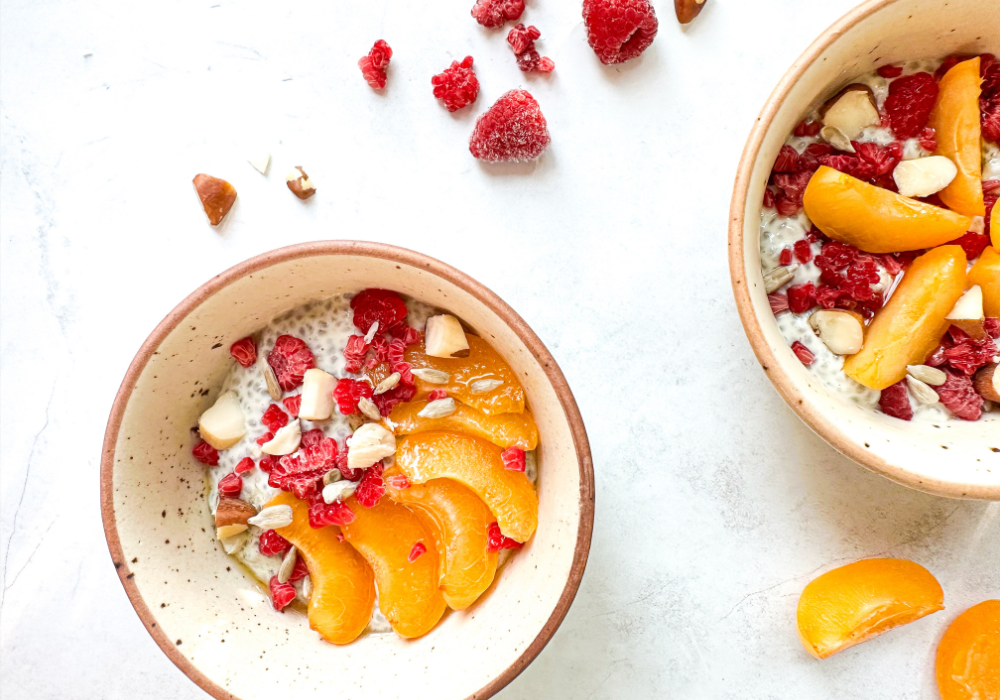 Ingredient Highlights of this Nourishing Make-Ahead Yogurt Bowl
The Base Recipe:
To begin, prepare the base of our Nourishing Make-Ahead Chia Yogurt Bowl by mixing the following ingredients in a jar:
Thick Creamy Yogurt: Opt for a high-protein yogurt if possible. My preference is for a homemade coconut, cashew, soy yogurt mix, but store-bought also works perfectly.
Unsweetened Soy Milk: Although you can use any nondairy milk, I love soy milk in this for the added protein and the slightly sweet flavor. Whichever milk you choose, make sure it doesn't contain added sugars.
Chia Seeds: These tiny powerhouses are an excellent source of omega-3 fatty acids and rich in protein. They're also loaded with antioxidants that help protect your cells from oxidative stress.
Rolled Oats: High in fiber, rolled oats support healthy digestion and keep you feeling full for longer. They are also a great source of complex carbohydrates, providing a steady stream of energy to keep you going throughout the morning.
The Toppings:
This is where the real magic happens. In the morning, take out the refrigerated base and give it a flavorful upgrade with all the following toppings:
Sliced Nectarines: Besides being irresistibly juicy and sweet, nectarines are packed with vitamin C, which supports your immune system and helps your body absorb iron from plant-based foods–such as the oats and almonds in this recipe!
Frozen Raspberries: The cold bits of berry in each bite of this yogurt bowl scream summer. Raspberries are loaded with fiber and are another rich source of vitamin C.
Toasted Almonds: These are having a moment in my kitchen this summer! Almonds offer a wealth of healthy fats, vitamin E, and protein. They're also a fantastic source of antioxidants that promote heart health.
Raw Pumpkin Seeds: Also known as pepitas, these seeds are rich in zinc, magnesium, and plant-based omega-3 fatty acids.
Drizzle of Raw Honey or Maple Syrup: For a touch of natural sweetness, add a drizzle of raw honey or maple syrup over the top. This is totally optional but I love the way it enhances the flavors of the fruit.
Bright Pink Variation:
For a more vibrant and visually appealing twist, try the bright pink version of this yogurt bowl:
Blend the yogurt, oats, and soy milk in the base recipe with frozen raspberries in a blender until you achieve a smooth hot pink hue.
Then, stir through the chia seeds and oats as per the base recipe. Refrigerate overnight and add the same delicious toppings in the morning.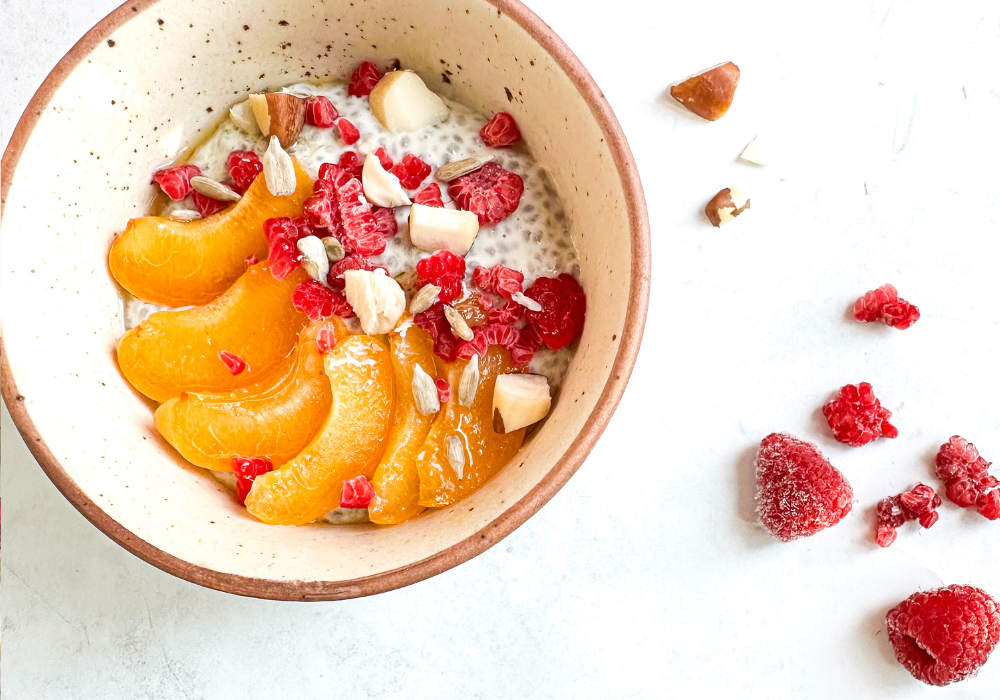 And there you have it! This Nourishing Make-Ahead Chia Yogurt Bowl is a delicious, nutritious, and easy way to start your day. Packed with essential nutrients from the chia seeds, rolled oats, nectarines, raspberries, almonds, and pumpkin seeds, this bowl will not only delight your taste buds but nourish your body as well. Whether you stick to the classic base recipe or try the bright pink variation, I'm positive this yogurt bowl will become a new go-to breakfast for you!
This recipe is part of my Easy Plant-Based Breakfast Recipes roundup. Check out two more delicious breakfasts perfect for summer here.
If you try this recipe, I'd love to see how it turns out for you! Send me a DM or tag @plantssogood on Instagram or Facebook to share your recipe with the PSG community!