This recipe for plant-based meatballs with lemony yogurt sauce is heavenly. I love to serve it with quinoa pilaf but for an even simpler meal, it also tastes delicious with toasted bread and a simple salad.
I first stumbled across a yogurt sauce like this in Aran Goyoaga's first cookbook years ago, and have been making variations of it ever since. Paired with herb-spiked meatballs, this dinner is always a winner in my home. 
Although meatballs are often heavy and not the healthiest, these plant-based meatballs are anything but! They're light and healthy, thanks to the whole food plant-based ingredient list, and chock full of herbs. They pair beautifully with the pilaf and lemony yogurt sauce.
This meal comes together fairly quickly, despite the lengthy ingredient list. The yogurt sauce and quinoa transform the meatballs into a light and elegant meal that works just as well for a healthy dinner at home as it does for a dinner party with friends, as showcased in my Seasonal Spring Menu.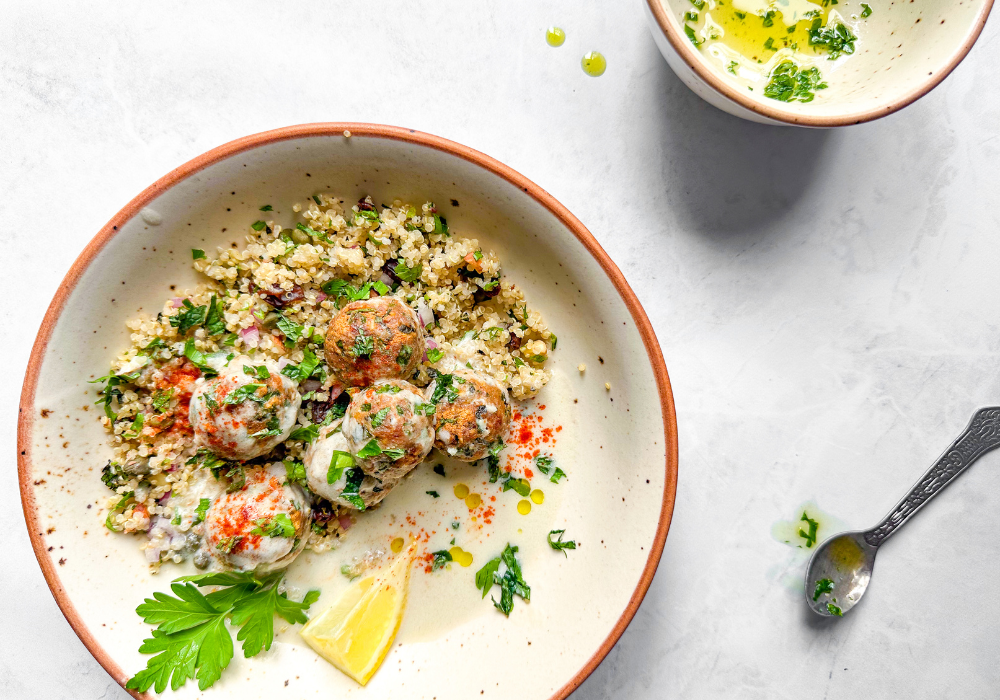 Ingredient Highlights in these Plant-Based Meatballs with Lemony Yogurt Sauce:
For this recipe, there are two main things that will make or break your final product.
First, you must use super firm tofu for the meatballs. Extra firm tofu is different and much softer with a higher water content and will not work well. Even pressed extra firm tofu will still yield a much softer meatball. I use the organic super firm high protein tofu from Trader Joe's, but any super firm tofu should work.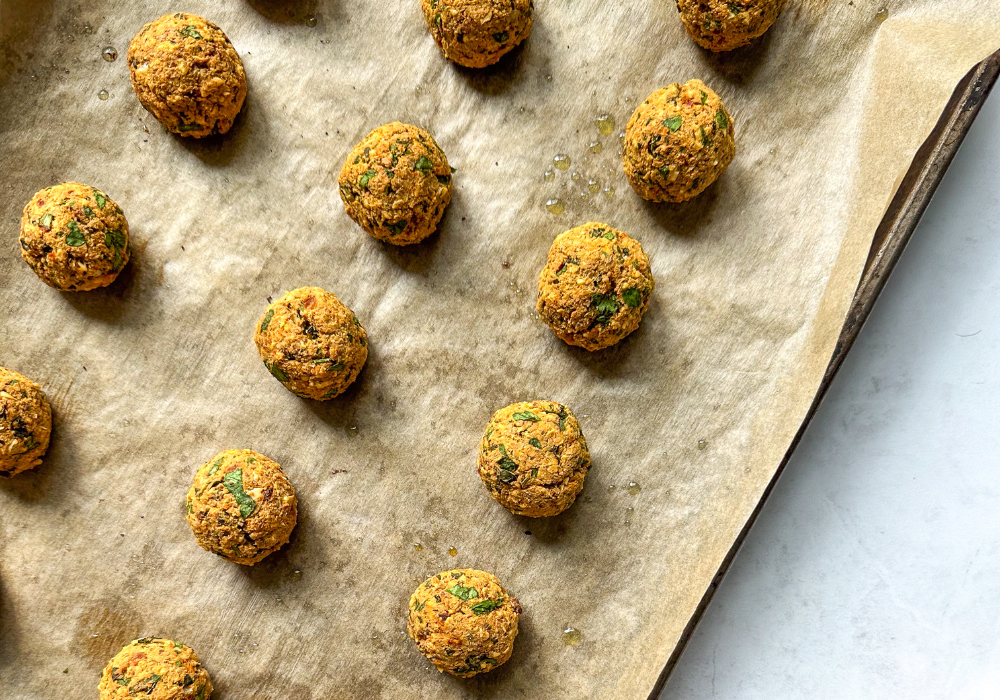 Second, don't overcook your quinoa! Although quinoa is incredibly easy to make, whenever I order it at restaurants, it's always either mushy or still hard and crunchy, which makes me think that many people don't know how to cook it. You want the grains to be open and the water fully absorbed, but they shouldn't stick together into a mash.
To get the perfect fluffy quinoa, use slightly less than twice the water to quinoa, add them both to a heavy-bottomed pot with the lid on, bring to a boil, then turn down to a low simmer and cook for 14 minutes. Once done, turn off the heat but leave the pot on the burner with the lid on for 10 minutes. This post-cook time is vital to help the quinoa grains separate from one another in the residual steam. Finally, fluff with a fork, and voilá, perfect quinoa!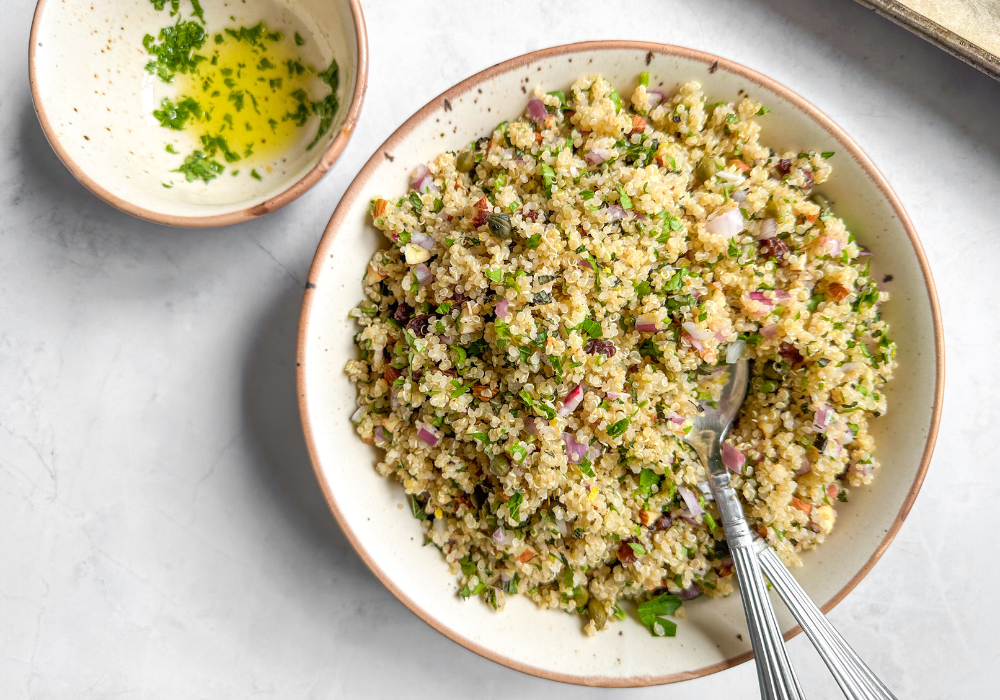 As a final note on ingredients, you can use either rolled oats or bread crumbs in this recipe. The bread crumbs provide a slightly better flavor, while the oats create a slightly bitter aftertaste, but the texture is similar when using either. If you're going to use gluten-free breadcrumbs, I suggest making your own as store-bought options are often tasteless.
Time-Saving Tips for these Plant-Based Meatballs:
The meatballs in this recipe are super quick to make! Just throw all your ingredients in the food processor, roll into balls, and bake.
While the meatballs bake, you can whip up the quinoa pilaf and lemony yogurt sauce so everything is done around the same time.
This whole meal will take you about an hour to make. But to speed things up and make this a real weeknight meal, you can do a few things a day or two ahead of time.
Toast the almonds a few days ahead of time. Once completely cool, store them in a jar in your pantry. Wait to chop them until the day of though, so they stay crunchy.
Premake the meatball mixture a day or two ahead of time and then simply form it into meatballs and bake on the day of. 
You can completely make the quinoa pilaf ahead of time. Just store it in the fridge in an airtight container for up to 3 days before you plan to eat it.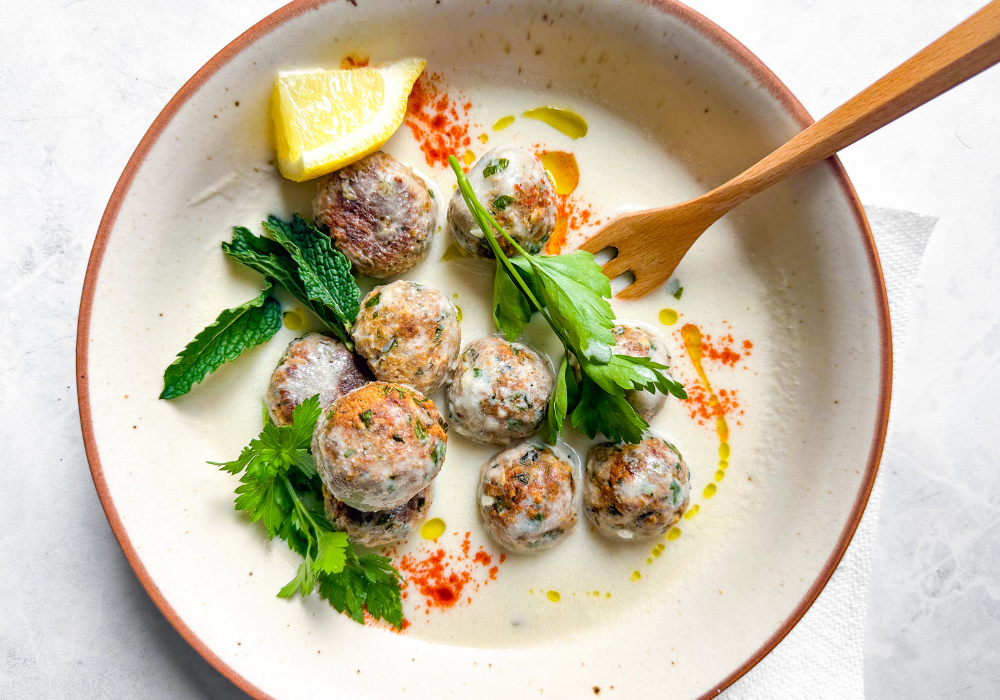 Now that you have the ingredient notes and time-saving tips you need to make this meal spectacular, let's dive into the recipe!
And if you make this recipe, I'd love to see how it turns out for you! Tag me on Instagram or Facebook @plantssogood and feel free to send me a DM with any questions!