I originally came up with the idea for these strawberry and cream parfaits while dreaming up a Mother's Day menu.
When I think about my mother and dessert, whipped cream ALWAYS comes to mind. No matter what the dessert, my mom adores anything with a generous dollop of homemade lightly sweetened whipped cream on the side. In fact, she's been known to eat my homemade whipped cream with a spoon straight out of the Tupperware from the fridge. 
For this dessert, I wanted to evolve my mom's love of whipped cream into something more elegant. These individual strawberry & cream parfaits are the result. They might sound simple, but these parfaits will blow your mind (and your tastebuds!). 
From the unexpected floral hit of coriander seeds in the strawberries to the ultra-rich, barely sweetened whipped creme fraiche to the crunchiness of the dukkah, these parfaits deliver on all fronts. 
Plus, they're the perfect dessert for a dinner party: easy & quick to make, light and refreshing after all the savory courses, and able to be mostly made ahead of time. If a dinner party sounds right up your alley, consider making my full 3-course Seasonal Spring Menu. These parfaits are the third course!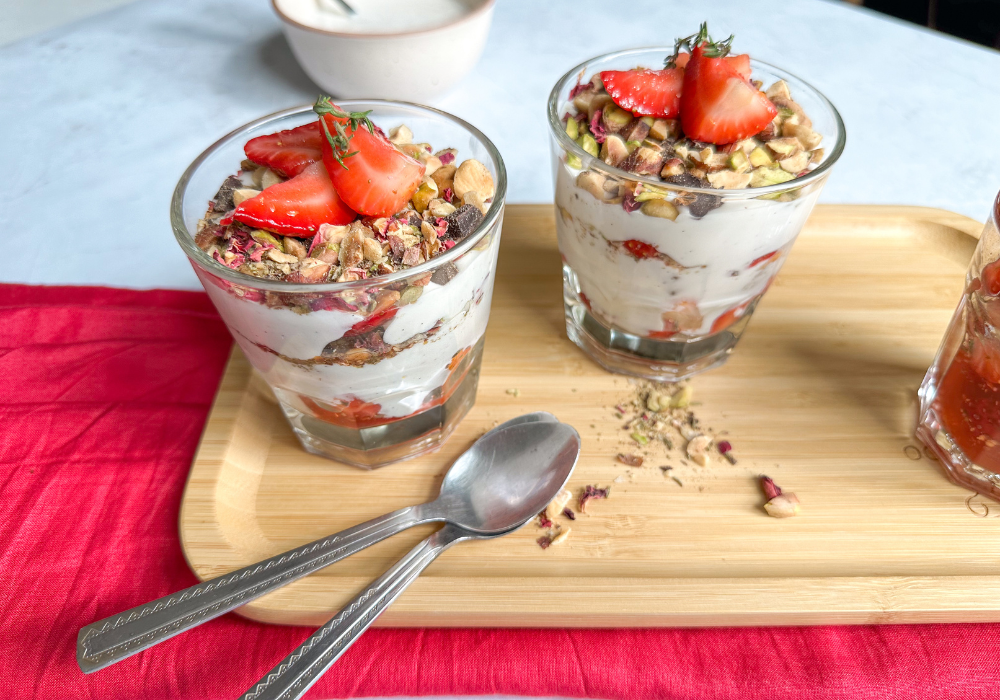 Ingredient Highlights in these Dairy-Free Strawberry & Cream Parfaits
This dessert is essentially an amped-up, fancified version of strawberries and cream, so the strawberries really matter here. Use in-season, sweet, ripe strawberries for this recipe.
For the cream part, it's important to use canned full-fat coconut milk and refrigerate it overnight. Better yet, stick two cans in the fridge so you have a backup, as the quantity of cream differs between cans, even of the same brand. When you open the can to scoop out the cream, the cream should be fairly hard and solid and the coconut water should have separated on the bottom.
Any plain cream cheese will work for this recipe as long as it's tangy. There are a few dairy-free cream cheese brands that taste on the sweeter side, skip these as they won't give you the creme fraiche flavor we're after. My personal favorite is the plain cream cheese from Miyoko's. It's cashew based, traditionally cultured, with minimal ingredients.
I realize that using vanilla beans in a recipe might seem unnecessary. While you can make the creme fraiche with vanilla extract instead, vanilla beans provide an extra layer of vanilla flavor that cannot be achieved with extract. It's like the difference between a really amazing vanilla ice cream where you can see the vanilla bean seeds vs a standard vanilla ice cream made with extract that's bland and boring.
If you aren't familiar with dukkah, it's a Middle Eastern seed, nut, and spice mix that usually features cumin, coriander, and sesame seeds, hazelnuts, and, often, rose petals. It's one of my favorite ways to level up a simple hummus bowl and tastes delicious on just about any savory dish from that region of the world. In this recipe, we're making a sweet dukkah that leaves out the cumin and coriander seeds in favor of cardamom and dark chocolate. Dukkah is very adaptable, so feel free to substitute specific ingredients with what you have in your kitchen.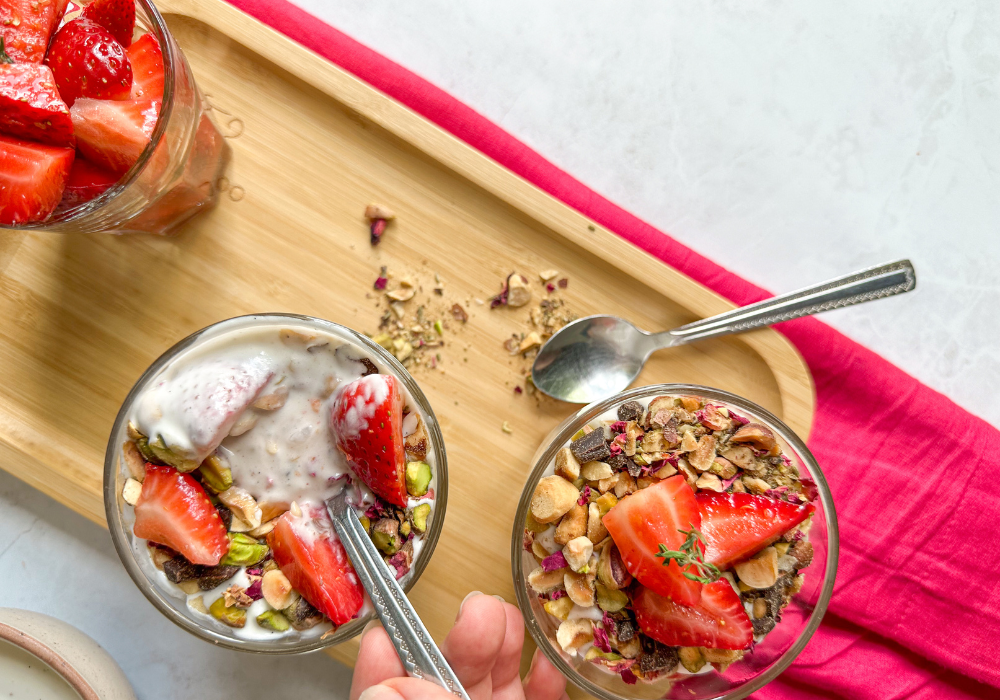 Time-Saving Tips for the Busy Cook:
Because the strawberries are more or less raw in this recipe, they don't do well when exposed to cold refrigerator air. So these parfaits are best assembled right before serving.
To save time, however, you can make all the components ahead of time and store them separately. Whip the creme fraiche, macerate the strawberries, and make the sweet dukkah the day before. Make sure to store the strawberries in an airtight container so they stay fresh. Then just assemble the parfaits the day of.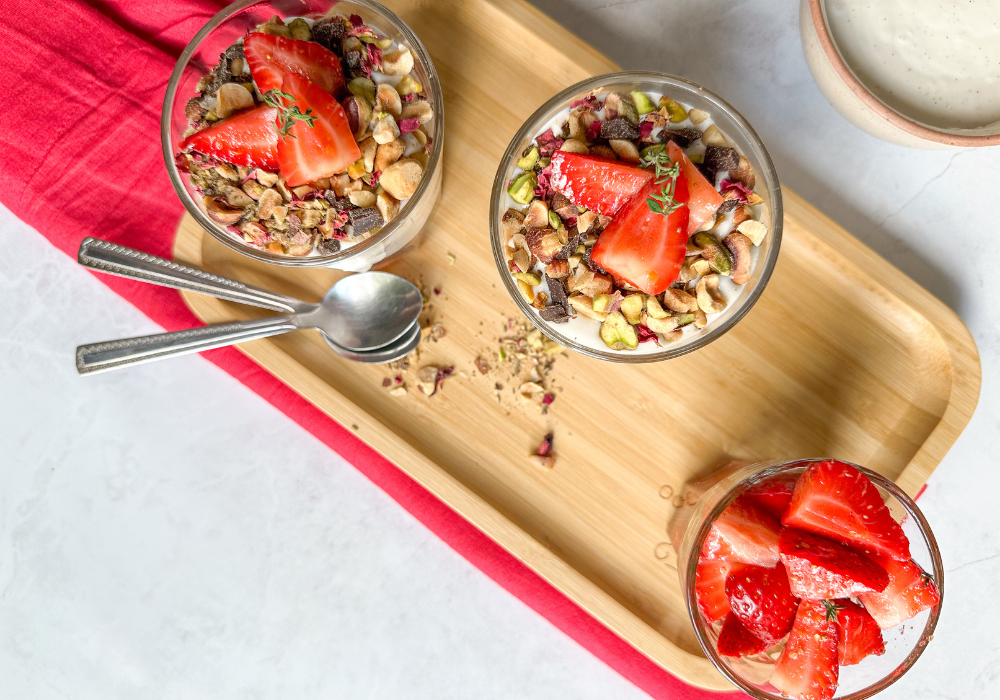 These dairy-free strawberry and cream parfaits are the perfect light dessert or sweet afternoon snack. Make them when strawberries are at their best for a true celebration of the season!
If you try this recipe, I'd love to know! Tag me on Instagram or Facebook @plantssogood with your photos and feel free to send me a DM with any questions about the recipe!