Today I'm sharing with you three quick and easy summer salads to celebrate this glorious season!
Summer is my favorite food season. The farmer's market is bursting with sun-ripened produce that needs hardly any tinkering to become delicious.
Juicy tomatoes, fragrant basil, the sweetest peaches, fat little eggplant, crisp green lettuce… 
I tend to opt for simpler fare in the summer months that highlights the bounty of the season. 
In that vein, I'm sharing 3 summer salad recipes with you today. These are quick and easy recipes that come together in 15 minutes or less. They are each unique in their own way and, unconventionally, none of them contain any lettuce! 
Rather, these three quick and easy summer salads are crunchy and flavorful and make perfect accompaniments for all your summer barbecues, potlucks, and luncheons.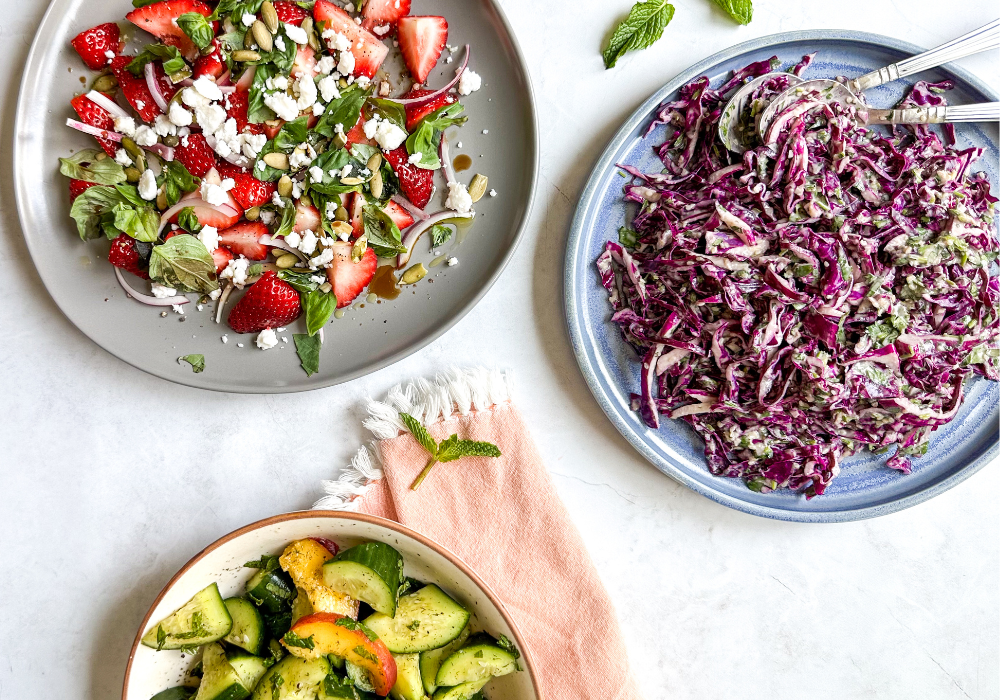 Quick & Easy Summer Salad #1:
Flavorful Strawberry, Basil & Feta Salad
This salad might seem unusual, with the combination of strawberries, basil, and red onion. But it's really just a spin off the classic watermelon, red onion, and feta salad served all over Italy in the summer months. If you haven't ever tried the combination of sweet fruit with red onion and feta, prepare yourself, because it might just become your new favorite thing!
The strawberries provide sweetness while the feta adds a tangy, salty, creamy contrast and the basil gives wonderful herbaceous oomph.
You really can't go wrong with this salad, but I especially love it plated on a platter and served as a starter salad to a multi-course meal.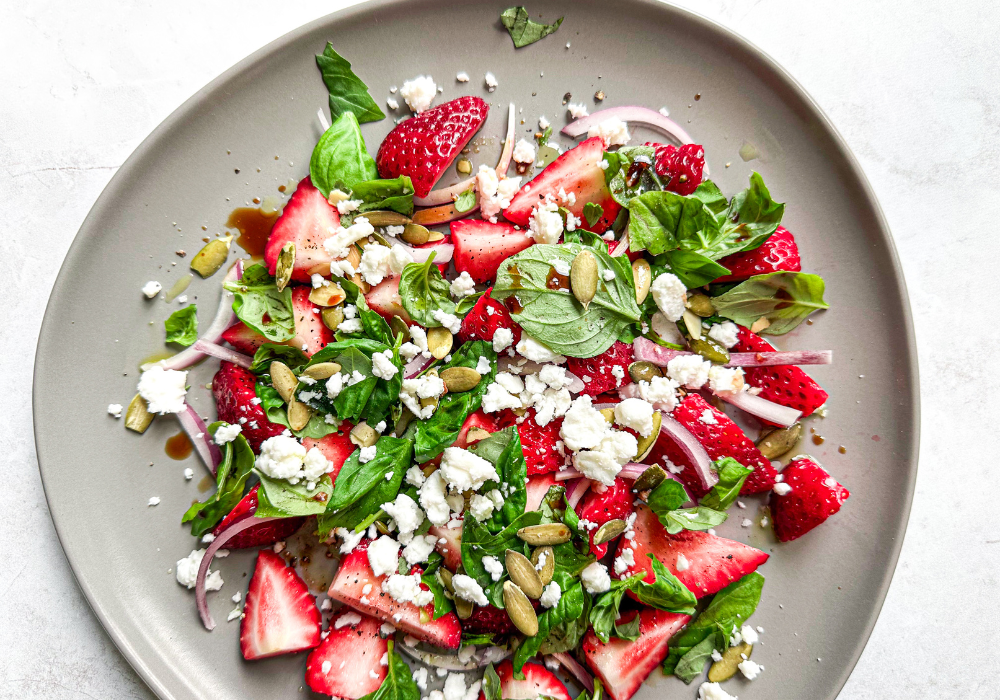 Quick & Easy Summer Salad #2:
Crunchy Red Cabbage Slaw
I've been making slaw like this for years and love it in place of the traditional soggy, mayo-filled coleslaw. It's light, crunchy, and packed with flavor. Plus, the toasted sesame oil and ginger give this crunchy red cabbage slaw a flavor profile that works perfectly with a wide array of cuisines.
Unlike lettuce salads, this slaw also keeps very well, making it perfect when you need to prep things ahead of time. I love bringing it to picnic lunches or summer barbeques.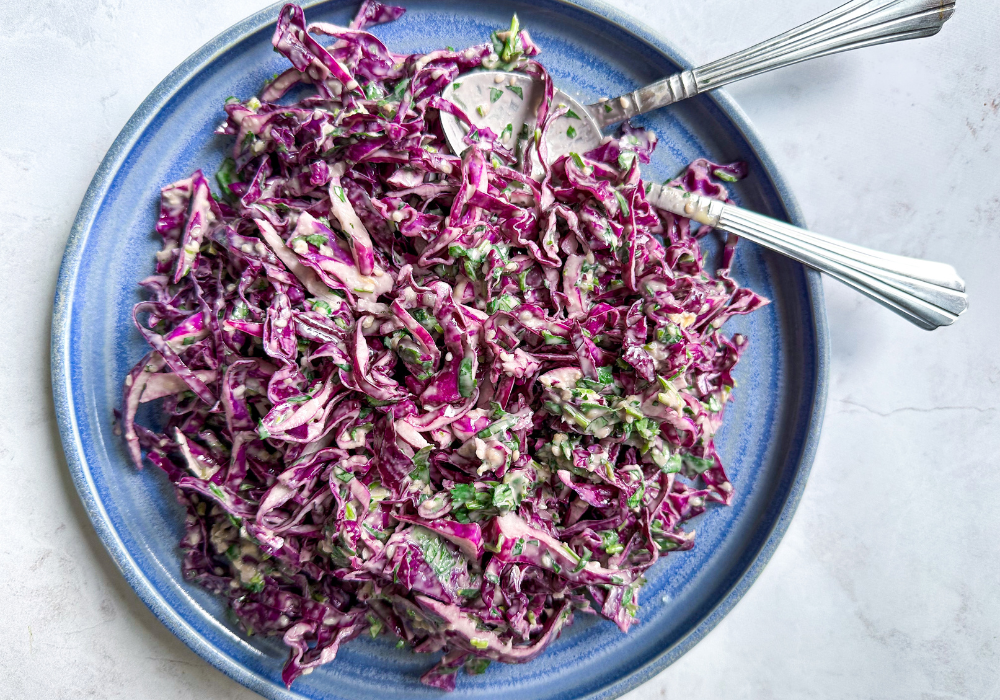 Quick & Easy Summer Salad #3:
Refreshing Cucumber & Peach Salad
This salad is like a cold drink on a hot summer day. It's cool and refreshing, light and crunchy, with just the right combination of sweetness and acidity. It's also a wizz to make. 
I love serving this salad at lunchtime in the summer months. It compliments pasta, sandwiches, grain bowls, and more, but would also be the perfect addition to a barbecue.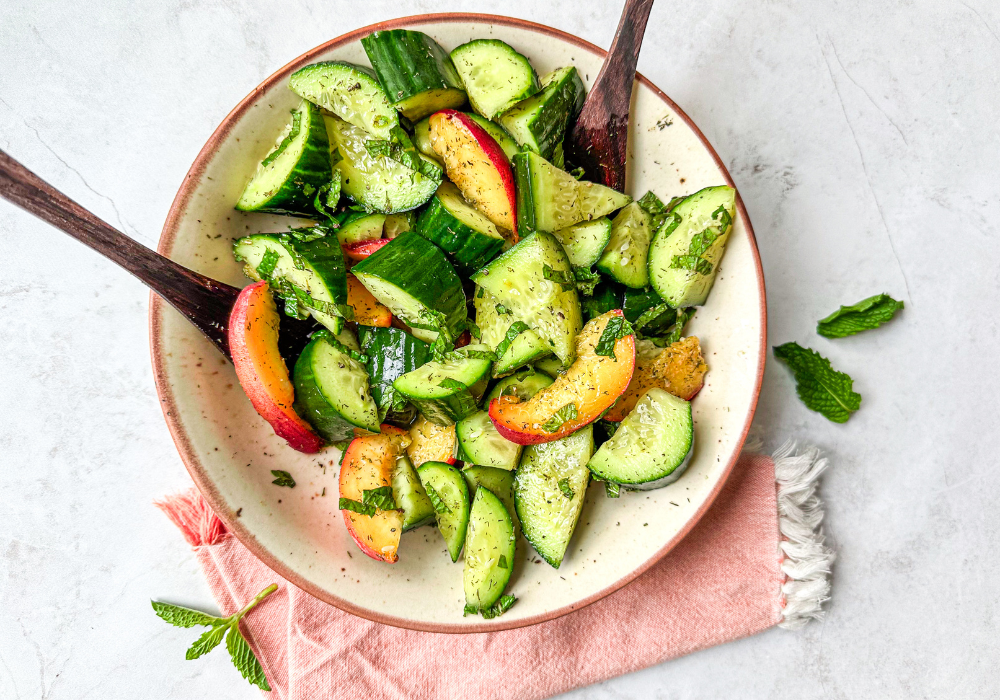 Hot summer days mean the last thing you want to do is turn on your oven or stand over your stove stirring a pot. While I won't pretend to not ever cook in the summer, I do try to opt for cold dishes whenever possible. These refreshing quick and easy summer salads are just the thing to round out a summer meal! 
If you make any of these recipes, I'd love to see how they turn out for you! Send me a DM or tag @plantssogood on Instagram or Facebook.