This strawberry, basil, and feta salad might seem unusual, with the combination of fruit, herbs, cheese, and onion. But it's really just a spin off the classic watermelon, red onion, and feta salad served all over Italy in the summer months. If you haven't ever tried the combination of sweet fruit with red onion and feta, prepare yourself, because it might just become your new favorite thing!
The strawberries provide sweetness while the feta adds a tangy, salty, creamy contrast and the basil gives wonderful herbaceous oomph. The pumpkin seeds add a lovely crunch that compliments the textures of the other ingredients really well.
You really can't go wrong with this strawberry basil and feta salad. I especially love it plated on a platter and served as a starter salad to a multi-course meal.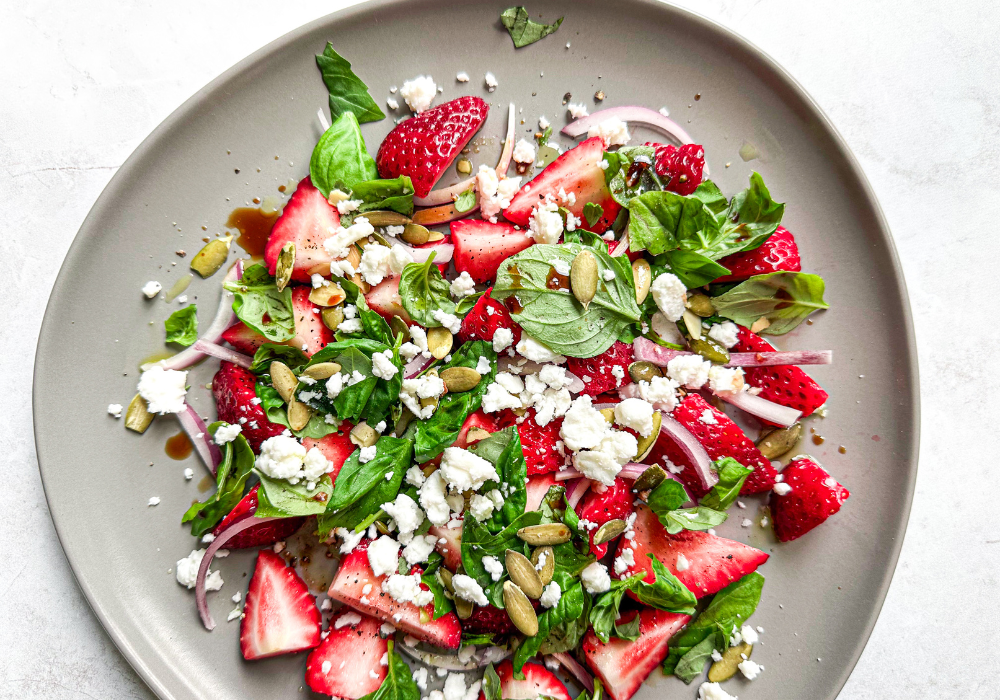 Ingredient highlights in this Strawberry Basil & Feta Salad
Strawberries – You'll want sweet, ripe strawberries for this recipe to contrast the other flavors in the salad. Additionally, I recommend organic strawberries if possible. Strawberries are heavily sprayed with pesticides and consistently appear on the EWG's dirty dozen list.
Basil – Basil is one of my absolute favorite herbs and I put it in almost everything while it's in season. The combination of basil and strawberries is a recent love affair that I can't get enough of. Buy the freshest basil you can find. It should be bright green and not wilted. Basil leaves are very delicate, so avoid touching them as much as possible. The oil from our hands causes the leaves to brown more quickly. 
Feta – Feel free to use dairy or dairy-free feta cheese here, depending on your dietary preferences. If going the dairy-free route, my favorite store-bought feta is the Follow Your Heart Feta Crumbles. But you can also make your own homemade dairy-free feta. I used this recipe and, while initially skeptical, it turned out surprisingly easy to make and very delicious! Highly recommend. If using dairy feta, opt for organic sheep's-milk feta.
Balsamic vinegar – You want a viscous balsamic vinegar for this recipe that is on the sweeter side with just a hint of acidity. Lower-quality balsamic tends to be more liquidy and acidic. So opt for the highest quality of balsamic vinegar you can afford. If that isn't an option for you, you can reduce balsamic vinegar to a glaze, to use in this and other recipes.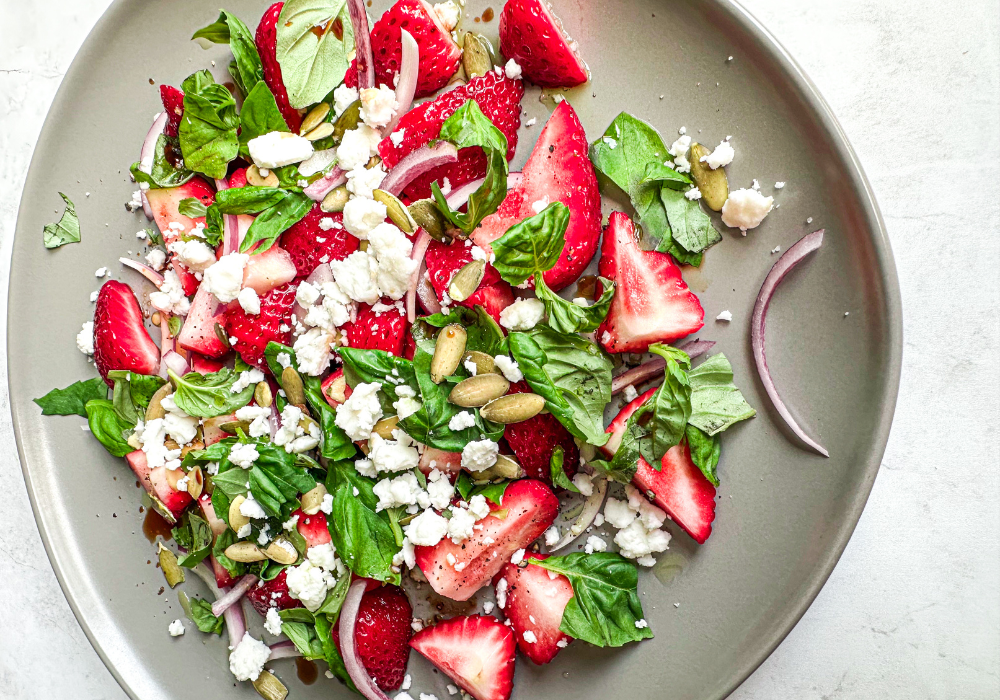 This recipe is part of my Quick & Easy Summer Salads roundup. Check out two more summer salads like this one here.
If you make this Strawberry Basil & Feta Salad, I'd love to see your results! Send me a DM or tag @plantssogood on Instagram or Facebook.