I've been making a crunchy red cabbage slaw like this for years and love it in place of the traditional soggy, mayo-filled coleslaw. It's light, crunchy, and packed with flavor. Plus, the toasted sesame oil and ginger give this crunchy slaw a flavor profile that works perfectly with a wide array of cuisines.
Recipe Notes
Unlike lettuce salads, this slaw keeps very well, making it perfect when you need to prep things ahead of time. I love bringing it to picnic lunches or summer barbeques.
This slaw calls for shredded red cabbage. You can either thinly slice it with a knife or, for a finer texture and softer slaw, shred it in your food processor using the grating disc.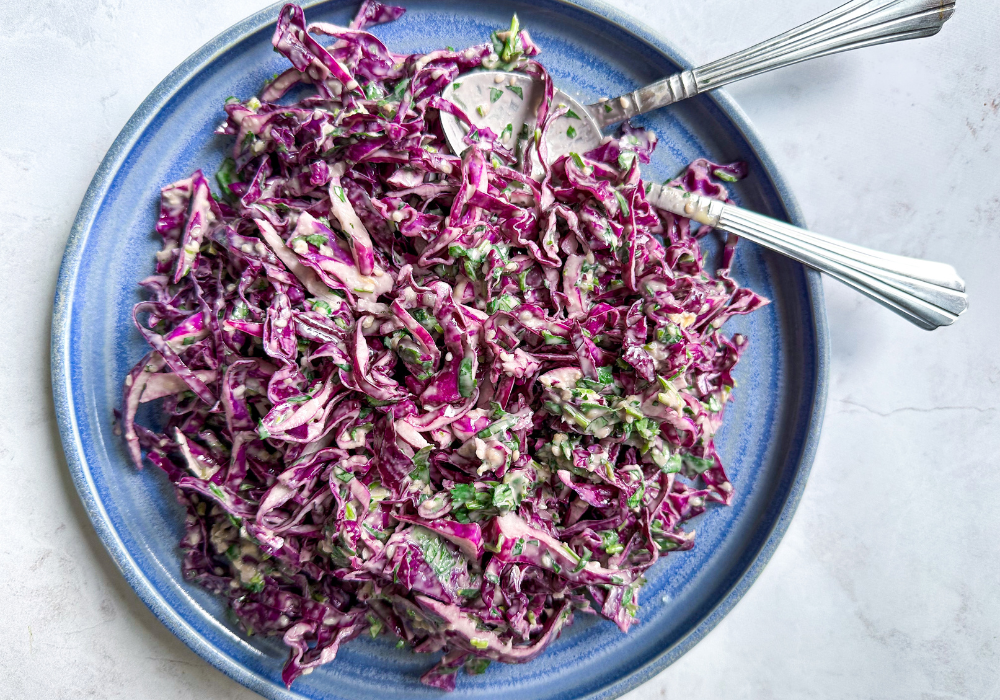 Ingredient highlights & substitutions for this Crunchy Red Cabbage Slaw
Ginger and garlic – These two powerhouse flavor enhancers provide a massive boost of flavor in this slaw. But if you're not a fan of raw garlic or ginger, feel free to reduce or eliminate one or both of them. The slaw will still be delicious, but you might want to add more lemon juice and Dijon to make up for the lost flavor. You can also substitute 2 thinly sliced green onions in their place.
Tahini – Use a light-colored, runny tahini for this recipe. Dark, thick tahini will make the slaw bitter. If you can't find tahini, you can substitute a plain, unsweetened yogurt instead. I like this cashewmilk yogurt from Forager, but any natural yogurt should work.
Cilantro – I absolutely adore cilantro, but I know that's not the case for everyone. Feel free to substitute another herb in its place. Italian parsley, fresh basil, or mint would all be delicious here.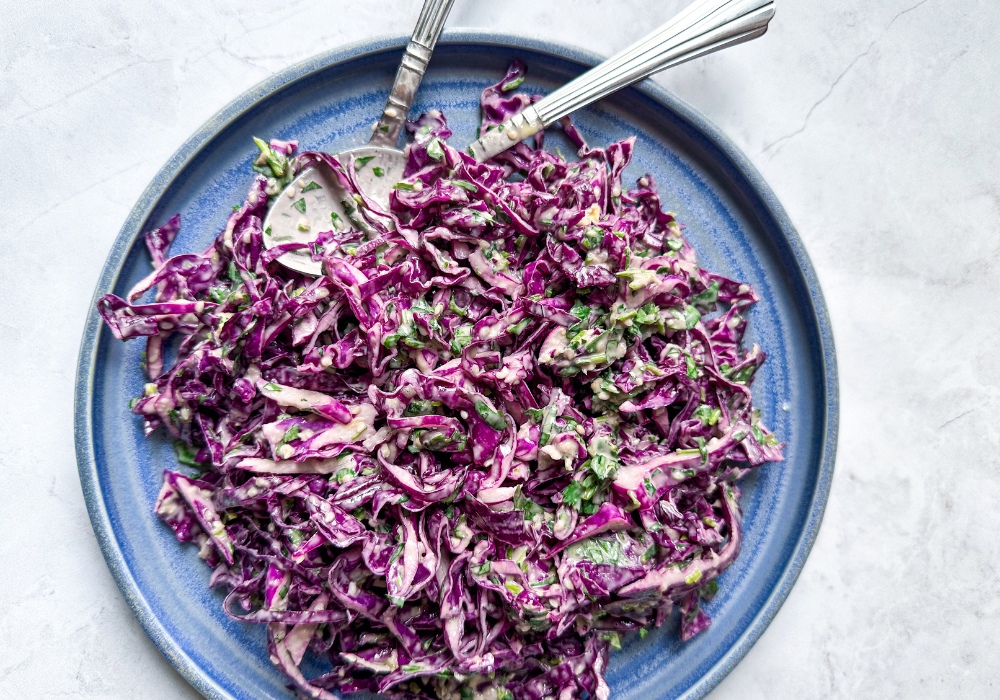 This recipe is part of my Quick & Easy Summer Salads roundup. Check out two more summer salads like this one here.
If you make this Crunchy Red Cabbage Slaw, I'd love to see your results! Send me a DM or tag @plantssogood on Instagram or Facebook.