Get ready for major deliciousness because these Mexican Chocolate Pots de Creme are the dreamiest, creamiest desserts! They're also so simple to make yet will impress you AND your guests with their rich chocolate flavor and silky texture. 
What makes them Mexican? To be clear, there's nothing traditional about this recipe. These little pots of chocolatey deliciousness are completely dairy-free, and even the process of making the chocolate cream differs significantly from the traditional French technique. 
Not to worry though! What these Mexican Pots de Creme lack in tradition, they make up for in pure decadence. 
These remind me of Mexican hot chocolate, hence the name! They've got warm flavors from cinnamon and vanilla plus a bit of heat from the ancho chili powder. So yeah, you could think of these as dairy-free Mexican hot chocolate in a solid form that you can eat with a spoon! 
Sounds pretty good to me!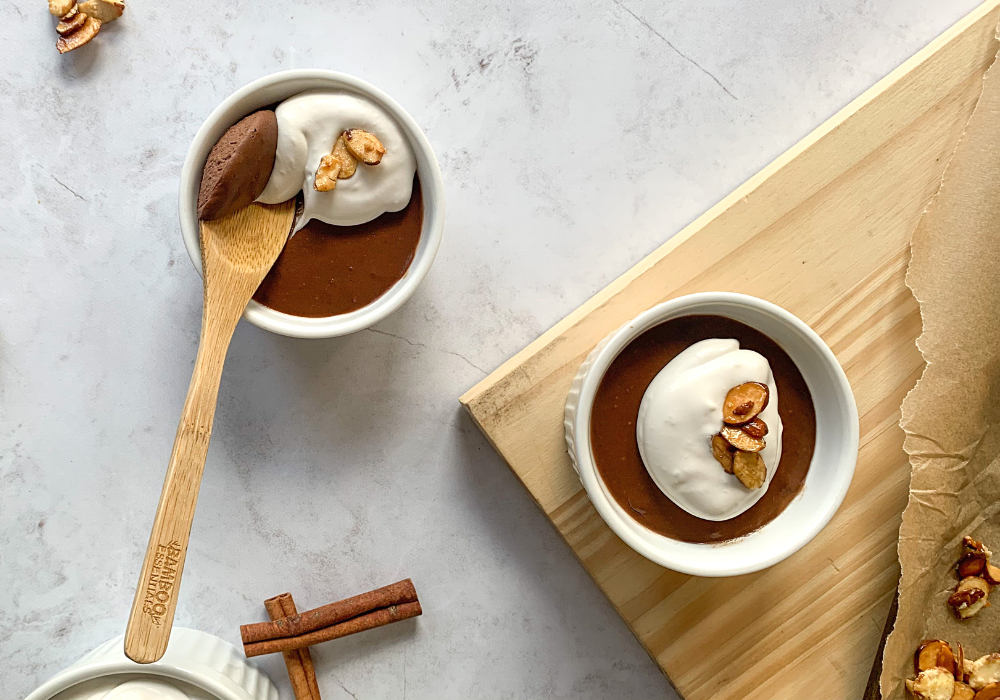 So why should you make this amazing dessert?
Here's why you'll love these Mexican Chocolate Pots de Creme:
They're surprisingly quick to make (apart from the chill time)
The ingredient list is short and sweet
Unless you don't like chocolate, you'll love these! 
They're sweetened with whole plant foods (dates) + the sugar already present in the dark chocolate
They work equally well as an easy weeknight dessert for two as they do a decadent end to a dinner party 
Convinced you need these in your life?? Alright, let's get into the recipe then!
Mexican Chocolate Pots de Creme
Ingredients: 
1 can full-fat coconut milk, refrigerated overnight
4 ounces (115g) dark chocolate, broken into chunks
1/3 cup coconut oil
6 or 7 soft Medjool dates (the softer and fresher your dates, the smoother the final texture will be)
1.5 tsp pure vanilla extract
1 tsp cinnamon
¼ tsp pure ancho chili powder
A pinch of salt
Method:
Scoop the solid part from the refrigerated coconut milk into a small pot with a thick bottom and add the dark chocolate and coconut oil. (You can use the remaining liquid left in the coconut milk can in another recipe, like a smoothie.)
Melt the solid coconut cream, dark chocolate, and coconut oil together on low heat, stirring often until the mixture is completely smooth. Make sure to stir often so you don't burn the chocolate. Once combined, turn off the heat and let the mixture cool for a few minutes.
Add the rest of the ingredients to the bowl of a food processor and pour in the chocolate mixture. Process everything for several minutes, scraping down the sides as needed. The chocolate cream is done when it is completely smooth and silky, with no lumps from the dates. 
Once blended thoroughly, pour the chocolate cream into little 6-8oz ramekins and put them in the freezer for 1-1.5 hours to chill. Twenty minutes before serving, remove the ramekins and leave them on the counter at room temperature. 
Top these delicious Mexican Chocolate Pots de Creme with coconut whipped cream and candied slivered almonds. 
And there you have it! Seriously delicious Mexican Chocolate Pots de Creme sitting in your fridge impatiently waiting to be eaten (if they're not gone already!).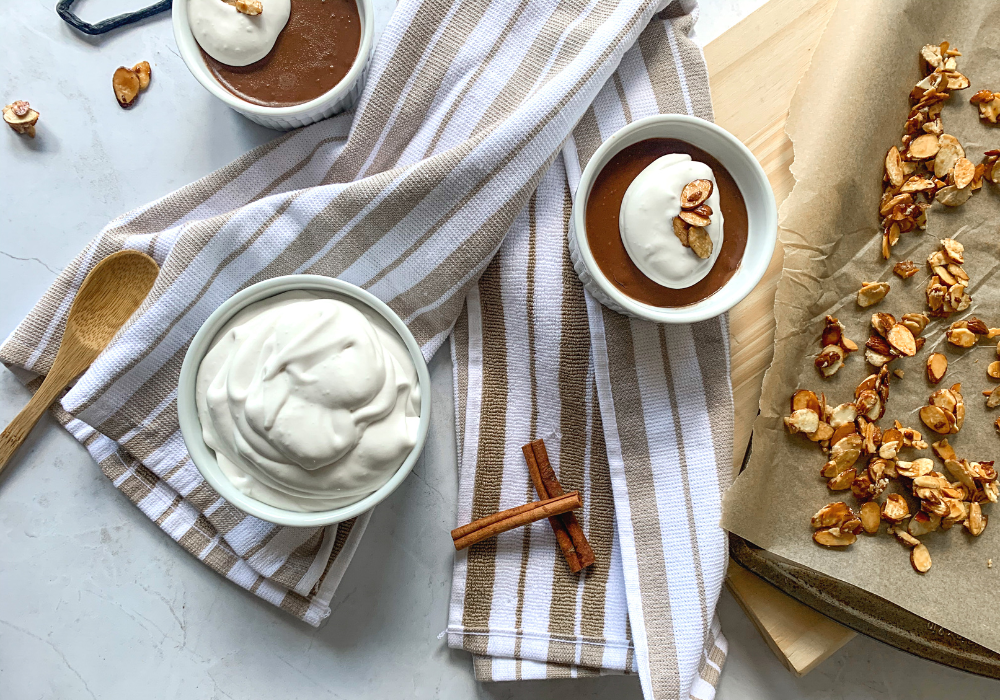 Did you try this recipe? Don't forget to tag @plantssogood on Instagram or Facebook so I can see all your uh-mazing chocolate creations!