As the weather gets warmer, I'm craving crunchy, fresh, and light meals loaded with herby flavors. This Spicy Carrot Salad with Crunchy Masala Chickpeas checks all those boxes and has been a recent favorite. 
Why you'll love this salad
The time for bland and boring salads is long gone. No more wilted lettuce, slimy tomato, or flavorless four-ingredient salads! This spicy carrot salad couldn't be more different! 
This salad is all the things a good salad should be:
Loaded with different textures
Chock full of herbs 
Bursting with flavors from the crunchy masala chickpeas, fresh ginger, and garlic
Accompanied by a simple yet delicious dressing that ties the whole thing together
Even if you've never thought of yourself as much of a salad person, try this recipe. You might just be surprised by how much you love it!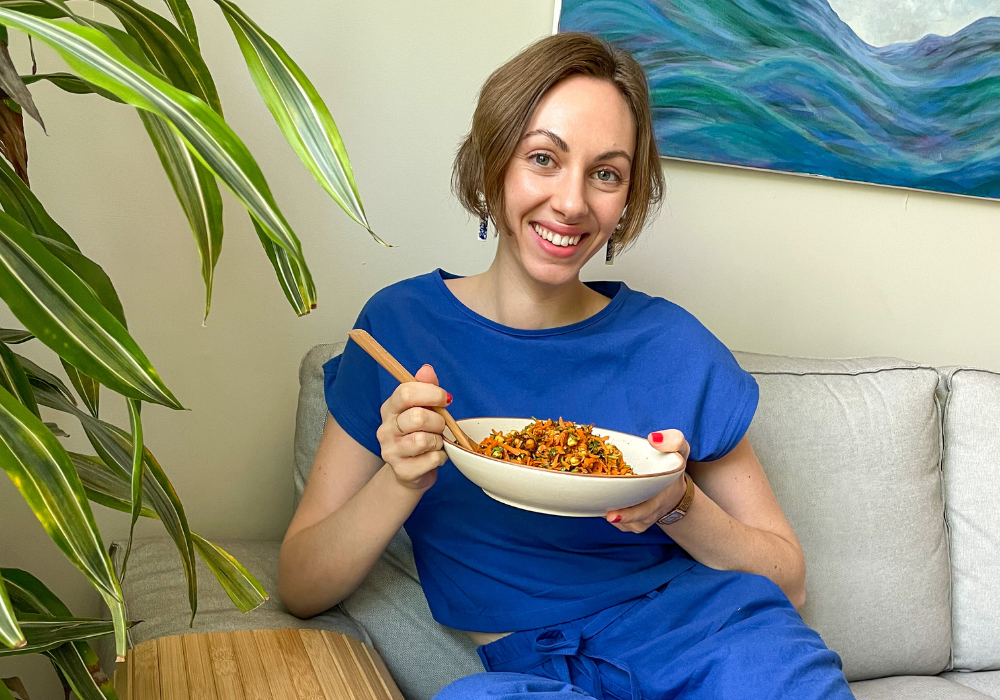 Ingredient Rundown
The ingredients for this spicy carrot salad are fairly straightforward, but there are a few things to keep in mind. 
Carrots
This salad is all about the carrots, so choose ones that are super fresh, tender, and young. They should be shiny, with firm ends. And if your carrots come with their tops still attached, they should be fresh and green, not brown. 
Raw Garlic and Ginger
Unless you absolutely hate garlic or ginger, don't skip these two ingredients. They add a flavor punch to contrast the inherent sweetness of the carrots, and both contribute to the spicy Indian flavor profile of this dish. 
Crunchy Masala Chickpeas
Crunchy chickpeas are easy to make in the oven but this salad gets even easier and quicker to whip up if you use pre-made or store-bought chickpeas. There are a lot of different options out there for crunchy oven-roasted chickpeas, but for this salad, I love Indian masala-flavored chickpeas. If you want to make your own, check out this roasted masala chickpea recipe from Vegan Richa. I recommend making a big batch, cooling them completely, and storing them in a glass jar in the pantry to throw on salads and grain bowls.
How to make this Spicy Carrot Salad
Start with the salad base. Grate your carrots, ginger, and garlic, roughly chop the coriander, and add everything into a large bowl. 
Next, whisk all the dressing ingredients together in a small bowl. Taste the dressing. It should have a balance of sweetness from the honey and sourness from the lemon and vinegar. 
Finally for the best part. Toast the almonds in a hot pan on medium heat for a few minutes until they begin to turn golden. Make sure you're tossing them every few minutes so they don't burn. Burnt nuts can ruin a whole salad. Add the cumin seeds and toast for another minute until the seeds start to pop and the cumin smells good. Then crush the dried oregano in your hand and sprinkle it into the pan, toasting for just thirty more seconds. 
Finish the salad by adding the toasted toppings, the crunchy chickpeas, and pomegranate arils to the bowl with the grated carrots. Drizzle the dressing over everything and mix well. Serve and eat this salad right away or the chickpeas will start to get soggy. 
If you'd like to pre-make this salad and eat it at a later time, keep the chickpeas separate and mix them in just before eating.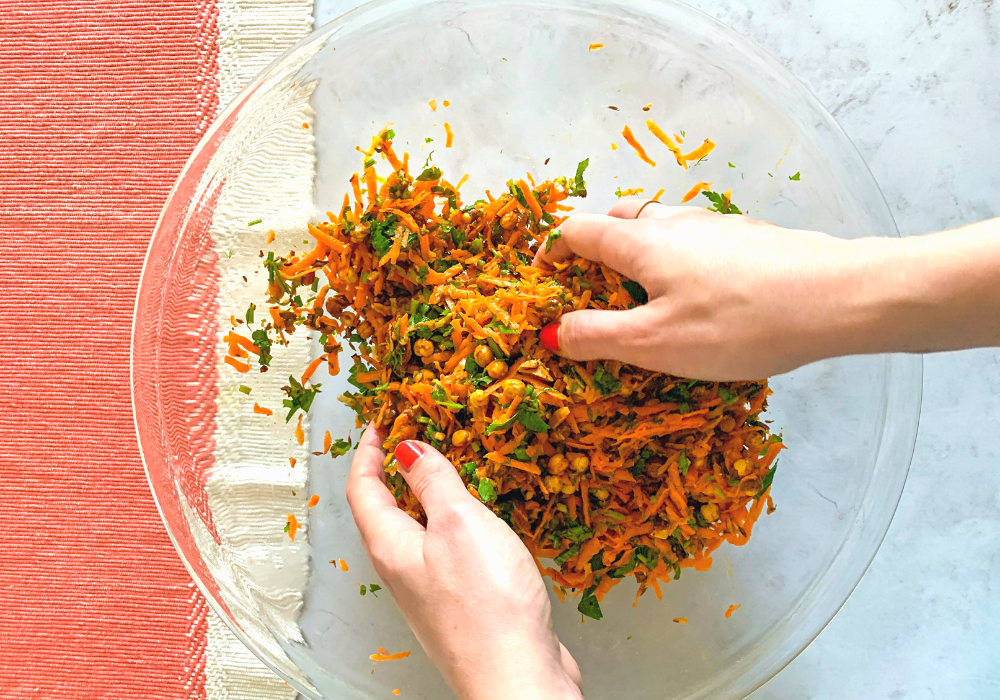 Substitutes for this Spicy Carrot Salad
I'm a big believer in being flexible in the kitchen and using what you have on hand. In fact, it's rare for me to follow a recipe and not make a single substitution. Sometimes using what you have on hand turns into amazing dishes you'd never have come up with otherwise. 
For this recipe, feel free to get creative with your substitutions.
You can try grated raw beets (make sure they taste sweet and not bitter), or a combination of beets and carrots. You can also substitute the coriander for other fresh herbs like parsley, oregano, mint, or a combination of these.
I don't recommend changing the quantities of the dressing much, but you can always sub a different kind of vinegar like red wine for the apple cider.
For the toppings, the possibilities are endless. Try different nuts in place of the almonds, and a different whole spice instead of the cumin. Fennel, coriander, or caraway seeds would all be delicious. Use dried currants, sour cherries, or even golden raisins in place of the pomegranate. I don't recommend regular brown raisins as they'll taste too sweet in this salad. 
Lastly, get creative with the crunchy chickpea flavorings. There are so many combinations of herbs and spices you can try, but a few that would be delicious in this salad are curry powder, smoked paprika, ground cumin, turmeric, and black pepper. 
To make this salad heartier, bulk it up by adding a whole grain. Fluffy quinoa, millet, or Israeli couscous would all taste amazing! 
Whatever substitutions you make, have fun and enjoy the exploration process. 
You now know everything you need to whip up this delicious salad!
I don't publish salad recipes very often, because they're so flexible and usually quite simple. But this salad surprised me with its burst of flavors and contrasting textures. So when I say it's worth making, it really is!
Enjoy this spicy carrot salad whenever you're craving a healthy, flavorful, crunchy side dish. It's especially perfect during the warmer months of the year!
If you make this recipe, be sure to share your feedback and photos with me on social media! Tag me on Instagram or Facebook @plantssogood to show me your creations!
And if you love this salad recipe and are looking for more salad recipes from me, check out this super simple herby green salad recipe for a perfect side salad to any meal!