Forget all the heart-shaped chocolate boxes and the bouquet of roses. To me, Valentine's Day is an excuse to linger over a fancy, indulgent meal with my husband. I really can't think of a better way to celebrate the love I share with my other half than a sumptuous multi-course meal, can you? For me, that means a plant-based Valentine's dinner for two.
Now you might think that "indulgent" means a rare filet mignon on top of ultra-rich mashed potatoes with a chocolate lava cake oozing buttery goodness. What probably doesn't come to mind when you think of an indulgent dinner for Valentine's Day is a plant-based meal with no meat or dairy. Hear me out on this one though, because Valentine's day is actually the perfect event to enjoy a plant-based meal, even if you're an omnivore.
In my mind, there are certain qualities that make for a good Valentine's Day dinner.
Here are the key requirements the ultimate Valentine's Day dinner should have:
It should be a special meal, different from what you normally cook or eat for dinner. (For me, that means multiple courses and dessert, as I usually cook a one-course meal and we rarely eat dessert)
It shouldn't take too much time or effort. You don't want to be exhausted when you finally sit down to eat with your lover!
In the same vein, this meal should have elements you can prepare ahead of time (like the day before) so you don't have to spend hours in the kitchen the day of!
It should be decadent and indulgent with rich flavors and textures. 
The meal should be plated with care so it looks as delicious as it tastes.
And finally, it shouldn't be TOO heavy or hard to digest, as that will get in the way of other romantic post-dinner activities you might have planned. 😉
Taking all these elements into consideration, you might be starting to see my point about plant-based dinners being perfect for Valentine's Day. Although it might not seem like it at first glance, cooking a plant-based Valentine's dinner is actually the perfect way to avoid that super heavy, uncomfortable, "let's just sit on the couch vegetating for the rest of the night" feeling! 
Now let's talk about the actual menu for this ultimate plant-based Valentine's dinner.
Because I love nothing better than thinking up and creating fancy multi-course menus, you're getting the full Plant's So Good catering experience with this one.
Staying true to our requirements above, you can prepare multiple parts of this dinner ahead of time, even the day before. That way the actual meal won't take you more than an hour in the kitchen the day of. For a three-course meal, I'd say that's hard to beat!
This menu is quite rich. Just because it's plant-based, cooked from scratch, and mostly whole foods, doesn't mean it's not indulgent or filling. It still has that warm hug from the inside type richness that this day calls for.
This meal is also heavy on the olive oil (and includes some plant-based butter), so it's not the type of meal I'd indulge in on a daily or even weekly basis.
That being said, it's without a doubt the perfect extra rich and indulgent dinner for this day of love.
Your appetizer for the ultimate plant-based Valentine's dinner starts off light:
Herby Green Leaf Salad with Honey Dijon Vinaigrette
To start off this meal, we're serving an herby green leaf salad with thinly sliced apples, sunflower seeds, and my favorite honey Dijon vinaigrette.
This salad is intentionally light and simple because the main course and dessert are so decadent. The apples and herbs help keep the salad light and the sunflower seeds provide a nice crunch. You can absolutely play around with ingredients here and substitute ripe but firm sliced pears for the apple (Bosc would be ideal), different fresh herbs like basil or dill for the oregano and parsley, and pumpkin seeds, slivered almonds, or crushed pecans for the sunflower seeds.
What makes this salad worthy of your special dinner is really the dressing though. It initially seems like your standard honey dijon vinaigrette but has a secret ingredient (ground coriander) that gives it an unexpected, and oh so delicious, twist. Be prepared though, once you make this dressing, you'll never go back to a basic honey Dijon.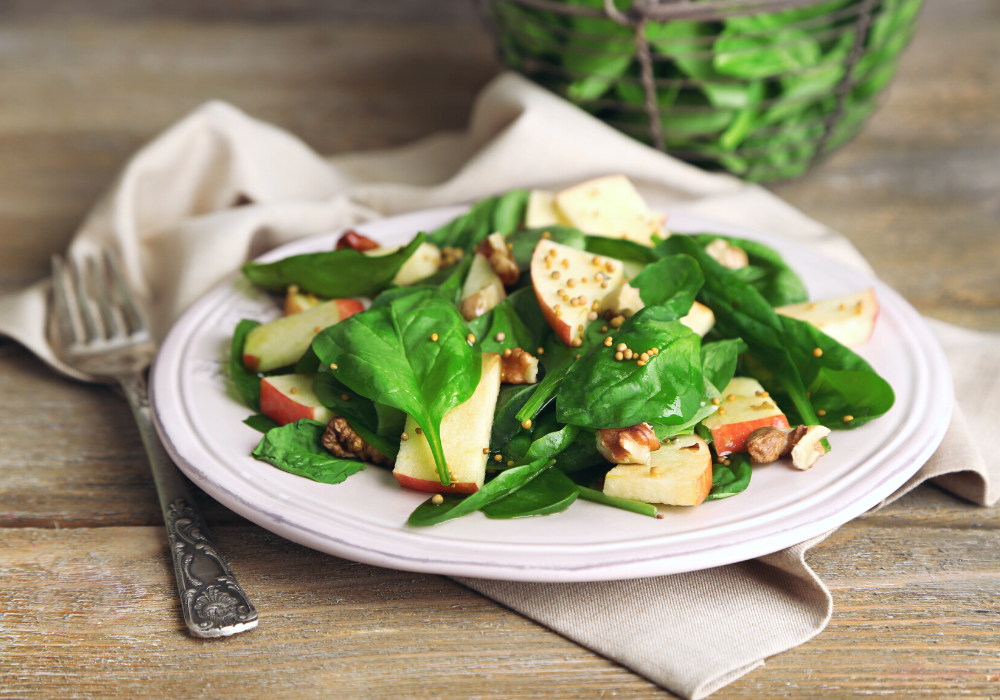 Onto the main course for this ultimate plant-based Valentine's dinner:
Lemon Caper Herb-Crusted Tofu with Miso Mashed Potatoes and Shallot Butter Sauce
This is what you've been waiting for.
The lemon caper herb-crusted tofu is so elegant and goes with so many different things. It's also surprisingly quick and easy to make. As this meal has multiple courses and multi items in this main course, you're going to appreciate the simplicity of making this tofu. In the past, I've served it with crispy oven-roasted potatoes and cashew caper aioli, which is a winner combo. But for this meal, I decided to go the more traditional Valentine's route and pair the tofu with mashed potatoes. They give a velvety contrast to the crispy tofu crust and the miso in the mash adds another layer of rich flavor to this indulgent meal.
Although not wholly necessary (who said necessary had a place in a Valentine's dinner menu?), the shallot butter sauce takes this whole dish over the top and really ramps up the flavor factor. I've used a few tablespoons of plant-based butter in the sauce, but you could easily substitute it with more olive oil instead.
I chose to add another vegetable to this meal and serve the main course with a side of olive oil roasted whole leeks. Roasting leeks whole and treating them as a stand-alone vegetable might seem strange depending on where you're from in the world, but roasted leeks are a revelation. Coating them in olive oil and then roasting them makes them buttery soft and sweet. Although leeks are part of the allium family (along with onions, garlic, shallots, chives, and green onions), roasting them takes on a sweetness that you may not normally associate with alliums. If this seems like one item too many though, you can easily skip the leeks. This meal is rich and filling enough that you won't miss them (too much).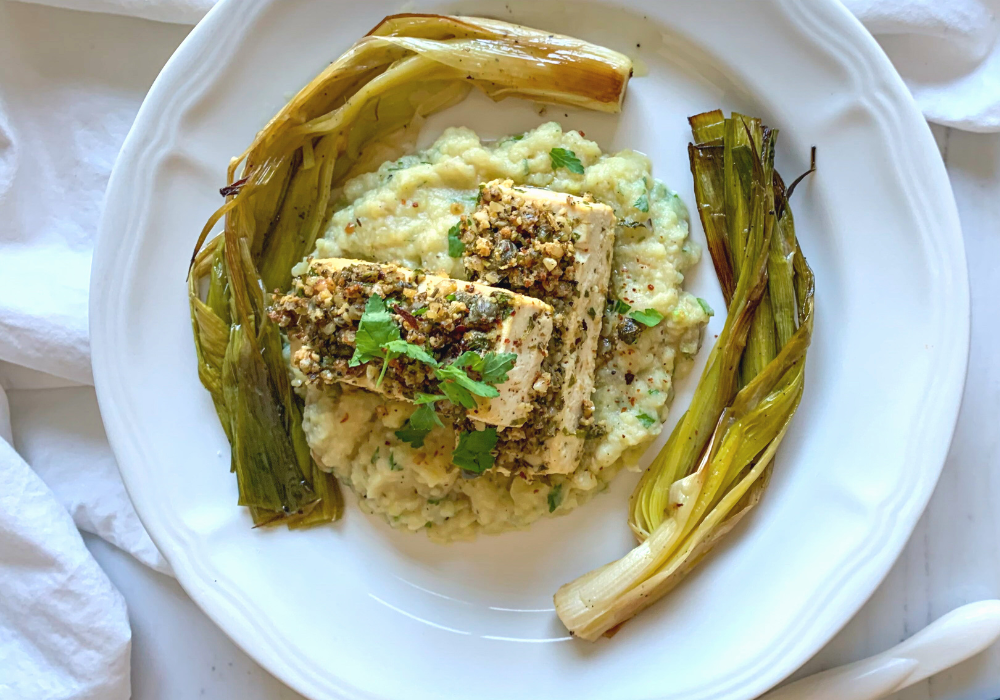 Last but not least, this can't be the ultimate plant-based Valentine's dinner without dessert:
Chocolate Raspberry Parfaits with Coconut Whipped Cream and Chocolate Cookies
The ultimate plant-based Valentine's dinner needs an ultimate dessert to finish off the meal, and this is it. This dessert is so good, so deliciously chocolatey, and so sinfully rich, it seems impossible, but it's probably the healthiest dessert you'll eat on Valentine's Day. When I first made these parfaits, I laughed out loud. That's how good they are!
If you aren't up for cooking an entire Valentine's dinner, just make these parfaits. In my mind, the whole dinner is really just an excuse to eat this dessert. So I'll forgive you for skipping straight to the best part, only making this dessert, and calling it dinner.
These parfaits have layers of chocolate mousse, crushed frozen raspberries, coconut whipped cream, and chocolate cookie crumbles. I recommend buying the chocolate cookies to make this dessert even easier and quicker, but of course, you're welcome to make your own chocolate cookies ahead of time.
Like the tofu in the main course, these parfaits are surprisingly easy to make, with minimal ingredients or cooking time. In fact, there's no cooking at all and you can (and should) assemble these parfaits the day before you plan to eat them. That way, the cookies have a chance to soften, the flavors meld a bit, and you don't have to worry about making dessert on Valentine's Day!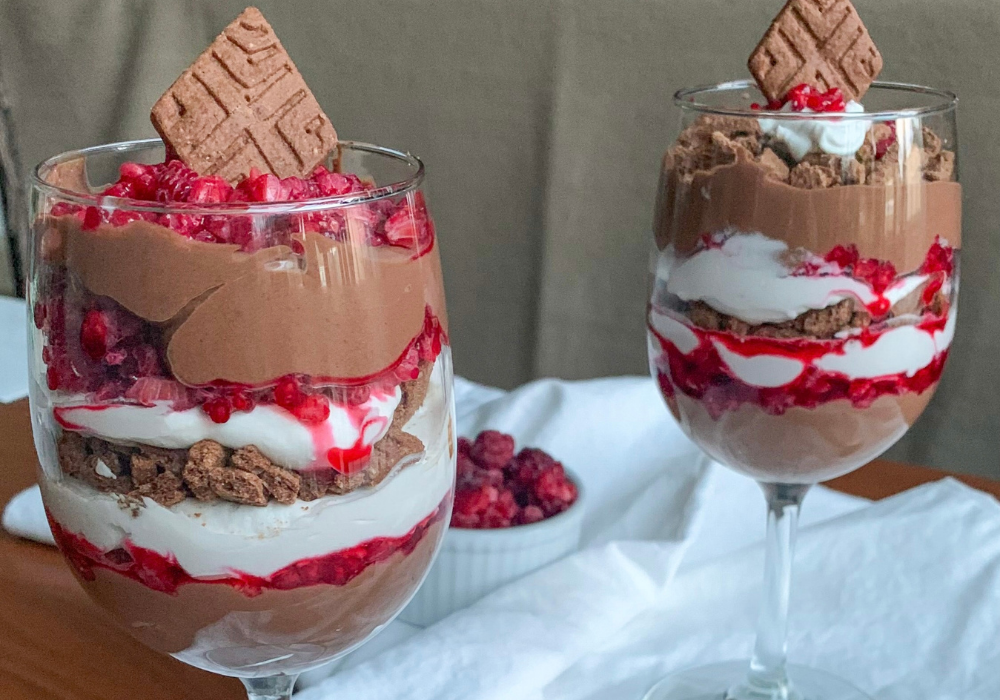 And there you have it! The ultimate three-course plant-based Valentine's dinner menu for two, fully thought out and planned for you. All you have to do now is go and make it! Oh, and don't forget to enjoy the process while you're there! Pour yourself a drink, put on some sexy jazz, and groove your way around the kitchen. Wishing you a delicious, sexy, and love-filled Valentine's Day!