This healthy, loaded mac & cheese is one of my favorite meals of all time.
Yes, it's super healthy and we'll talk about that in a bit, but from a deliciousness standpoint alone, I'm extremely proud of this recipe!
Bursting with flavor, loads of textures, plenty of veg, 99% whole foods, 100% plant-based, and insanely delicious. 
Are you drooling yet?
The crispy smoky mushrooms alone are worth making this bowl of goodness, but it's also such a good recipe because you can easily leave the mushrooms out (the best part!) and it will STILL be incredible! 
Whenever I want a really flavorful, extra comforting, and super hearty meal that's also going to leave me feeling cozy AND healthy, this is the recipe I turn to.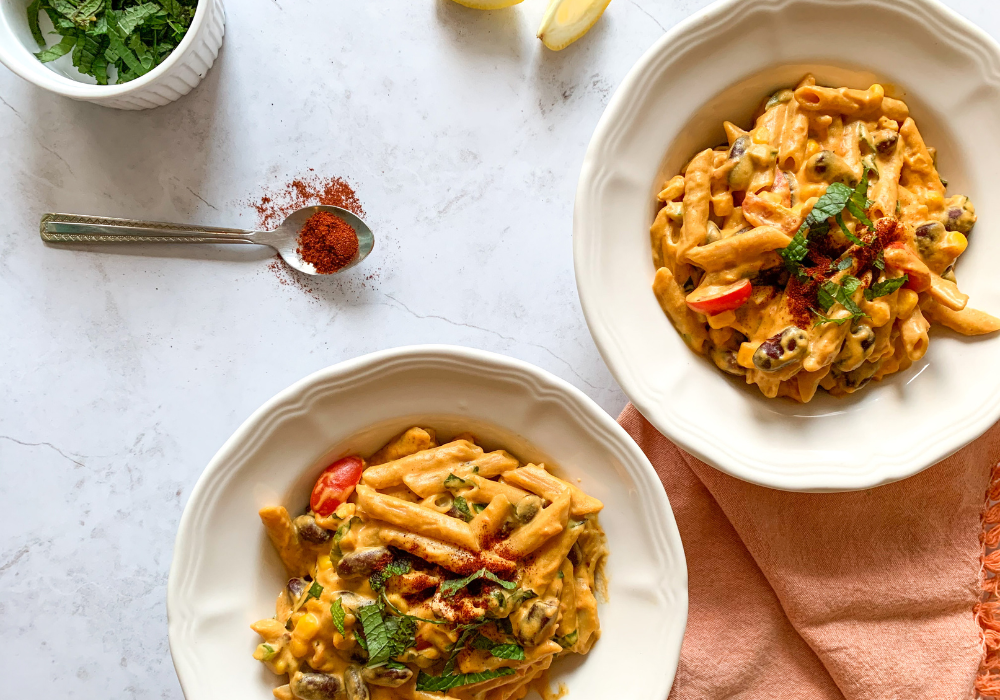 Before we get into the recipe, though, let's talk about two super important components of this dish.
Cashew cheese sauce
This is BY FAR the most important piece of this dish. If the cheese doesn't taste good, you're missing half of the dish (it's not called mac and cheese for nothing!).
If you've never blended cashews and water to make some unbelievably creamy concoction, you're missing one of the best discoveries of plant-based cooking.
Cashews + water might seem basic, but those two ingredients blended together in a high-powered blender are the foundation of SO MANY DELICIOUS DISHES!
Cashew sour cream
Cashew cream cheese
Plant-based cheesecake
The BEST queso sauce
Cheese sauce
And those are just the few I thought of in the past 30 seconds! 
Suffice it to say that cashews + water actually = unlimited possibilities in the plant-based kitchen. So if this cheese sauce is your first foray into cooking with this amazing combo, consider it your introduction to a whole new level of deliciousness. Doors are about to open to you that you didn't even know existed, my friend.
To get the best cheese sauce, make sure you use a powerful blender (at least 600 watts) so your sauce becomes velvety smooth. We don't want any chunky cashews in our sauce, thank you!
Whole Grain (Gluten-Free) Pasta
The second super important part of this loaded mac & cheese recipe is the pasta (duh!). 
I suggest opting for whole-grain pasta whenever possible. That way, you'll be swapping simple carbs out and adding a whole food in. (YES, whole grain pasta that has singular ingredients like "whole wheat flour" or "brown rice flour," are whole foods!)
If you choose to eat gluten-free pasta, then you'll still want to make sure the ingredients are whole grains. This brand makes high-quality traditional Italian gluten-free pasta in lots of shapes that has just one ingredient: brown rice. Unlike lots of other gluten-free pasta brands on the market, the texture is perfect, not gummy or mushy, and the pasta doesn't fall apart. That's what I call a win-win.
And, because I know you're wondering, no, whole grain gluten-free pasta is NOT inherently healthier than whole wheat pasta. If you have no problems with gluten, then go for the whole wheat pasta. It is at least as healthy as brown rice pasta. 
The other option for pasta you could consider is bean-based pasta. I love these because it's an easy way to add in extra protein without physically adding in additional ingredients. 
Banza makes a pretty good chickpea pasta with just one ingredient, but my favorite bean-based pasta is from this brand. 
So how is this loaded mac & cheese healthy?
Now that we've addressed the two most important pieces of this recipe, let's talk about nutrition for a hot sec. 
You might be rolling your eyes, but I can't help myself! Nutrition is my jam, okay?!
This loaded mac & cheese recipe covers all the macronutrient bases. It's got:
Whole grains = complex carbs to keep you full for longer and give you a steady energy release
Beans = high quality plant-based protein to fill you up (plus, these little guys are one of the healthiest foods on the planet, just ask cancer researchers!)
Cashews + olive oil = healthy fats to satiate you and keep your blood sugar stable
A bunch of veggies including dark leafy greens = vitamins and minerals! 
Herbs & spices = a big boost of antioxidants
So you've got all three macros covered (protein, carbs, fats), plus a bunch of micronutrients as well. Even better, aside from the olive oil (oil is not a whole food as it's extracted from the plant it comes from), this entire recipe is composed of whole plant foods. 
Now maybe you understand why I'm so enthusiastic about this recipe. It's just that good on all fronts! 
So without further ado, let's get making this healthy loaded mac and cheese, shall we?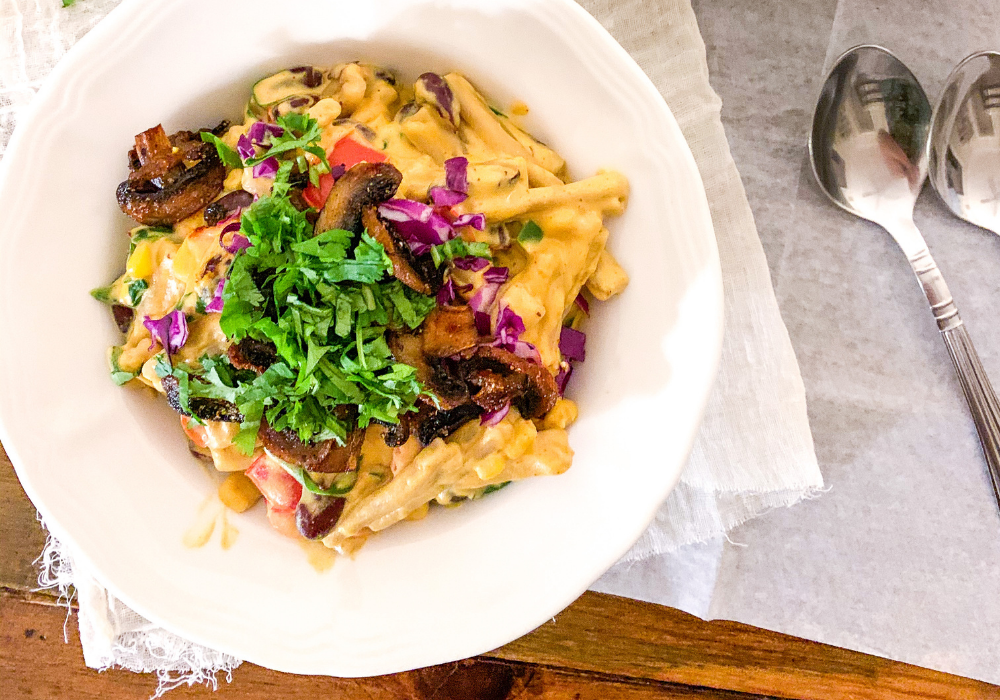 Healthy Loaded Mac & Cheese w/ Crispy Smoky Mushrooms
Ingredients:
For the mushrooms:
4 oz button mushrooms, cleaned
2 teaspoons olive oil
1/4 teaspoon sea salt
1/4 teaspoon smoked paprika
1/4 teaspoon garlic powder
For the mac & cheese:
8 oz whole grain penne
1/2 can kidney beans
1/2 cup frozen sweet corn, thawed
1 cup diced tomatoes with their juices (canned or fresh)
2 large handfuls baby spinach
1 cup filtered water
1 cup raw cashews (soaked if you don't have a powerful blender)
1 tablespoon nutritional yeast
1 tablespoon liquid sweetener (I like maple syrup)
1 1/4 teaspoons salt
1/2 teaspoon smoked paprika
1/4 teaspoon turmeric
1/4 teaspoon ancho chili powder
1/4 cup chopped fresh coriander
1/2 lime
Instructions:
Preheat the oven to 375° F & line a baking sheet with parchment paper.
Bring a large pot of salted water to boil.
Meanwhile, slice the mushrooms and toss them with the olive oil, salt, paprika & garlic powder on the baking tray. Place in the oven and bake for 20 minutes until browned & slightly crispy. Set aside.
When your pasta water boils, add your pasta and cook to al dente according to the package instructions. Cooking time may vary.
Place the beans, corn, & spinach in a large colander. You can also add the tomatoes if they're fresh. If using canned, you can skip this. Drain the pasta over the veggies into the colander, then return everything to the pasta pot.
Meanwhile, add everything from the water through to the cayenne pepper into a blender and blend 1-2 minutes until smooth.
Add the cashew sauce & canned tomatoes to the pot and stir everything together. Let the pasta cook on medium low for 3-5 minutes until the sauce has warmed through and thickened slightly.
To serve, turn off the heat & add in the coriander and lime juice. Stir one more time, then serve in shallow bowls. Top with more smoked paprika & coriander as desired.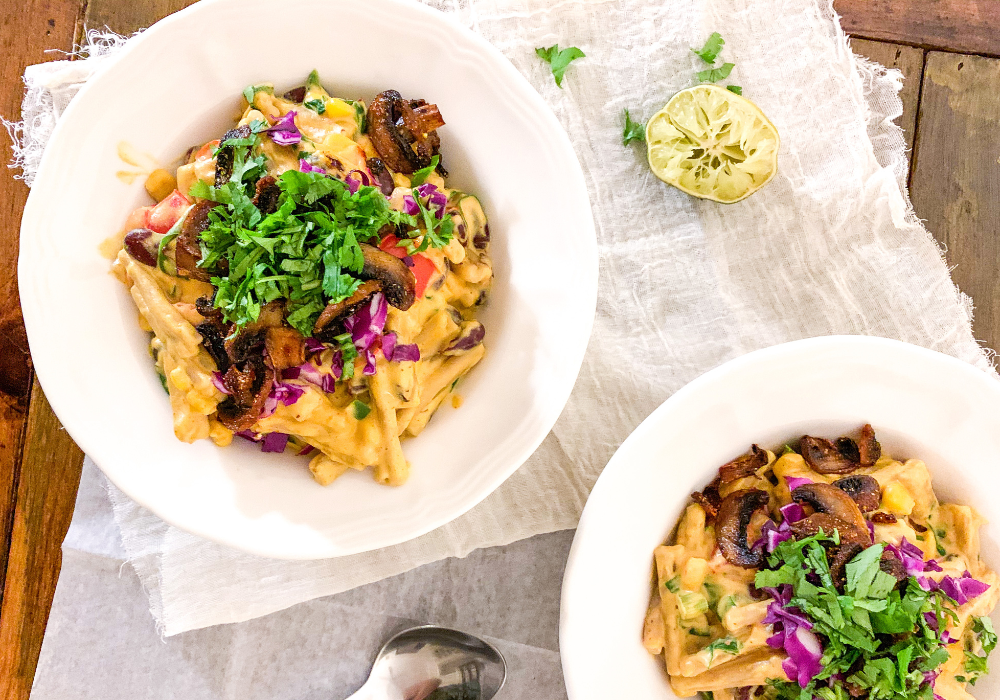 And that's it! This is a pretty simple recipe that takes only as long as it does to boil your pasta. It's perfect for a hearty weeknight meal, and definitely a crowd-pleaser, so don't hesitate to serve it to guests.
If you make this recipe, I want to see it! Tag @plantssogood on Instagram or Facebook with your healthy loaded mac & cheese photos, and let me know how it went for you in the comments below!